Classification: Spanish Revival Cast
Year of release: 1984
Language: Spanish
Type: Official recording, Stage cast
Unfortunately, this album is out of print, but rather than try your luck finding used copies through such sources as eBay or Discogs, you can listen to it on YouTube.
Jesus of Nazareth…………Pablo Abraira
Judas Iscariot…………Pedro Ruy Blas
Mary Magdalene…………Estíbaliz Uranga
Pontius Pilate…………Tony Cruz
King Herod…………Jaume Baucis
Simon Zealotes…………José Antonio Morales
Caiaphas…………José Maria Amerise
Annas…………Javier Ulacia
Peter…………Sergio Blanco
The Chorus…………Ismael Abellán, Joaquín Arjona, Mary Carmen Arrontes, Paula Bas, Miguel Berenguer, Charo Calvo, Ángel Castilla, Sebastián González, Ana Hurtado, Clemente Jiménez, María José Llanos, Leopoldo Manzano, Carlos Martín Caridad, Laurentino Martín Villa, Olga Mesa, Natalia Millán, Oscar Millares, Joaquín L. Misiego, María Candela Palazón, Álvaro Peire, Carlos Peris, Tony Sáez, Paloma Siles, Eduardo Solis, Sonia Suárez, Ana de Yebra, Maitane Zalduegui
Side 1:
Obertura (Overture)
Canción De Judas (Heaven On Their Minds)
Nada Va A Pasar (What's The Buzz)
Jesús Morirá (This Jesus Must Die)
Hosanna (Hosanna)
Simón Zelotes (Simon Zealotes)
Side 2:
Es Más Que Amor (I Don't Know How To Love Him)
Getsemaní (Gethsemane)
Canción De Herodes (King Herod's Song)
Todo Ha Sido Un Sueño (Could We Start Again Please?)
Juicio Ante Pilatos (Trial Before Pilate)
Superstar (Superstar)
Historical Notes from a Fan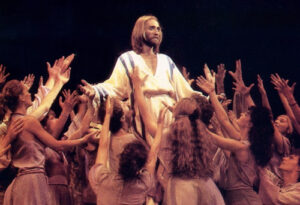 1984 seems to have been a big year for Spanish-speaking revivals of Jesus Christ Superstar, as both Mexico City and Madrid turned their attention once more to Tim Rice and Andrew Lloyd Webber's rendition of the greatest story ever told. Here, we shall examine the case of Madrid.
This revival was more expensive than the original production, clocking in at a budget of 80 million pesetas (more than €480,000 today). This may be owed to several factors: the presence of star talent (popular singing duo Sergio y Estíbaliz appeared in the show, as Peter and Mary Magdalene respectively) and future stars (young Natalia Millán would later headline the Spanish productions of Cabaret and Chicago) alike, the international scale (when its season in Madrid was over, the production toured Latin America, taking in such countries as Venezuela, Panama, and Ecuador), and the increasing difficulty of financing theater productions in general throughout the world. Where Camilo Sesto had financed the original on his own, the 1984 revival had four producers: Robert W. Baldwin, Bernie Boyle, C.E.M. Productions, and Marvin Kahan.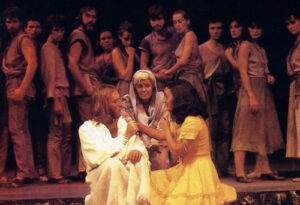 As revivals don't necessarily mean carbon copies of the original (and never have, going back to the first revivals of the earliest shows in theater history), things were bound to change. For example, the production had a whole new look: set and costumes were designed by José Ramón de Aguirre, lighting by Clarke W. Thornton, and sound by Peter J. McNamee (who engineered the cast recording as well). There was also new choreography from ballet dancer/director/choreographer Goyo Montero, later to move on to star status in the world of international ballet. Some things, of course, didn't need improvement: the show opened on September 12, 1984 at the Teatro Alcalá-Palace in Madrid, Jamie Azpilicueta was once again directing (from the original translation he co-adapted with Ignacio "Nacho" Artime), and Teddy Bautista once again handled arrangements and musical direction, and produced the cast album.
Desiring not to hurt sales of the original 1975 recording, CBS threw down enough money to record half the score, but the album made no significant dent in the charts. The production itself ultimately ran until January 13, 1985.