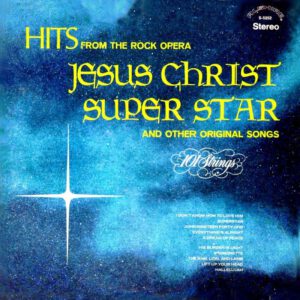 0.0 out of 5 stars (based on 0 reviews)
Classification: 101 Strings
Year of release: 1971
Language: English
Type: Studio cast
Side 1:
I Don't Know How To Love Him
Superstar
John 19:41
Everything's Alright
Side 2:
A Dream Of Peace*
His Burden Is Light*
Sermonette*
The Ram, Lion, And Lamb*
Lift Up Your Head*
Hallelujah*
* denotes a non-JCS track.
Historical Notes from a Fan
When any show is a hit, a lot of people will be quick to capitalize on the show's success. In this case, Jesus Christ Superstar was one of the first albums of its kind, and everyone wanted their slice of the pie where the Passion According to Tim and Andrew was concerned. At this time, many "budget" labels famous for releasing low-cost sound-alike albums ("knock-off" recordings capitalizing on shows, songs, or albums that became hits) jumped into the fray. The performers were usually never an actual ensemble that had performed JCS (indeed, in its early days, the number of actual casts performing the show was very few), but instead merely a group of vocalists who recorded songs from the show. Usually, these recordings were very cheaply put together and produced, and priced to own. (In the future, albums like these, now labeled "studio cast recordings," could no longer be accurately described as simple cash grabs, but at the time, the use of the phrase "knock-off" is appropriate.) Though it may be a matter of opinion, this particular fan feels that since the performers on these studio recordings lack the experience of getting on a stage and performing the show in front of an audience, the performances are pleasant enough, but not always up to par with a real cast album.
Even budget-level classical ensembles were getting in on the act, as this recording proves. 101 Strings, looking to cash in on the trend, recorded this severely edited sampling, pairing some familiar selections with non-JCS material of a sacred nature. Not much more to say about this one, but suffice to say that classical covers of Andrew Lloyd Webber are not to everyone's taste. JCS super-fan (and "knock-off" recordings aficionado) Adam Schoales once opined that the recording was "damn near unlistenable," elaborating that it "[f]eels very church friendly" and "[i]t's clear this one was designed for parents of 'the kids' listening to the original rock album," but allowing that the album boasts "some nice orchestral arrangements."
0.0 out of 5 stars (based on 0 reviews)
There are no reviews yet. Be the first one to write one.