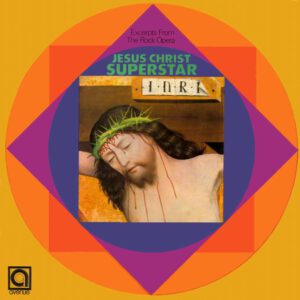 0 out of 5 stars (based on 0 reviews)
Classification: Alan Caddy Orchestra and Singers
Alternate Classification: London Theatre Ensemble and Chorus, Music For Pleasure (certain territories)
Year of release: 1972, 1973
Language: English
Type: Studio cast
Though credited to the Alan Caddy Orchestra and Singers, an interview with an exec for one of the labels that released this album produced this information:
I was not at the session when Alan put the voices on the tracks, but from the sounds I would most certainly say that Danny Street would have been used and for the female parts, Dana Gillespie and Maggie Eaves & her Ladybirds. The other male voice with the gravel tone sounds to me like a singer who did our Rod Stewart recordings, i.e. Tony Craige.
Though credited to the Alan Caddy Orchestra and Singers, an interview with an exec for one of the labels that released this album produced this information:
Jesus Christ Superstar's line up consisted of our usual musicians we used on a regular basis: Clem Cattini on percussion; Bob Falloon, lead guitar; John Fiddy, bass guitar; Alan Hawkshaw, keyboards. I think we had Freddy Fendor as leader of the brass section and the strings would have been The BBC Light Orchestra.
Side 1:
Overture
Heaven On Their Minds
What's The Buzz*
Everything's Alright
Pilate's Dream
I Don't Know How To Love Him*
Damned For All Time / Blood Money
Side 2:
The Last Supper
The Arrest
King Herod's Song
Superstar
Crucifixion
Conclusion (John 19:41)*
* indicates this track was not present on Music For Pleasure releases of this album. (Additionally, "I Don't Know How To Love Him" migrated to the start of Side 2 on these releases.)
Audio Production Information
Produced and Conducted by Alan Caddy
Executive Producer: Gary Salter
Cover Design (Canadian pressing) by Allusion Art Studios Ltd.
Historical Notes from a Fan
When any show is a hit, a lot of people will be quick to capitalize on the show's success. In this case, Jesus Christ Superstar was one of the first albums of its kind, and everyone wanted their slice of the pie where the Passion According to Tim and Andrew was concerned. At this time, many "budget" labels famous for releasing low-cost sound-alike albums ("knock-off" recordings capitalizing on shows, songs, or albums that became hits) jumped into the fray. The performers were usually never an actual ensemble that had performed JCS (indeed, in its early days, the number of actual casts performing the show was very few), but instead merely a group of vocalists who recorded songs from the show. Usually, these recordings were very cheaply put together and produced, and priced to own. (In the future, albums like these, now labeled "studio cast recordings," could no longer be accurately described as simple cash grabs, but at the time, the use of the phrase "knock-off" is appropriate.) Though it may be a matter of opinion, this particular fan feels that since the performers on these studio recordings lack the experience of getting on a stage and performing the show in front of an audience, the performances are pleasant enough, but not always up to par with a real cast album.
In this case, no less noteworthy a reviewer than Vinyl Vulture once characterized this particular release as what "could well be the most polite version of JCS out there, with what sounds like a Julie Andrews impersonator in the role of Mary adding an almost laughably prim edge to the otherwise funky '…Buzz'" and goes on to note that "Judas is doing a bit of an Elvis impersonation as well." This fan finds it hard to disagree with V²'s ultimate verdict: "An unspectacular take on the spectacular." Clean, and flat in terms of rock feel; no noticeable flaws, but no particularly memorable delights or effects either.
The fan community, in its nascent days, often confused this rendition with the Kingsway Youth Opera Company recording; while the rendition named for Caddy is one of the most mass-produced JCS "knock-off" albums, it is an entirely different entity from the Kingsway recording, which features different tracks and orchestrations, and has never — to our knowledge — been duplicated in like fashion. It has since emerged that this was the result of confusion thanks to another "knock-off" release in the Nineties credited to the "Mayfair Ensemble," which compiled tracks from several studio highlights recordings of JCS, with remastered sound, leading fans to erroneously believe that tracks on that album emanated from a single source rather than a single label licensing multiple tracks for its use.
Often, such recordings were graced with faux-sophisticated liner notes that attempted to add an air of authenticity to the proceedings. Such was the case with a budget release of the Caddy rendition in Canada, which featured the following:
There came suddenly upon the face of this orb… a unique illumination, gradually spreading tendrils of love and compassion for all to know.

Through all ages man has sought to know the artisan who so intricately wove the fabric of his cosmos; perhaps he felt a need to enquire (sic) of his future… to allay the fears of ignorance… to understand existence.

Jesus Christ Superstar has become a relevant statement of the present milieu of self-doubt and soul-searching. Man's idiosyncrasies are as infinite as his incapabilities in communicating with others of his species.

With the advent of rock and roll, the music scene has in general undergone what may be referred to as 'severe transgressions.'

The trend now is toward truth and realism conveyed to us by means of totally fresh and creative abstractions… both in format and presentation through the media.

Classic renditions have given rise to the 'Rock Opera.' Today's presentations are simultaneously entertaining and critical.

Superstar is now universally accepted as a descriptive term personifying individualistic identity.

The rock opera Jesus Christ Superstar conveys the classic theme in a totally new 'now' idiom.

In this album Alan Caddy and his orchestra have tastefully compiled and reproduced what we consider to be an enjoyable cross-section of the opera's finest musical highlights.
Ultimately, this album doesn't offer much for the seasoned JCS fan, but it left an impact. To quote an interview with an exec for one of the labels that released this album, "Alan was very pleased with the final result and I'm happy to see it still sells online, even today, almost 40 years later."
0 out of 5 stars (based on 0 reviews)
There are no reviews yet. Be the first one to write one.