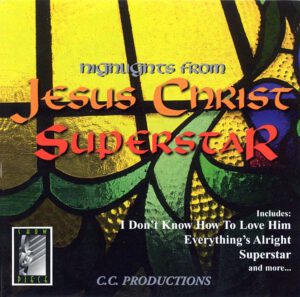 0.0 out of 5 stars (based on 0 reviews)
Classification: C.C. Productions
Alternate Classification: Tring International, The Showcast
Year of release: 1994
Language: English
Type: Studio cast
Jesus of Nazareth…………John Cabar
Judas Iscariot…………Lee Erving
Mary Magdalene…………Dominique Spicer
King Herod…………Julian Janus
Caiaphas…………David Forman
Audio Production Information
Produced by Jay Erik
Engineered by Chris Hampton
Overture
Heaven On Their Minds
What's The Buzz
Everything's Alright
Hosanna
Everything's Alright (Reprise)
I Don't Know How To Love Him
Damned For All Time
The Last Supper*
Argument*
King Herod's Song**
Superstar
John 19:41
Asterisk (*) indicates that some releases band these as one track.
Two asterisks (**) indicate that some releases omit this track.
Historical Notes from a Fan
The ship has long since sailed on capitalizing on the success of Jesus Christ Superstar in the same way that "knock-off" recordings long had. But "budget" labels famous for releasing low-cost sound-alike albums still exist. So it's not hard to imagine that these recordings (this is the point where the classification "studio cast" begins to apply more since one can no longer accurately say they are riding the coattails of a specific production) continued to flourish, and still do to this day. With all studio cast recordings, it's generally the opinion of this particular fan that since the performers lack the experience of getting on a stage and performing the show in front of an audience, the performances are pleasant enough, but not always up to par with a real cast album.
Such is the case with this example from Tring International, which was released in America under the banner of C.C. Productions. As far as budget recordings go, there are worse ones out there, but this is decidedly nothing special. The orchestration is not overly Seventies, but not particularly noteworthy because of that either. A good portion of the instruments are real and very capably played, but the larger orchestra parts (remember: "economy" production) are synthesized. By and large, the score itself manages to rise above this treatment, and not all of it is mediocre; the arrangement of "Superstar," for example, shines a more modern (for its day) light on the track and is rather good, with some interesting use of synth.
As for the performances, they mainly fall into the realm of "passable." John Cabar manages to portray Jesus with adequate feeling despite the sparse representation his character receives in the recording. Dominique Spicer, though she has a nice voice, isn't doing anything new here; it's slightly disappointing to hear her mimicking Claire Moore from the 20th anniversary London cast. The stand-out of the semi-sorry affair is Lee Erving, who has the perfect voice for Judas and does the best with what he is given; check out the creativity in his interpretation of "Heaven On Their Minds."
There are so many good versions of JCS on the market that it's hard to imagine why someone would go out of their way to buy this, but if it's the only one in the shop (provided you still actually go to a place that sells physical products; it is said my ancestors called them "record stores"), you won't regret it very much. It's not wonderful, but it doesn't deserve the panning that some people give it either, at least in this reviewer's opinion.
0.0 out of 5 stars (based on 0 reviews)
There are no reviews yet. Be the first one to write one.