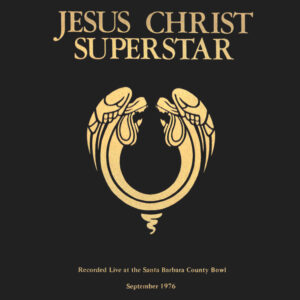 0 out of 5 stars (based on 0 reviews)
Classification: California Youth Theatre
Alternate Classification: Gazebo Theatre One
Year of release: 1976
Language: English
Type: Live recording, Stage cast, Limited release
Jesus of Nazareth…………Ted Neeley
Judas Iscariot…………Carl Anderson
Mary Magdalene…………Yvonne Elliman*
Pontius Pilate…………Martin Speer
King Herod…………Forbes James Candlish
Simon Zealotes…………Henry Johnson
Caiaphas…………Isaac Jenkins
Annas…………Norman Neil
Peter…………Lance Boyd
Priests…………Michael Booker, Mark Driscoll, Mark Glover
Maid by the Fire…………Sandy Sorah
Old Man………..Roger Marcus
The Chorus…………John Beckman-Farrar, Michael Booker, Forbes James Candlish, Jenean Chandler, Catherine Dougher, Stuart Eiseman, Theodore Gekis, Ty Granaroli, Van Granaroli, William Hinshaw, Tim Ingram, James A. Kunellis, Steve Lord, Viki MacGregor, Roger Marcus, Kirk Olson, Janelle Preston, Liane Redpath, Greg Russell, Eve Sanderson, Mark Sendrak, Dan Smith, Larry Smith, Sandy Sorah, Kassy Stone, Ed Villa, Cynthia Wisehart
Palm Sunday Children…………Michael Best, Scott Drnavich, Tony Edwards, Glenda Krause, Michael Sharrett, Eric Stoltz
Backstage Chorus…………Donna Abrams, Shelley Anderson, Brad Bauer, Carolyn Binkley, Sarah Dalton, Bonnie Jean Fitchett, Paul Iannaccone, Glenda Krause, Katy Krause, Melody Meisel, Laura Pulver, Heidi Schiess, Sukran S. Sir, Rose Anna Vitetta
* indicates that the role of Mary Magdalene was normally performed by Sarah Rutledge; Ms. Elliman appeared due to special circumstances described in the entry below.
Act 1:
Overture
Heaven On Their Minds
What's The Buzz
Strange Thing, Mystifying
Everything's Alright
Then We Are Decided
This Jesus Must Die
Hosanna
Simon Zealotes / Poor Jerusalem
Pilate's Dream
The Temple
Everything's Alright (Reprise)
I Don't Know How To Love Him
Damned For All Time
Blood Money
Act 2:
The Last Supper
Gethsemane
The Arrest
Peter's Denial
Pilate And Christ
King Herod's Song
Could We Start Again Please?
Judas's Death
Trial Before Pilate
Superstar
Crucifixion
John 19:41
Historical Notes from a Fan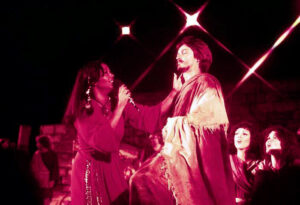 Jesus Christ Superstar continued its march onward into the mid-Seventies, going from strength to strength and enjoying much success around the world. Along the way, this special production occurred, a benefit for the California Youth Theatre organization which reunited original JCS film stars Ted Neeley, Carl Anderson, and Yvonne Elliman, purportedly the first and only time they ever performed their respective roles on stage together.
In 1962, Jack Nakano, then a performing-arts teacher at La Cumbre Junior High School in Santa Barbara, California, teamed up with four other local drama teachers to create Youth Theatre Productions, Inc., a summer theater program for local youth, which made its debut with a production of Bye Bye Birdie. Over time, YTP expanded its scope, taking a new approach to student productions which experimented with pairing Equity performers with student actors (until then only practiced at a college level). In 1968, Santa Barbara High School — where Nakano had transferred in 1964 and would teach until 1978 — presented a production of Life With Father starring Leon Ames and Lurene Tuttle alongside students; a later on-campus production of Winesburg, Ohio paired Eva Marie Saint (under the direction of her husband, Jeffrey Hayden) with the high schoolers. In 1969, YTP's production of Carnival, featuring future star Timothy Bottoms, was the first-ever school production to tour, performing at the L.A. Cultural Center in downtown Los Angeles.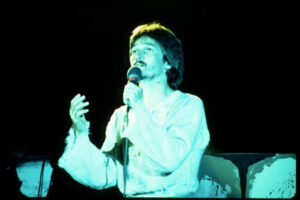 After spending a year in England on a Fulbright teaching grant in 1973, Nakano created Gazebo Theatre One, his first off-campus venture into production. Together, YTP and Gazebo formed the basis for Nakano's new brainchild, the statewide California Youth Theatre, Inc., a nonprofit theater arts training program for ages 12 to 21 which Nakano described as "a grass-roots effort for the arts, covering all aspects of performing." To launch CYT, it was decided to mount a benefit production of JCS, mixing experienced performers with 200 young artists. Ted Neeley and Carl Anderson, the stars of the film, donated their time and talent, recreating their iconic roles of Jesus and Judas for an unforgettable series of performances under the stars at the outdoor Santa Barbara County Bowl. Andrew Lloyd Webber and Tim Rice graciously waived all royalties from these performances to further benefit the goals of CYT. Recalled Neeley in a 2006 interview, "We were so excited about having the opportunity to help a youth organization provide access to kids to get into the theater. We had a beautiful time doing it."
One weekend, Yvonne Elliman — who, it should go without saying, played Mary Magdalene on the original album, on Broadway, and in the film — and JCS' original producer Robert Stigwood attended a performance. At Ted, Carl, and Yvonne's joyous reunion backstage, it came up in conversation that, although they had all been original members of the Broadway cast, they had never performed their respective roles onstage together. On a whim, Stigwood approached Nakano and co-director Gary Goddard and asked if they would allow Yvonne to join the company as Mary Magdalene for its final weekend. They readily agreed, and in return, Robert then waived the performing rights for the rest of the show's run. After Yvonne joined the cast, he reportedly remarked, "If this production had been on Broadway it would still be running today."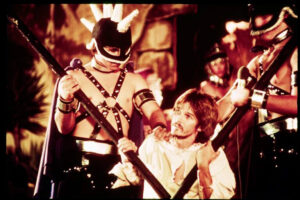 The ten performances of JCS were a massive success, and the proceeds financed the new CYT's first statewide tour, a production of Peter Pan which played in six cities throughout California in July and August 1977. Indeed, JCS proved so successful that it was revived for a second run in 1977 at the Concord Pavilion, once again reuniting Ted and Carl alongside Paul Ainsley, who reprised his role as Herod from the original Broadway cast.
This production, entirely directed and choreographed by Goddard and Anthony Jenkins (later Tony Christopher), planted the seeds for the resurgence of JCS onstage in America in the Nineties. It was Goddard, Christopher, and Forbes Candlish (Herod in the '76 cast, Peter in the '77 cast, Ted's understudy in both productions) who, through their later production arm Landmark Entertainment Group, produced and staged a first-class national tour that reunited Ted and Carl, along with co-stars Irene Cara (Fame) as Mary — later followed in the role by Stevie Wonder's former wife, Motown star Syreeta — and Dennis DeYoung (lead singer of Styx) as Pilate. The "A.D. Tour," as it came to be known by fans, outlived its planned three-to-four-month run to celebrate the film's anniversary by several years, crisscrossing the nation to huge success (playing a dozen or more performances over several nights at each stop in 2,000 to 5,000-seat auditoriums, returning to some cities two and three times), falling a mere notch below Guns N' Roses and Janet Jackson on the list of highest-grossing concert tours for 1993, and finally closing in 1997 as the longest-running revival in North American theater history to date, with 1,753 performances under its belt, having grossed over $140 million.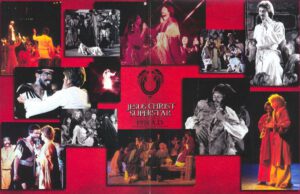 Ted and Yvonne, along with Goddard and Candlish (by now part of a new production arm, Gary Goddard Entertainment), would once again donate their services to Nakano in 2006 for a one-night-only benefit concert at the Ricardo Montalbán Theatre in Hollywood intended to launch the nationwide expansion of CYT (a program called YouTHeatre-America! which aimed to establish and complement a network of similar programs to CYT across the country which would also serve as a clearinghouse for technical and artistic resources and advice), alongside Barry Dennen (Pilate), Ben Vereen (Judas), stage and screen stars Clint Holmes (Simon) and Jack Black (Herod), and a host of Youth Theatre graduates and alumni.
Long before all this later success, however, there was only a small production in Santa Barbara; noteworthy historically, to be sure, yet sadly any document of this production was long thought lost to the sands of time. But then, in 2013, a strange thing happened. A JCS fan from California who lives in Santa Barbara loved the show so much that his wife put in a standing request at a used record store in Ventura, California called Grady's for anything JCS-related. That April, they called her because they had something. "Something" turned out to be an LP pressing of a soundboard recording of the final performance, from the weekend Yvonne joined the show! These were made as a curio for cast members (the inside of the cover had a cast member's name written on it, and also included were a full-color program and ticket stub) and may have been circulated locally as well. It was promptly released to the Internet, to much fanfare.
Though its standing as an official recording is admittedly somewhat shaky, JCS Zone has decided to honor this recording as part of the official discography for its historical significance, marking the first and only time all three of the original film stars ever performed their respective roles on stage together, and also the origin of some of the most successful productions of JCS ever mounted in the U.S.
0 out of 5 stars (based on 0 reviews)
There are no reviews yet. Be the first one to write one.