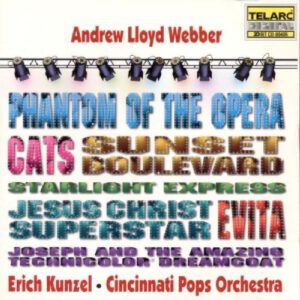 0.0 out of 5 stars (based on 0 reviews)
Classification: Cincinnati Pops Orchestra Plays Andrew Lloyd Webber
Year of release: 1996
Language: English
Type: Studio recording
Credited to The Cincinnati Pops Orchestra (Conductor: Erich Kunzel)
JCS-Relevant Credits
Soloists (11): Timothy Berens (Guitar), Randolph Bowman (Flute)
Audio Production Information
Producer: Robert Woods
Liner Notes: Richard E. Rodda
JCS-Relevant Credits
Arranged by Crafton Beck
1. Phantom of the Opera
2. Music of the Night
3. Think of Me
4. Wishing You Were Somehow Here Again
5. All I Ask of You
6. Angel of Music
7. As If We Never Said Goodbye
8. Greatest Star of All
9. With One Look
10. Memory
11. I Don't Know How to Love Him
12. Gethsemane (I Only Want to Say)
13. King Herod's Song
14. Don't Cry for Me Argentina
15. Starlight Express
16. Any Dream Will Do
Historical Notes from a Fan
The ship has long since sailed on capitalizing on the success of Jesus Christ Superstar in the same way that "knock-off" recordings long had. But "budget" labels famous for releasing low-cost sound-alike albums still exist. So it's not hard to imagine that these recordings (this is the point where the classification "studio cast" begins to apply more since one can no longer accurately say they are riding the coattails of a specific production) continued to flourish, and still do to this day. With all studio cast recordings, it's generally the opinion of this particular fan that since the performers lack the experience of getting on a stage and performing the show in front of an audience, the performances are pleasant enough, but not always up to par with a real cast album.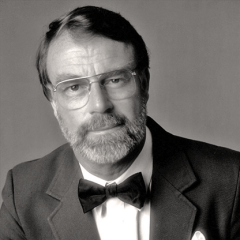 Not unlike the 1990 Symphonic Pictures release, this was a "pops" orchestra's attempt at relevance. The artist, in this case, was Maestro Erich Kunzel and the Cincinnati Pops. The late Maestro Max Rudolf invited Mr. Kunzel, then a young conductor on the faculty of Brown University, to join the Cincinnati Symphony Orchestra as an associate conductor in 1965. That October Maestro Kunzel conducted his first sold-out "8 O'Clock Pops" concert, marking his ascent as a modern orchestral legend. The Cincinnati Pops, part of the Cincinnati Symphony, was then officially founded in 1977 with Maestro Kunzel at the helm. For decades he led the orchestra, packing houses in Cincinnati's Music Hall and Riverbend Music Center, and also gaining new fans the world over through tour performances (including many concerts in Carnegie Hall, Radio City Music Hall, and at the Blossom Music Festival and numerous international dates, such as a celebrated tour to China in 2005), PBS television specials, and millions of copies — of 90 albums, since 1977 — sold on the Telarc label. (More than 55 of them made the Billboard Top 10.)
The program, focused of course on the compositions of Andrew Lloyd Webber, takes in seven of his biggest hits: a fine showing for The Phantom of the Opera, mini-suites for Sunset Boulevard and JCS, and a number apiece from Joseph, Evita, Cats, and Starlight Express. The arrangements overall are tastefully done and faithful, but not without creativity. Witness "Don't Cry for Me Argentina" seguing unexpectedly from its lush, Spanish feel to a touch of Ravel's "Bolero," or "Any Dream Will Do" taking on a theme-and-variations approach that sees the familiar melody veer from ballroom waltz to jazz, to Magnificent Seven-style scoring, to a peculiar circus style.
Where JCS is concerned, it's nothing revolutionary. The songs were intelligently chosen to reflect the opera's contrasting and conflicting moods, from unrequited, undefined love ("…Love Him") to sheer anguish ("Gethsemane"). If you're the kind of fan who will buy any recording for just three songs from their favorite, this one's unquestionably for you.
0.0 out of 5 stars (based on 0 reviews)
There are no reviews yet. Be the first one to write one.