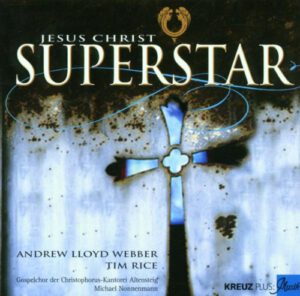 0.0 out of 5 stars (based on 0 reviews)
Classification: Gospel Choir
Year of release: 2001
Language: English
Type: Studio cast
Credited to Gospelchor der Christophorus-Kantorei Altensteig (Patrick Bopp, soloist). 
Credited to Sangre Nueva (conductor: Michael Nonnenmann).
Audio Production Information
Choral Arrangements: Stefan Kalmer
℗ 2001 Kreuz Verlag GmbH & Co. KG Stuttgart
www.kreuzverlag.de
Overture
Heaven On Their Minds
What's The Buzz
Everything's Alright
Hosanna
Simon Zelotas (sic)
Pilate's Dream
The Temple
Try Not To Get Worried (sic)
I Don't Know How to Love Him
Damned for All Time
The Last Supper
I Only Want To Say (Gethsemane)
The Arrest
King Herod's Song
39 Lashes
Superstar – Finale
0.0 out of 5 stars (based on 0 reviews)
There are no reviews yet. Be the first one to write one.