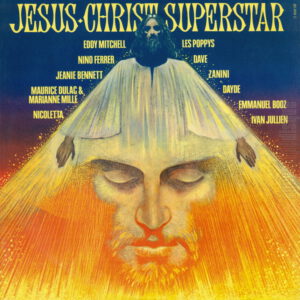 0.0 out of 5 stars (based on 0 reviews)
Classification: Ivan Jullien Big Band
Alternate Classification: Barclay
Year of release: 1972
Language: French
Type: Studio cast
Side 1:
Ouverture (Overture)…………Ivan Jullien Big Band
Chanson De Judas (Heaven On Their Minds)…………Eddy Mitchell
Dites-Moi Ce Qui Se Passe (What's The Buzz)…………Nino Ferrer
Tout Ira Très Bien (Everything's Alright)…………Jeanie Bennett
Le Temple (The Temple)…………Maurice Dulac & Marianne Mille
Chanson De Marie-Madeleine (I Don't Know How To Love Him)…………Nicoletta
Side 2:
Hosanna (Hosanna)…………Les Poppys
Gethsemanie (Gethsemane)…………Dave
Chanson D'Herode (King Herod's Song)…………Zanini
Superstar (Superstar)…………Daydé
Crucifixion – Final (Crucifixion)…………Emmanuel Booz
Audio Production Information
Artistic Direction by Richard Bennett
Engineer: Charles Rochko
Assistant: Joachim Roy
Translation by Pierre Delanoë
Arrangements and Musical Direction by Ivan Jullien
Design by Patrick Loiseau
Recorded at Studio Barclay-Hoche, Paris.
Historical Notes from a Fan
When any show is a hit, a lot of people will be quick to capitalize on the show's success. In this case, Jesus Christ Superstar was one of the first albums of its kind, and everyone wanted their slice of the pie where the Passion According to Tim and Andrew was concerned. At this time, many "budget" labels famous for releasing low-cost sound-alike albums ("knock-off" recordings capitalizing on shows, songs, or albums that became hits) jumped into the fray. The performers were usually never an actual ensemble that had performed JCS (indeed, in its early days, the number of actual casts performing the show was very few), but instead merely a group of vocalists who recorded songs from the show. Usually, these recordings were very cheaply put together and produced, and priced to own. (In the future, albums like these, now labeled "studio cast recordings," could no longer be accurately described as simple cash grabs, but at the time, the use of the phrase "knock-off" is appropriate.) Though it may be a matter of opinion, this particular fan feels that since the performers on these studio recordings lack the experience of getting on a stage and performing the show in front of an audience, the performances are pleasant enough, but not always up to par with a real cast album.
This effort by the French label Barclay is of mysterious origin. Not much is known about this recording, except that it's now classed as ultra-rare by all websites which deal in used LPs, we at JCS Zone had only ever heard a few selections that were ripped to YouTube (until recently — as of April 2019, we've tracked down a complete copy and made a lossless transfer direct from vinyl, which can be heard above), and it's a collection of French artists of varying degrees of popularity performing songs from the score.
The translated lyrics are by noted French songwriter Pierre Delanoë, most known for his work with such performers as Edith Piaf, Charles Aznavour, Petula Clark, Johnny Hallyday, and Mireille Mathieu. As his translations were also used in the original French production, which did not go well, it's unclear as to whether they originated with this album, or if the album came after the Paris stage premiere and was part of the continued — ultimately vain — effort to make JCS "happen" in France (more about all this on the page for the French cast recording). The arrangements range from jazz/funk (for which Ivan Jullien, the arranger, was well-known), to generic rock and pop, to a children's choir (Les Poppys) on "Hosanna," to what is reported as a freaky prog take on the crucifixion sequence. (As if it wasn't freaky enough already; the original recording on the concept album still gives this fan shivers!)
In any event, for being so obscure, the album boasts some terrific Seventies orchestrations, layered with hallmark-quality jazz horns. Stand-out tracks, in particular, include "Heaven On Their Minds," "Gethsemane," and a "Superstar" that erupts at an incredibly fast tempo. (Joked resident JCS Zone interviewer Andrew J. Simpson, "Seems the orchestra was not getting paid by the hour here. I think I have whiplash from headbanging to it.")
0.0 out of 5 stars (based on 0 reviews)
There are no reviews yet. Be the first one to write one.