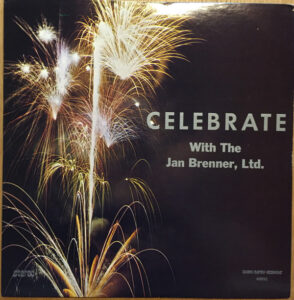 0.0 out of 5 stars (based on 0 reviews)
Classification: Jan Brenner Ltd.
Year of release: 1974
Language: English
Type: Studio cast
You can listen to (the relevant portion of) this out-of-print recording above thanks to our friends at WFMU, "the radio station that bites back." Indeed, Ken, WFMU's station manager, is the reason that this medley has survived the test of time; in 2006, he devoted most of a WFMU broadcast to "alternative" versions of songs from JCS, both from well-known and obscure sources, and Jan Brenner Ltd.'s… unique rendition was one of them.
The Jan Brenner, Ltd.
Guitar, Banjo: David Shoup
Bass, Guitar: Winston Higham
Percussion, Bass: Jim La Monica
Side 1:
Celebrate / People Gotta Be Free*
All I Ever Need Is You*
He Ain't Heavy, He's My Brother*
Look What They've Done To My Song Ma*
More Today Than Yesterday*
Side 2:
Love So Fine*
Superstar Medley: What's The Buzz / Gethsemane / Everything's All Right (sic) / Hosanna / King Herod's Song / I Don't Know How To Love Him / Jesus Christ, Superstar
* indicates a non-JCS song.
Audio Production Information
Produced by Jan Brenner Ltd.
Engineer: Jim Wheeler
Arranged by Jim La Monica and David Shoup
Photo: Wayne F. Olson
Direction: Associated Booking Corp., 919 N. Michigan Ave., Chicago, IL 60611
Studio: Cavern Sound
Historical Notes from a Fan
When any show is a hit, a lot of people will be quick to capitalize on the show's success. In this case, Jesus Christ Superstar was one of the first albums of its kind, and everyone wanted their slice of the pie where the Passion According to Tim and Andrew was concerned. At this time, many "budget" labels famous for releasing low-cost sound-alike albums ("knock-off" recordings capitalizing on shows, songs, or albums that became hits) jumped into the fray.
The performers were usually never an actual ensemble that had performed JCS (indeed, in its early days, the number of actual casts performing the show was very few), but instead merely a group of vocalists who recorded songs from the show. Usually, these recordings were very cheaply put together and produced, and priced to own. (In the future, albums like these, now labeled "studio cast recordings," could no longer be accurately described as simple cash grabs, but at the time, the use of the phrase "knock-off" is appropriate.) Though it may be a matter of opinion, this particular fan feels that since the performers on these studio recordings lack the experience of getting on a stage and performing the show in front of an audience, the performances are pleasant enough, but not always up to par with a real cast album.
This is a very obscure vinyl release; aside from the Discogs page linked above, almost no info could be found about it. The "Cavern Custom Recording" label, which suggests the album was manufactured by the studio at which it was recorded (which, the evidence suggests, released lots of random music around the early Seventies, and especially in 1974, through this budget label), is a possible clue. Based on the liner notes, it's this reviewer's educated guess that this was a self-made and distributed album by The Jan Brenner Ltd. aimed at getting their group some bookings, presumably in the Chicago area. The tracklist certainly seems standard for the variety of club acts working the circuit at the time, and many such groups were not immune to including JCS material in their catalog; indeed, Carl Anderson was initially discovered by the producers of JCS when his band, Second Eagle, worked a JCS medley into their set and were booked to perform the material at a progressive church's Palm Sunday service, which wound up drawing national attention when it was broadcast on TV.
The most relevant portion of this album for fans is the second track on side two, which is, basically, a 14-minute medley of songs from the show, incorporating "story elements" added by voice-over… kind of like a film strip. I'm not gonna lie to you, it's positively cringeworthy; when you hear it, it's got a distinct Seventies vibe, and it's not dissimilar to imagining a JCS recording where all the voices were multi-tracked by Tiny Tim. It's also the most (no doubt unintentionally) hilarious version of anything from JCS I've ever heard. While it's certainly nothing to be amazed about, it's still part of the early history of JCS, a shining example of how vital a part of the international consciousness it had become, and therefore significant enough to warrant inclusion here.
0.0 out of 5 stars (based on 0 reviews)
There are no reviews yet. Be the first one to write one.