0 out of 5 stars (based on 0 reviews)
Classification: Mexican Revival Cast
Year of release: 1984
Language: Spanish (Latin American)
Type: Stage cast
Jesus of Nazareth…………Juan Santana
Judas Iscariot…………Jorge Abraham
Mary Magdalene…………Laura Flores
Pontius Pilate…………Ólinsser
King Herod…………Gerardo González
Woman…………Alejandra Avalos
With the participation of the groups Fresas Con Crema, Dinamita, and Escandalo
Audio Production Information
Produced by Alfonso González
Translation by Julissa
Arranged by Marco Flores and Marcos Lizama
Vocal Arrangements: Jorge Abraham
Made in Mexico.
Act 1:
Obertura (Overture)
Un Cielo En Su Imaginacion (Heaven On Their Minds)
Hay Un Rumor (En Toda La Ciudad) (What's The Buzz)
Algo Muy Extraño Y Sospechoso (Strange Thing, Mystifying)
Todo Está Muy Bien (Everything's Alright)
Jesús Debe Morir (This Jesus Must Die)
Hosanna (Hosanna)
Simón Celote / Pobre Jerusalém (Simon Zealotes / Poor Jerusalem)
El Sueño De Pilatos (Pilate's Dream)
El Templo / Los Leprosos (The Temple)
Yo No Sé Como Amarlo (Everything's Alright (Reprise) / I Don't Know How To Love Him)
Condenado Para Siempre / Dinero Maldito (Damned For All Time / Blood Money)
Act 2:
La Última Cena / Un Pobre Mandarín (The Last Supper)
Getsemaní / La Traición (Gethsemane)
El Arresto (The Arrest)
La Negación De Pedro (Peter's Denial)
Pilatos Y Cristo (Pilate And Christ)
La Canción Del Rey Herodes (King Herod's Song)
Volvamos A Empezar (Could We Start Again Please?)
La Muerte De Judas (Judas' Death)
Juicio Ante Pilatos (39 Azotes) (Trial Before Pilate [Including The Thirty-Nine Lashes])
Jesucristo Superestrella (Superstar)
Historical Notes from a Fan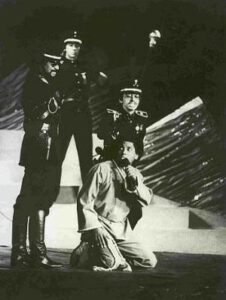 1984 seems to have been a big year for Spanish-speaking revivals of Jesus Christ Superstar, as both Mexico City and Madrid turned their attention once more to Tim Rice and Andrew Lloyd Webber's rendition of the greatest story ever told. Jesucristo Súperestrella (as the Mexican translation would have it) had never gone out of style. After its initial presentation in 1975, it had been presented in concert form (in 1975, at the Museo Nacional del Virreinato as part of Festival Tepotzotlan '75, and in 1980, at Teatro de la Ciudad) and full production (in 1983, at Teatro Lirico). Jorge Abraham, Judas in the original Mexican company, had retained his role in each of these productions, and Julissa, a notorious triple-threat celebrity of the time who initially developed the Mexican production as a star vehicle for her, had managed to remain attached as well, producing and starring in the 1980 rendition and producing the 1983 cast.
Professional musical theater first appeared in Mexico City at the end of the Sixties, when golden age Broadway musicals such as Gypsy, Fiddler on the Roof, Mame, and The Sound of Music began to be produced. Julissa had pioneered presenting such current fare as JCS, Grease, Joseph and the Amazing Technicolor Dreamcoat, Pippin, and The Rocky Horror Show, which she would frequently adapt herself, star in, and even direct. Though this spawned productions of other Broadway material of the day such as Sugar and Annie, Mexican musical theater had mostly declined by the Eighties; producers weren't particularly interested in mounting it.
Then Televisa, a Mexican mass media conglomerate (the first in all the Spanish-speaking world, and the largest in Hispanic America), got into the game. They sponsored original material by Mexican talent such as Kuman (the first Mexican rock opera, the story of which was described as "Tarzan in space") and Titere (Chespirito's adaptation of the Pinocchio story, aimed at family audiences), which included underwriting national tours and financing and distributing recordings, many of which resulted in chart success. From Televiteatros, their studio complex in Mexico City, they launched many famous productions. Seeing where her bread was buttered, Julissa came to Televisa to sponsor Joseph, which ran at Televiteatros I starting in 1983 and played to packed houses.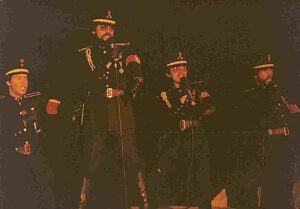 For the Lenten season in 1984, it was decided to remount JCS at Televiteatros II. Julissa co-produced (with Luis de Llano Macedo and Mundo Audiovisual, and in association with Patti Juarez C.) and co-directed (with Manuel Gurría, Herod in the original production), Jorge Abraham once again played Judas, Marcos Lizama's arrangements were retained, and Julissa's translation (now credited solely to her) was once again used, but as in Madrid, new elements crept in, including star talent (pop stars Laura Flores and Ólinsser popped up, playing Mary Magdalene and Pontius Pilate respectively, as well as then-popular groups such as Fresas Con Crema, Dinamita, and Escandalo) and audiovisual involvement from Jack Misraky. This album is a record of that event, another two-disc set that is noteworthy for including almost the entire score except for the concluding "Crucifixion" and "John 19:41" sequences.
Julissa would go on to collaborate successfully with Televisa again, presenting the first version of Grease with an all-child cast, and Televisa themselves would present a revival of Mame showcasing Silvia Pinal, the grande dame of Mexican musical theater, in the title role. In the early hours of September 19, 1985, however, the Televiteatros complex fell victim to the Mexico City Earthquake, the worst natural disaster to date in the capital's history, which caused serious damage to the general Mexico City area and killed 5,000 people. At one point, the grounds of the area in which Televiteatros fell were colored orange from the building's debris. Today, El Centro Cultural (built from 1994 to 1996, and sponsored by Telmex from 2000 to 2014) stands on the site, the home of two theaters and several commercial spaces.
0 out of 5 stars (based on 0 reviews)
There are no reviews yet. Be the first one to write one.