0 out of 5 stars (based on 0 reviews)
Classification: Moog Superstar
Year of release: 1974
Language: English
Type: Studio recording
Recorded by Terry Wallace & His Interstellar Moog Sounds
Audio Production Information
Side 1:
Jesus Christ Superstar
The Arrest / King Herod's Song
Everything's Alright
Gethsemane (I Only Want To Say)
Heaven On Their Minds
I Don't Know How To Love Him
Side 2:
Medley: What's The Buzz / Crucify Him / The Crucifixion / Epilogue
Suite: Devotional / Hallelujah / Bacchanal / Starry Night / Galaxy / A Prayer*
* denotes that this is an original composition for Moog by Eric Siday
Historical Notes from a Fan
When any show is a hit, a lot of people will be quick to capitalize on the show's success. In this case, Jesus Christ Superstar was one of the first albums of its kind, and everyone wanted their slice of the pie where the Passion According to Tim and Andrew was concerned. At this time, many "budget" labels famous for releasing low-cost sound-alike albums ("knock-off" recordings capitalizing on shows, songs, or albums that became hits) jumped into the fray.
The performers were usually never an actual ensemble that had performed JCS (indeed, in its early days, the number of actual casts performing the show was very few), but instead merely a group of vocalists who recorded songs from the show. Usually, these recordings were very cheaply put together and produced, and priced to own. (In the future, albums like these, now labeled "studio cast recordings," could no longer be accurately described as simple cash grabs, but at the time, the use of the phrase "knock-off" is appropriate.) Though it may be a matter of opinion, this particular fan feels that since the performers on these studio recordings lack the experience of getting on a stage and performing the show in front of an audience, the performances are pleasant enough, but not always up to par with a real cast album.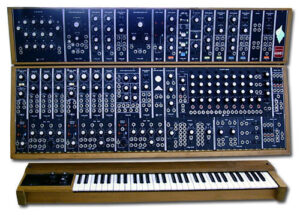 In this case, it wouldn't be the Seventies without a Moog! Few musical instruments of the late Sixties and Seventies are more easily datable. This electric grand producing a psychedelic sound dragged its ass over everything in that era — it would be hard to imagine Apocalypse Now, numerous space films, and over 9,000 prog-rock albums by everyone from heroes of the genre to little-known experimenters, without it. The inventor of this modern miracle, Robert Moog, left our world in August 2005, but he undoubtedly wrote his name in music history with the keys of his synth.
"Terry Wallace & His Interstellar Moog Sounds" seems to have been a cover for composer/arranger Eric Siday, formerly a hot-jazz violinist in London dance bands in the Roaring '20s, later an immigrant to the U.S. who became the first composer to systematically utilize electro-acoustic sound potential within the television medium, particularly with his invention of the sound logo and the musical Rorschach test. He commissioned the first-ever percussion synthesizer from Robert Moog himself, using it extensively in his television work, which included such station IDs and commercials as that of the National Educational Television network (forerunner to PBS), the 1966 CBS "in color" bumper, the news sounder for the ABC Radio Networks, and the 1965-76 Screen Gems/Columbia Pictures Television logos.
Given his C.V., one assumes that a cash-in rack job like this was paying the bills. 11 highlights from JCS, plus one original composition, with an ersatz artistic rendering of the '73 film artwork; entertaining for a Moog fan (especially those who prefer its characteristic "cozy" archaic sound, its originality, charm, and its player's genuine enthusiasm, to the quite different models and timbres of such current pop synth enthusiasts as, say, Didier Marouani and Space), but perhaps not so much for a casual JCS enthusiast.
The album is frankly rather boring. None of the material is presented in order, the arrangements are a little too unusual (the rhythm is unnecessarily fussy at times, almost in the manner of one improvising at home and not taking into account the essence of the original composition; for example, "Everything's Alright," which should sound like a lullaby, comes off like a Cossack dance), and aside from interesting highlights like his treatment of Herod's number, one almost imagines that Siday was just noodling on his instrument and some paparazzi hiding in the bushes caught the whole thing on tape. Vocals (from a choir and the occasional soloist) appear only sporadically, usually not singing the text; when they do appear, it's sometimes to a strange effect. (For example, "I Don't Know How To Love Him" is rendered in the form of a spoken dramatic soliloquy with accompaniment; oddly, this gives the lyrics, for this reviewer, a greater sincerity than is conveyed when people simply sing the role.) Still, it's worth the listen as a museum piece, especially if one digs early Moog experimentation; like live singers, the synths echo from one end of the "sound stage" to the other, and at times, the synth player covering a vocal melody manages to reproduce not only the melody but the intonations of a live singer.
0 out of 5 stars (based on 0 reviews)
There are no reviews yet. Be the first one to write one.