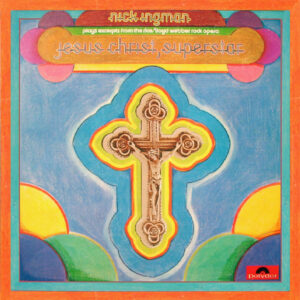 0.0 out of 5 stars (based on 0 reviews)
Classification: Nick Ingman
Year of release: 1971
Language: English
Type: Studio cast
Audio Production Information
Produced by Norrie Paramor
All Titles Arranged and Conducted by Nick Ingman
Sleeve Design, Graphics and Photography by Hamish Grimes
Nick Ingman Photograph (back cover, below) by Dezo Hoffmann
Side 1:
Heaven On Their Minds
What's The Buzz / Strange Thing, Mystifying
Everything's Alright
This Jesus Must Die
Hosanna
Simon Zealotes
Side 2:
Pilate's Dream
Damned For All Time
I Don't Know How To Love Him
King Herod's Song
Gethsemane*
Superstar
Historical Notes from a Fan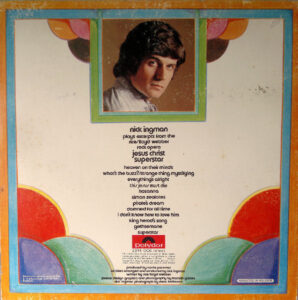 When any show is a hit, a lot of people will be quick to capitalize on the show's success. In this case, Jesus Christ Superstar was one of the first albums of its kind, and everyone wanted their slice of the pie where the Passion According to Tim and Andrew was concerned. At this time, many "budget" labels famous for releasing low-cost sound-alike albums ("knock-off" recordings capitalizing on shows, songs, or albums that became hits) jumped into the fray. The performers were usually never an actual ensemble that had performed JCS (indeed, in its early days, the number of actual casts performing the show was very few), but instead merely a group of vocalists who recorded songs from the show. Usually, these recordings were very cheaply put together and produced, and priced to own. (In the future, albums like these, now labeled "studio cast recordings," could no longer be accurately described as simple cash grabs, but at the time, the use of the phrase "knock-off" is appropriate.) Though it may be a matter of opinion, this particular fan feels that since the performers on these studio recordings lack the experience of getting on a stage and performing the show in front of an audience, the performances are pleasant enough, but not always up to par with a real cast album.
Among those cashing in, at least on this recording, was Tim Rice's former employer (and then-publisher of "King Herod's Song") Norrie Paramor, who produced the lot. This was an instrumental take on highlights from the score, kept down to a tight combo of drums, bass, guitar, and organ, with the odd stab of brass and jot of orchestration; what vocals there are usually fall into the backing variety, so the music does the talking. Tracks of particular note include "Heaven On Their Minds," "What's The Buzz," and "Damned For All Time." Though other musicians are not credited, or at least not credited anywhere JCS Zone has been able to find, Alan Hawkshaw (often featured on other Ingman releases) might well be reprising his role from the Kingsway Youth Opera Company recording on the Hammond organ that can be heard throughout this album.
Often, such recordings were graced with faux-sophisticated liner notes that attempted to add an air of authenticity to the proceedings. Well, if you thought that was crazy enough, imagine having the gall to ask one of the show's authors to contribute! Tim Rice, likely feeling guilty for having left his old employer out of the loop, pressed into service for a fiver, or — remote possibility — having genuinely liked it, contributed these sleeve notes to the alternate pressing with a brown-ish cover above:
Since the original record release of the rock opera Jesus Christ Superstar in October 1970, Andrew Lloyd Webber and I have been very lucky in that many musicians and singers have recorded their own treatments of selections from the opera. Some of these versions of Superstar have differed wildly from our original recording but as long as the new interpretation stands up in its own right as an interesting piece of musical production we don't mind whether it's performed by a symphony orchestra, a rock group, a middle-of-the-road choir or by a brass band. (All of which has happened.) If it's serious, and if it's musical, we are delighted and feel it can only help the work as a whole.

I was particularly glad that Nick Ingman has recorded this album of music from Superstar. I have known Nick since our early days in the music business and I worked with him on numerous projects when we were both at the Norrie Paramor Organisation. Even though I make no claims to great musicianship myself I think I can claim to recognize it in others and Nick's talents as an arranger and as a composer were glaringly obvious from the first time I heard his work.

Before hearing this album I knew that Nick's orchestrations of Andrew's magnificent themes from Superstar would be exciting and original. I knew that we had no need to worry about Nick's work not being serious or musical, and I knew that we would have no need to avoid speaking to Nick for the next few years. (There are a few gentlemen who have tackled Superstar in such a way that I do not feel a strong friendship would be forged were Andrew and I to meet them.) Having now heard this album, my expectations have been more than fulfilled.

Tim Rice
Personally, the author of this entry likes the nice side-swipes Tim takes at other recordings, while of course doing his best to maintain diplomacy. (Why shoot oneself in the foot when the writer still collects mechanical royalties from the publishing, after all?) Witnesses to Andrew's rigid control of the way the show has been performed since the mid-to-late Nineties may also find themselves wistfully nostalgic for the era when Tim's liner notes truly reflected the reality of the authors' mindset.
As this type of cash-in goes, it's a real winner of an album.
0.0 out of 5 stars (based on 0 reviews)
There are no reviews yet. Be the first one to write one.