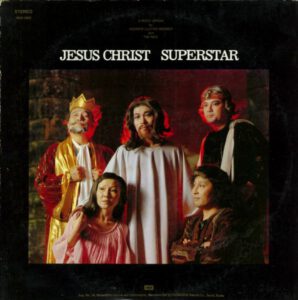 0.0 out of 5 stars (based on 0 reviews)
Classification: Original Korean Cast
Year of release: 1980
Language: Korean
Type: Stage cast
Jesus of Nazareth…………Lee Jong-Yong
Judas Iscariot…………Kim Do-Hyang
Mary Magdalene…………Yun Bok-Hee
Pontius Pilate…………Yu In-Chon
King Herod…………Gwak Gyu-Suk
Simon Zealotes…………Kim Dong-Ho
Caiaphas…………Park Min-Heum
Annas…………Im Hyun-Mo
Peter…………Moon Chang-Gil
Audio Production Information
Produced by Kim Hyo-Hyang
Engineer: Choi Se-Young
Translation by Kim Sun Soo
Arrangements by Jung Sung Jo
Musical Direction by Kim Sun Soo
Album Cover: Bando Espial
Recorded at Seoul Audio Recording Studio, 1980
Act 1:
Overture
Heaven On Their Minds
What's The Buzz / Strange Thing Mystifying
Everything's Alright
This Jesus Must Die
Hosanna
Simon Zealotes / Poor Jerusalem
Pilate's Dream
The Temple
I Don't Know How To Love Him
Damned For All Time / Blood Money
Act 2:
The Last Supper
Gethsemane
The Arrest
Peter's Denial
Pilate And Christ
King Herod's Song
Could We Start Again Please?
Judas' Death
Trial Before Pilate
Superstar
John 19:41
Historical Notes from a Fan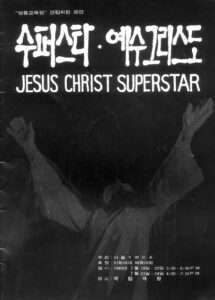 Jesus Christ Superstar continued its march onward into the Seventies and Eighties, going from strength to strength and enjoying much success around the world. Much like it did in Japan, JCS marked the dawn of a new era in Korean theater production. 
Long before Korean performers fully adopted Western musicals in the late Sixties, Koreans flocked to performances of changgeuk (Korean traditional opera based on the Pansori storytelling form), as well as the slightly more modern musikdrama. And there were homegrown hits; for example, the Yegreen Troupe's 1966 effort Sneak Up on Me, based on a classic Korean novel, the title track of which spawned a chart-topping pop single by legendary singer Patti Kim. 
But Western musicals came into play during the Seventies and Eighties with the help of the Hyundai Company, which presented not just JCS but other Western fare such as The Sound of Music, Evita, and Les Misérables, supercharging the industry and kickstarting persistent growth in the Korean musical theater scene in the decades to follow.
Staged by Hyundai's resident director Pyo Jae-Soon, JCS was Korea's first exposure to rock musicals and won the public's enthusiastic support (South Korea is largely Christian, with huge Catholic and Protestant bases). During its initial year-and-a-half run (249 performances), the show was seen by over 300,000 people. And it had a profound effect, not just on its audiences but on its performers, long after it was over; after finishing his run as Jesus around Christmastime in 1981, Lee Jong-Yong went to the U.S. in early 1982 to study theology in Texas and became a pastor in the Cornerstone Church upon his return to Korea.
0.0 out of 5 stars (based on 0 reviews)
There are no reviews yet. Be the first one to write one.