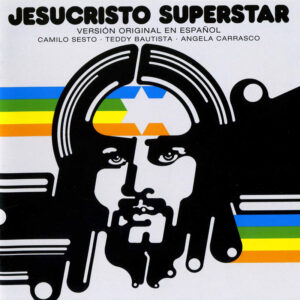 0.0 out of 5 stars (based on 0 reviews)
Classification: Original Spanish Cast
Year of release: 1975
Language: Spanish (European)
Type: Stage cast
Jesus of Nazareth…………Camilo Sesto
Judas Iscariot…………Teddy Bautista
Mary Magdalene…………Ángela Carrasco
Pontius Pilate…………Alfonso Nadal
King Herod…………Dick Zappala
Simon Zealotes…………Antonio de Diego
Caiaphas…………Charly Chausson
Annas…………Jason
Peter…………Guillermo Antón
Priests…………Yulio Abatar, Danny Dixon, Javier Ulacia
The Chorus…………Leonor Ahn, José Barros, Vicente Carretón, René Ceballos, Charly, Amparo Climent, Emilio del Real, María Elías, Peggy Gray, Paco Grimón, Ruth Guerrero, Susan Kinder, Elena Manchón, Nichola Mann, José María Martínez, Miguel Montenegro, Elena Navarro, Purificacíon Navarro, Charo Ovelar, Leonora Pardo, Aurora Peréz, Mariano Peréz, Darío Prat, Raquel Ramírez, Joset Rodríguez, Tony Sáez, María Gloria Salvador, José Sanz, Paul Sebastián, Marcelo Simon's
Los Canarios
Guitars: Antonio de Diego
Bass: Christián Mellies
Piano, Synthesizer, Mellotron, Armonica: Teddy Bautista
Piano, Organ: Mathias Sanveillán
Drums, Percussion: Alan Richard
Audio Production Information
Executive Producer: Ignacio "Nacho" Artime
Produced by Teddy Bautista and José Fernández
Engineer: José Fernández
Translation by Ignacio "Nacho" Artime and Jamie Azpilicueta
Arrangements and Musical Direction by Teddy Bautista
Orchestra and Chorus Conducted by Alfredo Carrión
Cover: Pedro Herrero
Photography: Javier Letamendia
Recorded at Estudios Kirios, Madrid
Act 1:
Obertura (Overture)
Canción De Judas (Heaven On Their Minds)
Dinos Lo Que Va A Pasar (What's The Buzz)
Realmente Extraño (Strange Thing, Mystifying)
Todo Estará En Paz (Everything's Alright)
Jesús Morirá (This Jesus Must Die)
Hosanna (Hosanna)
Simón Zelotes (Simon Zealotes)
Pobre Jerúsalem (Poor Jerusalem)
Sueño De Pilatos (Pilate's Dream)
El Templo (The Temple)
Es Más Que Amor (Everything's Alright (Reprise) / I Don't Know How To Love Him)
Di Que No Me Condenaré (Damned For All Time / Blood Money)
Act 2:
La Última Cena (The Last Supper)
Getsemaní (Oración Del Huerto) (Gethsemane)
El Arresto (The Arrest)
Negaciones De Pedro (Peter's Denial)
Palacio De Pilatos (Pilate And Christ)
Canción De Herodes (King Herod's Song)
Todo Ha Sido Un Sueño (Could We Start Again Please?)
Muerte De Judas (Judas' Death)
Juicio Ante Pilatos (Trial Before Pilate)
Superstar (Superstar)
La Crucifixión (Crucifixion)
Juan Diecinueve Cuarenta Y Uno (John 19:41)
Historical Notes from a Fan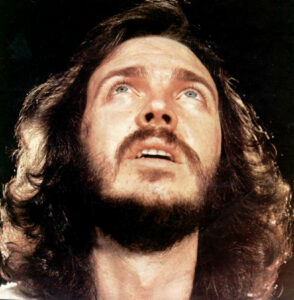 Jesus Christ Superstar continued its march onward into the mid-Seventies, going from strength to strength and enjoying much success around the world. As with the Mexican production, which existed largely as a vehicle for triple-threat celebrity Julissa, the show first came to Spain in 1975 thanks to the involvement of the late Camilo Sesto, a successful pop/rock singer, songwriter, and producer who is still regarded as one of Spain's flagship artists today.
He caught the JCS bug after attending several performances of the original London production and wanted desperately to do it in his native country. The odds were stacked against him: English musicals were rarely if ever produced in Spain (indeed, musical theater as a phenomenon, in general, was almost nonexistent), and during the last days of Franco's dictatorship, the 1973 film had been censured, a brand that was still fresh in the public memory of a deeply Catholic country. This would be an extremely expensive and complex undertaking to boot. Undeterred, Sesto financed the whole production himself, to the tune of 12 million pesetas (more than €72,000 today).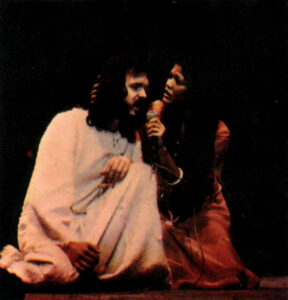 The cast was chosen from more than 1,200 aspiring talents. The director, Jamie Azpilicueta, adapted the show into Castilian Spanish with the help of Ignacio "Nacho" Artime. Gelu Barbu, a renowned Romanian transplant to Spain who had founded the first Canarian dance company, was engaged to choreograph. Production (set and costume) design would be by Moncho Aguirre, with lighting by Fontanals. Serving as the arranger, musical director, and in the role of Judas was Eduardo "Teddy" Bautista, the lead singer of renowned Spanish rock/soul group Los Canarios, which served as the show's orchestra.
Sesto's gamble paid off. Upon its opening at the Teatro Alcalá-Palace in Madrid on November 6, 1975, it was a massive hit, both in terms of the public reception of the show and its star. It is further reported that Andrew Lloyd Webber, rarely a fan of early Seventies productions of JCS, remarked that the Madrid cast was the only one to equal the original American company. After a successful run of almost five months and over 400 performances, the show closed on March 28, 1976, due to Sesto's previous professional commitments, but not before cutting this double-album cast recording for Ariola Records. (Sesto's version of "Gethsemane," spun off as a single, topped the Spanish charts, as did many of his albums that followed in the Seventies and Eighties.)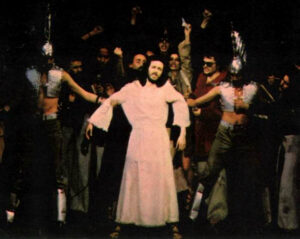 The orchestrations, particularly the unique use of synthesizers, are a stand-out among the other early Seventies productions that either did their best to mimic the original concept album or departed wildly from that base (much to their detriment, in the opinion of many). True, at times it sounds overrun with what might as well be MIDI, but it's certainly different and never boring. Sesto's performance, on the other hand, divides most of the fan community. To Spanish fans, many of whom grew up with this version, he is their equivalent of Ted Neeley; namely, a benchmark who delivered a consistent performance as an actor and singer with an impressive falsetto. Many fans outside of Spain, however, are less thrilled, with some calling his performance shrill, beyond terrible, some even going so far as to put him in their bottom ten. Personally, this fan ranks him as very good, if not quite a personal favorite. Ultimately, you, the reader, will be the judge.
0.0 out of 5 stars (based on 0 reviews)
There are no reviews yet. Be the first one to write one.