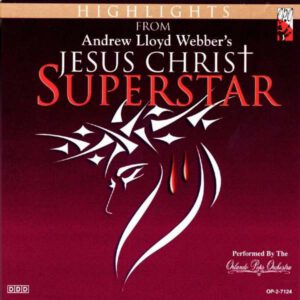 0.0 out of 5 stars (based on 0 reviews)
Classification: Orlando Pops Orchestra
Year of release: 1995
Language: English
Type: Studio cast
Jesus of Nazareth…………David Chernault
Judas Iscariot…………Ray Hatch
Mary Magdalene…………Darlin Barry
King Herod…………Paul C. Vogt
Caiaphas…………George Rosenbaum
Backup Vocals…………Gail Bartell, David Chernault, Amy Martin Cole, Randy Glass, Bryan Harden, Theresa Lee
Audio Production Information
Produced by J.R. Valery
Engineering and Mixing by John St. John

Conductor: Andrew Lane

Recorded at St. Luke's at Windermere and Studio Z, Orlando, Florida
Credited to Orlando Pops Orchestra
Overture
Heaven On Their Minds
Everything's Alright
Hosanna
I Don't Know How To Love Him
Damned For All Time
The Last Supper
Gethsemane
King Herod's Song
Superstar
John 19:41
Historical Notes from a Fan
The ship has long since sailed on capitalizing on the success of Jesus Christ Superstar in the same way that "knock-off" recordings long had. But "budget" labels famous for releasing low-cost sound-alike albums still exist. So it's not hard to imagine that these recordings (this is the point where the classification "studio cast" begins to apply more since one can no longer accurately say they are riding the coattails of a specific production) continued to flourish, and still do to this day. With all studio cast recordings, it's generally the opinion of this particular fan that since the performers lack the experience of getting on a stage and performing the show in front of an audience, the performances are pleasant enough, but not always up to par with a real cast album.
In this case, unfortunately, one can't even say the performances are pleasant. The entire cast suffers from a case of over-enunciation, which doesn't help the pronounced lisp of Ray Hatch's Judas. The overall effect is that of rehearsed "spontaneous creativeness," like a Mormon church choir trying a bit too hard to achieve even an approximate rock sound. As with any highlights recording, there are some good points: the arrangements, as performed by the Orlando Pops Orchestra, are alright enough, David Chernault's Jesus is beautifully sung, and there's also a noteworthy appearance by actor/comedian (and future MADtv, Big Gay Sketch Show, and Rerun Show cast member) Paul C. Vogt as Herod.
Other than that, the casual JCS fan would be forgiven for giving this one a miss.
0.0 out of 5 stars (based on 0 reviews)
There are no reviews yet. Be the first one to write one.