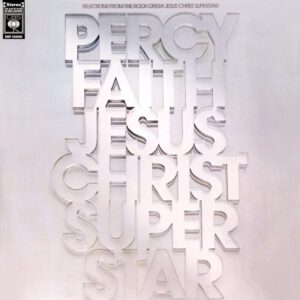 0.0 out of 5 stars (based on 0 reviews)
Classification: Percy Faith Orchestra
Year of release: 1971
Language: English
Type: Studio recording
Featuring the Percy Faith Orchestra
Audio Production Information
Produced, Arranged and Conducted by Percy Faith
Engineered by Jack Lattig
Production Supervision by Ted Glasser
Front Cover Design by Beverly Parker
Back Cover Design (not pictured) by Marsha Salisbury
Photography by Don Jim
Liner Notes by Irving Townsend
Side 1:
Superstar
Heaven On Their Minds
What's The Buzz
Everything's Alright
Hosanna
Simon Zealotes
Side 2:
Pilate's Dream
The Temple
I Don't Know How To Love Him
Gethsemane (I Only Want To Say)
The Trial Before Pilate
Superstar (Reprise)
Historical Notes from a Fan
When any show is a hit, a lot of people will be quick to capitalize on the show's success. In this case, Jesus Christ Superstar was one of the first albums of its kind, and everyone wanted their slice of the pie where the Passion According to Tim and Andrew was concerned. At this time, many "budget" labels famous for releasing low-cost sound-alike albums ("knock-off" recordings capitalizing on shows, songs, or albums that became hits) jumped into the fray. The performers were usually never an actual ensemble that had performed JCS (indeed, in its early days, the number of actual casts performing the show was very few), but instead merely a group of vocalists who recorded songs from the show. Usually, these recordings were very cheaply put together and produced, and priced to own. (In the future, albums like these, now labeled "studio cast recordings," could no longer be accurately described as simple cash grabs, but at the time, the use of the phrase "knock-off" is appropriate.) Though it may be a matter of opinion, this particular fan feels that since the performers on these studio recordings lack the experience of getting on a stage and performing the show in front of an audience, the performances are pleasant enough, but not always up to par with a real cast album.
In the case of this recording, Canadian bandleader/composer/orchestrator/conductor Percy Faith, noted for his lush arrangements of pop and Christmas standards and often credited with popularizing the "easy listening"/"mood music" format, got in on the act. The selections from JCS featured here are given the typical Percy Faith treatment: a big, big orchestra, string-laden in a sort of Western soundtrack style, but also with big rhythm and jazzy brass. Nobody sings a note of the score; this is all instrumental. The first ten minutes of the album are its defining moment, as drums and brass make a joyful noise ripping through "Superstar," "Heaven On Their Minds," and "What's The Buzz." The track selection is good, and things are rounded off beautifully with a second stomping go at "Superstar." Well worth the listen for the seasoned fan.
0.0 out of 5 stars (based on 0 reviews)
There are no reviews yet. Be the first one to write one.