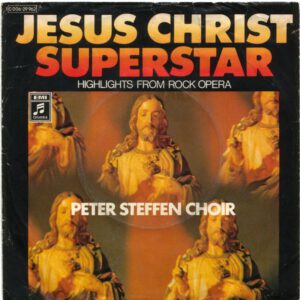 0.0 out of 5 stars (based on 0 reviews)
Classification: Peter Steffen Choir
Year of release: 1972
Language: English
Type: Studio cast
Credited to the Peter Steffen Choir
Audio Production Information
Arr. Steffen/Kramp
Photography: Heidi Laub
Side 1:
Jesus Christ Superstar – Highlights From The Rock Opera – Part I
Side 2:
Jesus Christ Superstar – Highlights From The Rock Opera – Part II
Historical Notes from a Fan
When any show is a hit, a lot of people will be quick to capitalize on the show's success. In this case, Jesus Christ Superstar was one of the first albums of its kind, and everyone wanted their slice of the pie where the Passion According to Tim and Andrew was concerned. At this time, many "budget" labels famous for releasing low-cost sound-alike albums ("knock-off" recordings capitalizing on shows, songs, or albums that became hits) jumped into the fray.
The performers were usually never an actual ensemble that had performed JCS (indeed, in its early days, the number of actual casts performing the show was very few), but instead merely a group of vocalists who recorded songs from the show. Usually, these recordings were very cheaply put together and produced, and priced to own. (In the future, albums like these, now labeled "studio cast recordings," could no longer be accurately described as simple cash grabs, but at the time, the use of the phrase "knock-off" is appropriate.) Though it may be a matter of opinion, this particular fan feels that since the performers on these studio recordings lack the experience of getting on a stage and performing the show in front of an audience, the performances are pleasant enough, but not always up to par with a real cast album.
In this case, German schlager singer, Peter Steffen (born Ernst Bublitz), mainly known for performing both solo and in a folk-oriented duo (Peter Steffen und Sein Kleiner Junge) with his son, gets together some session singers and decides to give two brief medleys from JCS a stab. More a 7″ single than a full album, it's not particularly memorable and doesn't seem to have made that big a splash at the time. You'd be forgiven for giving this one a miss.
0.0 out of 5 stars (based on 0 reviews)
There are no reviews yet. Be the first one to write one.