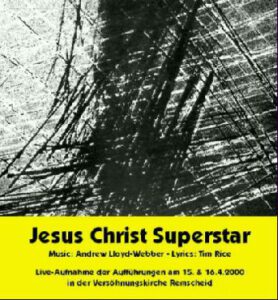 0.0 out of 5 stars (based on 0 reviews)
Classification: Remscheid Cast
Year of release: 2000
Language: English
Type: Live recording, Stage cast
Jesus of Nazareth…………Kristian Vetter
Judas Iscariot…………Jimmie Earl Perry
Mary Magdalene…………Nicole Berendsen
Pontius Pilate…………Ferdinand Hlebayna
King Herod…………Leon van Leeuwenberg
Simon Zealotes / Peter…………Walter Louis
Caiaphas…………Heribert Feckler
Annas…………Adriano Agostino
Ensemble…………Remscheider Musical Chor

The concert was recorded on April 16th, 2000 at Remscheid, Germany.
Disc 1
Overture
Heaven On Their Minds
What's The Buzz? / Strange Thing, Mystifying
Everything's Alright
This Jesus Must Die
Hosanna
Simon Zealotes / Poor Jerusalem
Pilate's Dream
The Temple
I Don't Know How To Love Him
Damned For All Time / Blood Money
Disc 2
The Last Supper
Gethsemane (I Only Want To Say)
The Arrest
Peter's Denial
Pilate And Christ
King Herod's Song
Could We Start Again, Please?
Judas' Death
Trial Before Pilate
Superstar
Crucifixion
John 19:41
Bows
Historical Notes from a Fan
Jesus Christ Superstar has developed a rich history of European production in the late 20th and early 21st centuries. For some unknown reason, it's especially popular in Germany, and in its original tongue at that. (Reportedly, the German translation is widely regarded as not the best.) This live recording reflects the beginning of a series of performances over the years in Remscheid at the Versöhnungskirche, under the baton of noteworthy musical director Christoph Spengler (choirmaster at Evangelischen Johannes-Kirchengemeinde and musician in the German runs of Aida, Jekyll & Hyde, and Starlight Express, among others), who led the show and also did the musical arrangements. By all accounts, this Palm Sunday weekend 2000 concert production — as well as subsequent ones — was Spengler's brainchild, and they've always played to a packed house. You can't argue with success, right?
Much like the 1976 California Youth Theatre recording with the 1973 film's stars could be considered the origin of some of the most successful productions of JCS ever mounted in the U.S., this production was also a breeding ground for future frequent JCS performers on the European scene. To name three, Kristian Vetter (Jesus here) would go on to play Judas in the 2002 Tecklenburg production; Jimmie Earl Perry (Judas) would play Pontius Pilate in the Bad Hersfeld production (see its respective Discography page for more), and again in a 2005 European tour directed and choreographed by 1973 film veteran Baayork Lee; and Nicole Berendsen, Leon van Leeuwenberg, and Heribert Feckler would return as Mary, Herod, and Caiaphas, respectively, in the 2003 concert cast.
As JCS goes, this is pretty standard issue. Spengler's arrangements and musical direction hold down the fort adequately. Vetter's Jesus is an oasis of calm amid a sea of troubled disciples in "What's The Buzz," first an angry zealot and then a voice crying in the wilderness in "The Temple," and appropriately climactic in "Gethsemane." As Judas, Perry is expressive and spirited, with "Judas' Death" in particular a frenzy of horrifying agony. Berendsen's Mary is tender, but not afraid to plumb the depths of "I Don't Know How To Love Him." In the supporting department, Walter Louis pulls double duty as both Simon and Peter (a frequent choice in European productions, such as Massimo Piparo's recent Italian mounting that marked Ted Neeley's European debut), Ferdinand Hlebayna does respectably with Pilate's arc, and Leon van Leeuwenberg plays Herod (predictably) for laughs. Rounding out the lot, the Remscheider Musical Chor, who — per one review — were dressed in hippie attire for the occasion, show no weaknesses in the choral realm.
Is it particularly exciting? That's up to you, the listener. But for this reviewer, in the words of DC Talk (by way of The Doobie Brothers), "Jesus is still alright." 
0.0 out of 5 stars (based on 0 reviews)
There are no reviews yet. Be the first one to write one.