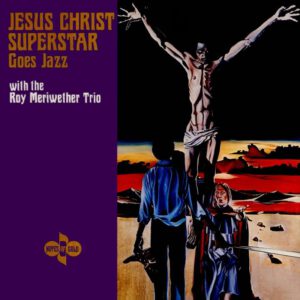 0.0 out of 5 stars (based on 0 reviews)
Classification: Roy Meriwether Trio
Year of release: 1972
Language: English
Type: Studio recording
The Roy Meriwether Trio
Piano: Roy Meriwether
Bass: Lester Bass
Drums: Phillip Paul
Audio Production Information
Mixed and Edited by Allen Orange
Art Direction: Jim Johnson Art Studio
Recorded live at Arnie's Market Square Lounge, Lafayette, Indiana
Side 1:
Jesus Christ Superstar
Everything's Alright
What's The Buzz
The Temple
I Don't Know How To Love Him
Trial Before Pilate/39 Lashes
Gethsemane (I Only Want To Say)
Crucifixion
Side 2:
I Wish I Knew How It Would Feel To Be Free*
MacArthur Park*

* denotes a non-JCS track.
Historical Notes from a Fan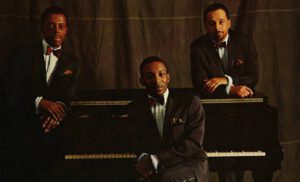 When any show is a hit, a lot of people will be quick to capitalize on the show's success. In this case, Jesus Christ Superstar was one of the first albums of its kind, and everyone wanted their slice of the pie where the Passion According to Tim and Andrew was concerned. At this time, many "budget" labels famous for releasing low-cost sound-alike albums ("knock-off" recordings capitalizing on shows, songs, or albums that became hits) jumped into the fray.
The performers were usually never an actual ensemble that had performed JCS (indeed, in its early days, the number of actual casts performing the show was very few), but instead merely a group of vocalists who recorded songs from the show. Usually, these recordings were very cheaply put together and produced, and priced to own. (In the future, albums like these, now labeled "studio cast recordings," could no longer be accurately described as simple cash grabs, but at the time, the use of the phrase "knock-off" is appropriate.) Though it may be a matter of opinion, this particular fan feels that since the performers on these studio recordings lack the experience of getting on a stage and performing the show in front of an audience, the performances are pleasant enough, but not always up to par with a real cast album.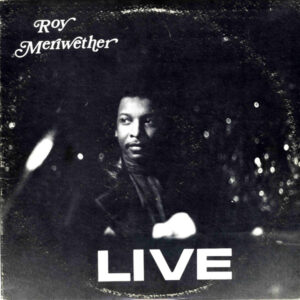 This album brings us the Roy Meriwether Trio's take on the proceedings. Side 1 is, obviously, the most relevant to JCS fans, consisting of a medley of jazz arrangements of the show's score (portions of which were also released as a 7″ single in the States). No slouches in this bunch; Roy Meriwether alone — dubbed the "Bruce Lee of the piano" by fans, friends, and fellow musicians — was a self-taught virtuoso who had long been blending jazz, blues, and gospel with classical elements on the keys. A native son of Dayton, Ohio, Roy started playing the piano at age three and had composed two pieces before he was four. Instead of exploiting him as a child prodigy, Roy's parents wisely channeled his talents into family activities, such as playing in his father's church, accompanying the family choir, and performing with gospel singers throughout the Midwest. Roy turned professional at age eighteen and cut his first of many albums, Soup and Onions, shortly thereafter.
It's hard to sum up this version of Webber's score in a sentence, but if pressed, we can only repeat the words of JCS super-fan (and "knock-off" recordings aficionado) Adam Schoales: "Unlike anything else you'll hear."
0.0 out of 5 stars (based on 0 reviews)
There are no reviews yet. Be the first one to write one.