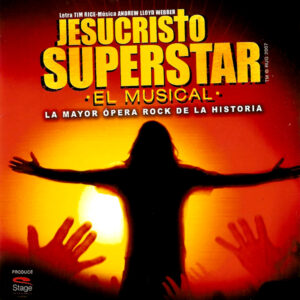 0.0 out of 5 stars (based on 0 reviews)
Classification: Spanish Revival Cast
Nickname(s): Madrid Cast
Year of release: 2007
Language: Spanish
Type: Studio cast, Stage cast
Jesus of Nazareth…………Miquel Fernández
Judas Iscariot…………Ignasi Vidal
Mary Magdalene…………Lorena Calero
Pontius Pilate…………Enrique Sequero
King Herod…………Roger Pera
Simon Zealotes…………Paco Arrojo
Caiaphas…………Abel García
Annas…………Jorge Ahijado
Peter…………Zenón Recalde
Audio Production Information
Music Director, Producer: Marc Álvarez
Mixed by Juanjo Alba and Tomi Pérez
Engineers: Carlos Hernández and Juan González
Translation: Alicia Serrat
Photography: Javier Naval
Recorded at PKO Studios, Boadilla del Monte (Madrid)
Mixed at BooBoo's Music, Barcelona
© 2007 The Really Useful Group Ltd. Stage Entertainment. Sony BMG Music Entertainment España S.L.
"The premiere of this production was held on September 19, 2007 at the Teatro Lope de Vega in Madrid".
1. Obertura
2. El Cielo Los Cegó
3. Cuéntanos / Algo Extraño
4. Todo Está Bién
5. Hosanna
6. Simón Zelotes / Pobre Jerusalén
7. El Sueño De Pilatos
8. El Templo
9. No Se Cómo Quererle
10. La Última Cena
11. Getsemaní
12. Canción Del Rey Herodes
13. Todo Ha Sido Un Sueño
14.La Muerte De Judas
15. El Juicio De Pilatos (Incluyendo Los 39 Latigazos)
16. Superstar
Bonus Tracks
17. Malú – No Sé Cómo Quererle
18. Sergio Rivero – Getsemaní
Miquel Fernández starring as Jesus Christ, performing the song "Getsemaní" live on stage.
Historical Notes from a Fan
0.0 out of 5 stars (based on 0 reviews)
There are no reviews yet. Be the first one to write one.