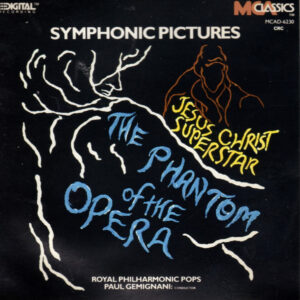 0.0 out of 5 stars (based on 0 reviews)
Classification: Symphonic Pictures
Year of release: 1990
Language: English
Type: Studio recording
Credited to The Ambrosian Singers (Chorus Master: John McCarthy)
Credited to The Royal Philharmonic Pops (Conductor: Paul Gemignani)
Featured Soloists
Cello – François Rive
English Horn – Jeffrey Bryant
Violin – Barry Griffiths
Audio Production Information
Produced by Thomas Z. Shepard
Arranged by Luther Henderson
Music Preparation by Colin Appleton Music Services
Project Manager: Alexandra Smyth
Art Director: Vito Florenza
Cover Art: gauche on paper by Irene Clark
Recorded at CBS Studios, London, January 21, 23, 25-26, 1988
Recording Engineer: Mike Ross-Trevor
Digital Systems: Sony 3324 & 3202
Digitally edited and mixed at Master Sound, Astoria, N.Y.
Engineer: Ben Rizzi
Manufactured for Columbia House
Phantom Of The Opera
Part 1
A. Prelude: Think Of Me / The Phantom Of The Opera
B. Think Of Me
C. Angel Of Music
D. Phantom (Reprise) / Point Of No Return
E. Music Of The Night
Part 2
A. Masquerade
B. Think Of Me (Reprise)
C. All I Ask Of You
D. Phantom (Reprise)
E. Wishing You Were Somehow Here Again
Jesus Christ Superstar
Part 1 – Overture
Part 2 – Heaven On Their Minds
Part 3 – What's The Buzz
Part 4 – Everything's Alright
Part 5 – I Don't Know How To Love Him
Part 6 – Damned For All Time / Blood Money
Part 7 – The Last Supper / Gethsemane
Part 8 – Pilate & Herod
Part 9 – Trial Before Pilate / Jesus Christ Superstar
Historical Notes from a Fan
The ship has long since sailed on capitalizing on the success of Jesus Christ Superstar in the same way that "knock-off" recordings long had. But "budget" labels famous for releasing low-cost sound-alike albums still exist. So it's not hard to imagine that these recordings (this is the point where the classification "studio cast" begins to apply more since one can no longer accurately say they are riding the coattails of a specific production) continued to flourish, and still do to this day. With all studio cast recordings, it's generally the opinion of this particular fan that since the performers lack the experience of getting on a stage and performing the show in front of an audience, the performances are pleasant enough, but not always up to par with a real cast album.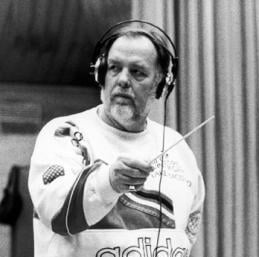 The "Symphonic Pictures" album seems to have been the third in a series of Royal Philharmonic compilations devoted to the magic and music of Broadway, as explored in the then-new medium of digital recording. The first volume, A Broadway Extravaganza, melded the work of Andrew Lloyd Webber with that of such storied composers as Harold Arlen, Duke Ellington, George Gershwin, Gilbert & Sullivan, Sigmund Romberg, and Stephen Sondheim; the second installment, Digital Trip Down Broadway, added themes by Leonard Bernstein, John Gay, Cole Porter, Richard Rodgers (with both Hart and Hammerstein), Jule Styne, and even a tune from Les Misérables to the stack. The general selection, as may be clear, was meant to contain enough of both old and new to satisfy any comers, but for the third volume to seemingly scrape the barrel and focus on the two most popular scores of a single composer, there could be only one explanation: either running out of material or hoping to sell better than the last two volumes. 
And they had some seasoned veterans leading the proceedings — Webber should count himself lucky that luminaries like Luther Henderson (a legendary African-American composer, arranger, and conductor who'd worked extensively in classical, jazz, and on Broadway with names like Ellington and Lena Horne), to say nothing of preferred Sondheim collaborators Paul Gemignani and Thomas Z. Shepard, were tackling his material. Notwithstanding being a rack job, the label sought to cultivate the impression that the score of JCS, and for that matter, the (at the time) freshly-minted Phantom, was not "slumming it" in their hands.
Classical fans may be pleasantly surprised to discover, from the detailed opera-like liner notes (apparently by Henderson) and the powerful, sensitive arrangement, that JCS is a delightful piece of music. JCS fans may be thrilled to have a Muzak version to make visits to their grandparents more palatable. Is it to this reviewer's taste? No. But the truth ultimately lies in the ear of the beholder.
0.0 out of 5 stars (based on 0 reviews)
There are no reviews yet. Be the first one to write one.