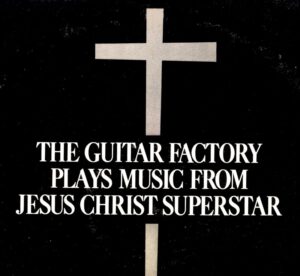 0.0 out of 5 stars (based on 0 reviews)
Classification: The Guitar Factory
Year of release: 1972
Language: English
Type: Studio recording
Guitar: Joseph Cinderella*, Carmine D'Amico, Chris D'Amico
Keyboards: Bhen Lanzaroni
Drums: Les Perlman
Percussion: Steve Little
* signifies that this guitarist is actually Lee Grayson, credited under a pseudonym owing to contractual obligations/conflicts at the time. As well as appearing on this release, Grayson (according to a contributor at Discogs) also played guitar in an unauthorized touring version, possibly featuring the other credited members.
Side 1:
Heaven On Their Minds
Everything's Alright
Rosanna (sic)
Pilate's Dream
King Herod's Song
Side 2:
I Only Want To Say (Gethsemane)
The Last Supper
I Don't Know How To Love Him
Superstar
Audio Production Information
Produced by Robert Colby and Ettore Stratta
Arrangements by Bhen Lanzaroni
Historical Notes from a Fan
When any show is a hit, a lot of people will be quick to capitalize on the show's success. In this case, Jesus Christ Superstar was one of the first albums of its kind, and everyone wanted their slice of the pie where the Passion According to Tim and Andrew was concerned. At this time, many "budget" labels famous for releasing low-cost sound-alike albums ("knock-off" recordings capitalizing on shows, songs, or albums that became hits) jumped into the fray.
The performers were usually never an actual ensemble that had performed JCS (indeed, in its early days, the number of actual casts performing the show was very few), but instead merely a group of vocalists who recorded songs from the show. Usually, these recordings were very cheaply put together and produced, and priced to own. (In the future, albums like these, now labeled "studio cast recordings," could no longer be accurately described as simple cash grabs, but at the time, the use of the phrase "knock-off" is appropriate.) Though it may be a matter of opinion, this particular fan feels that since the performers on these studio recordings lack the experience of getting on a stage and performing the show in front of an audience, the performances are pleasant enough, but not always up to par with a real cast album.
The Guitar Factory offers a rather funky, psychedelic take built from the guitar (via wah-wah), drums, keys (including what sounds like a real harpsichord!), vibes, and even a banjo; witness the killer "Heaven On Their Minds," the best — for this author's money — take on "Everything's Alright" (which can be quite lame in the wrong hands), the crazy sitar version of "Hosanna," the very proggy "Gethsemane," all leading to some cracking action on the title cut, bringing the album home with a bang. High-quality stuff throughout, and when the album's over, it doesn't feel like you've breezed through the nine tracks on display. A good, melodic sound, with no special frills or effects; true, a little overly dominated by guitar, but what does one expect with an album credited to "The Guitar Factory," after all?
This author happens to like his JCS best when people try something a bit different with it, and look at the show in a less reverential light. As far as that criterion goes, this album is damn good, bordering on fantastic! (For sticklers, I will only add that it works best if you don't treat this recording as a rendition of a dramatic work, but as something pleasant to listen to when you're in a good mood.)
0.0 out of 5 stars (based on 0 reviews)
There are no reviews yet. Be the first one to write one.