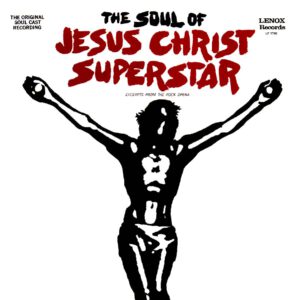 0.0 out of 5 stars (based on 0 reviews)
Classification: The Soul Version
Year of release: 1972
Language: English
Type: Studio cast
NOTE: Credits listed below indicate merely who sang lead on a given track. The Soultown Singers provide backup vocals on almost every number.
Side 1:
Overture…………The Soultown Singers
Superstar…………Sammy Turner
Heaven On Their Minds…………Sam Taylor, Jr.
What's The Buzz…………Sammy Turner
Everything's All Right…………Jaye Kennedy
Hosanna…………The Soultown Singers
Side 2:
I Don't Know How To Love Him…………Jaye Kennedy
Simon Zealotes…………J.D. Bryant
Jesus Christ Superstar…………Sam Taylor, Jr.
The Last Supper…………J.D. Bryant
Gethsemane…………Sammy Turner
The Crucifixion…………Sammy Turner
Audio Production Information
Produced by Herb Abramson
Orchestrations by Robert Banks
Vocal Arrangements by Sammy Turner
Historical Notes from a Fan
When any show is a hit, a lot of people will be quick to capitalize on the show's success. In this case, Jesus Christ Superstar was one of the first albums of its kind, and everyone wanted their slice of the pie where the Passion According to Tim and Andrew was concerned. At this time, many "budget" labels famous for releasing low-cost sound-alike albums ("knock-off" recordings capitalizing on shows, songs, or albums that became hits) jumped into the fray.
The performers were usually never an actual ensemble that had performed JCS (indeed, in its early days, the number of actual casts performing the show was very few), but instead merely a group of vocalists who recorded songs from the show. Usually, these recordings were very cheaply put together and produced, and priced to own. (In the future, albums like these, now labeled "studio cast recordings," could no longer be accurately described as simple cash grabs, but at the time, the use of the phrase "knock-off" is appropriate.) Though it may be a matter of opinion, this particular fan feels that since the performers on these studio recordings lack the experience of getting on a stage and performing the show in front of an audience, the performances are pleasant enough, but not always up to par with a real cast album.
With JCS, though there are minor variations from album to album in characterization (for example, sometimes Caiaphas and Annas come across as buffoons, sometimes as genuinely frightening; likewise with Pilate, on a spectrum from vicious throughout to a deeper portrayal) and track selection, the studio casts always seem to follow the same general mold, usually copying a particular version fairly closely as well. This recording is… unique, almost to the point of being an oddity.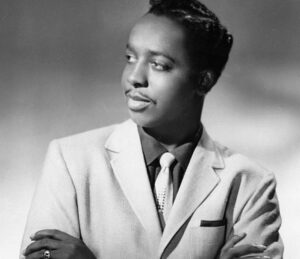 Let's start with the "mogul" behind it. The album was spearheaded by budget-label mastermind Don Gabor, a Hungarian immigrant second only to folks like Ed "milks-one-collection-of-obscure-Hendrix-for-life" Chalpin when it came to "albums priced to own" on fly-by-night cheapo labels. For decades, under dozens of imprints (most famously Remington), Gabor cranked out economical classicals. Not one to miss a trend, he had also issued cash-in recordings of songs from contemporary musicals like Hair (1969) and Godspell (1973); this unique version of JCS falls chronologically between the two, but stylistically is in a realm all its own, aimed specifically at the lucrative black audience. (This included a self-serving announcement in Billboard that he would donate 10% of all profits from The Soul of JCS to the families of Attica riot victims. Naturally, the album would have to sell first…)
Of course, Gabor wasn't looking to spend any of that lucre on name artists (indeed, the series of brash and funny ads he placed to promote this in the trades included a passive-aggressive "apology" to James Brown that he couldn't appear on the "great new album"), but simply by being a cheapskate, he lucked into good musicians who'd fallen out of demand. Among those who appear here, Verve veteran Robert Banks (in addition to his own work, he collaborated with such names as Solomon Burke, Lu Elliott, and more) cooks up the band's charts, Sammy Turner (whose version of "Lavender Blue" was a Top 10 hit in 1959) arranges vocals as well as playing both Jesus and Judas and Herb Abramson (co-founder of no less a brand than Atlantic Records) mans the controls. And the results are just about what you'd expect from such a gathering.
Parts of The Soul of JCS are superb — a crazy soul-ified slowed-down "Simon Zealotes," a gritty, sexy, almost Tina Turner-ish "Everything's Alright," a "Hosanna" that leaps seamlessly into the realm of gospel, an oldies doo-wop take on "I Don't Know How To Love Him" that shows someone was listening to The Chantels (note to the reader: compare this arrangement to their "Maybe"), and a "What's The Buzz" that ascends above being merely a remedial funk riff to sound almost like it was written for this bunch. However, other parts don't fare quite as well — "Heaven On Their Minds" is complete "late-night torchy blues" garbage, both takes on the title track veer into "ridiculous" territory, and the overture, which has little to do with the one written by Lloyd Webber, is mostly gospel piano and includes the Soultown Singers proclaiming several times that "Jesus Christ is a superstar!" You know, just in case we wondered where these performers stood theologically. (One wonders if this is also why all we hear of "The Last Supper" is the steadily-getting-drunker apostles' chorus played unusually sincerely, and why "Gethsemane" is drastically reduced in length and devoid of histrionics.)
Banks, in addition to needlessly reshuffling the running order (because when was that ever essential to JCS' storytelling), gives the score a somewhat one-note treatment, apparently defining soul strictly in terms of that Al Green "I wanna testify" stuff. After a couple of tracks, this reviewer thinks it wears a bit thin. However, if U.S. soul is your bag, you should make it a priority to seek out this album. Recommended highly for listening when paired with some dynamite weed and a lava lamp; in that setting, it has been quoted as a favorite by many JCS fans who partake.
0.0 out of 5 stars (based on 0 reviews)
There are no reviews yet. Be the first one to write one.