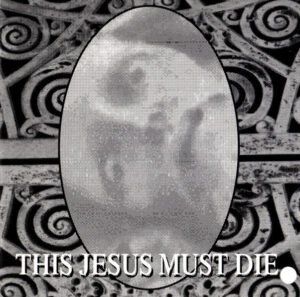 0.0 out of 5 stars (based on 0 reviews)
Classification: This Jesus Must Die: A Modern Adaptation
Year of release: 1994
Language: English
Type: Studio cast
Jesus of Nazareth…………Mike Wing
Judas Iscariot…………Perry Finch
Mary Magdalene…………Mierka Girten
Pontius Pilate…………Mark Eichner
Caiaphas…………Jordan Arbenz
Annas…………Kevin Malone
Peter…………Paul Johnson
Priests…………Matt Herrgert, Michael Horrigan
Background Vocals ("What's The Buzz")…………Tommy Grzybowski, Eric Klinger, Kevin Murnen
Vambo Marble Eye
Electric & Acoustic Guitars: Mike Wing
Bass Guitar, Acoustic Guitar, Electric Piano: Perry Finch
Drums, Percussion: Kevin Smith
Overture
Heaven On Their Minds
This Jesus Must Die
What's The Buzz
Strange Things (sic) Mystifying
Damned For All Time / Blood Money
The Last Supper
The Arrest
Trial Before Pilate
The Last Supper (Reprise) (instrumental)
Audio Production Information
Executive Producers: Sean Ivory, Curtis McCrary and Pete Vox
Produced by Vambo Marble Eye and David Davis
Engineered by John Curley, David Davis, Shawn Norton and Gary Shell at ULTRASUEDE Studio, Cincinnati, Ohio
Arrangement by Perry Finch
Design: Jessica Miller
Photography: Marla Schalow
OFF White Records would like to thank all participants in the showcase designed to fund this project: Big Hunk O' Cheese, Breech, The Epicureans, Gone Daddy Finch, Gravelbed, Paul Johnson, Spiderfoot, Throneberry, Tom and Vambo Marble Eye.
Historical Notes from a Fan
Anyone who has followed Jesus Christ Superstar over the years knows that the album, show, and film have never really gone out of style; they've merely been appreciated in different ways. At the end of the 20th century and into the 21st, this began to manifest itself in audio form in a series of tributes to JCS. Among the earliest were A Resurrection (an all-star gathering of alt-rock notables largely culled from the Daemon Records roster) and this album, an effort by the band Vambo Marble Eye, entitled This Jesus Must Die: A Modern Adaptation.
To the best of JCS Zone's ability to research, the following has been determined: VME, named for the obscure tune by The Sensational Alex Harvey Band (an influence on the group in its earliest days), was formed in Bowling Green, Ohio, in the early Nineties from the remnants of a previous group, a punk band called Art School. Bassist Perry Finch and guitarist Mike Wing teamed up with drummer Larry Zengel to create VME, eventually moving on to Chicago, where they picked up their new drummer, Kevin Smith, heard on This Jesus Must Die. Finch would ultimately found OFF White Records, the label that released the album. Four EPs and three albums, including this one, later, the group (and the label, whose website last existed in 2011 before later being scooped up by an Australian retailer of the same name) seem to have disappeared off the face of the earth, but they apparently left their mark on the indie scene with their meteoric career — what traces of Internet presence still exist have many comments by devoted fans — and have definitely earned a place, however dubious, in JCS history with this album.
With all studio cast recordings, it's generally the opinion of this particular fan that since the performers lack the experience of getting on a stage and actually performing the show in front of an audience, the performances are pleasant enough, but not always up to par with a real cast album. Unfortunately, we don't even have the luxury of pleasant performances with this album. There are some interesting choices in arrangement, for example slipping in a quote of Motörhead's "Ace of Spades" during the intro to "What's The Buzz," and which highlights were picked from the score (clearly choosing the barest bones of the story, with a strong emphasis on conflict and climax), but in terms of performance, let us simply say that this album was not dismissed as "a bunch of punks making bad JCS music" with evident derision — his sole further comment being "This recording sucks" — by collector Evan R. Grubbs (who designed the alternate cover seen above in the early days of JCS downloads when research skills were slim and hard information was difficult to come by) for no reason. You'd hardly be faulted for giving this one a miss.
Having said that, however, it's important to remember that it's easy to spot mistakes, blips, and bum notes in recordings like these, but to focus entirely on those is to miss the point rather than to judge objectively. It was a labor of love, and for that alone, it stands as a worthy entry in the catalog.
0.0 out of 5 stars (based on 0 reviews)
There are no reviews yet. Be the first one to write one.