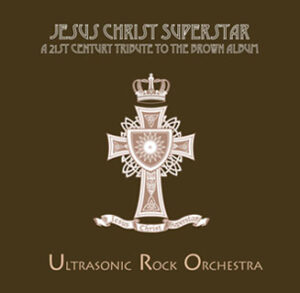 0.0 out of 5 stars (based on 0 reviews)
Classification: Ultrasonic Rock Orchestra
Year of release: 2006
Language: English
Type: Studio cast
Jesus of Nazareth…………Chris Cote
Judas Iscariot…………Sal Clemente
Mary Magdalene…………Naoko Takamoto
Pontius Pilate…………Peter Montgomery
King Herod…………Andrew Kuhn
Simon Zealotes…………Jill Zada
Caiaphas…………C. Moon Mullins
Annas…………Rodrigo Van Stoli
Peter…………James Richard
Priest…………Ray O'Hare
Maid by the Fire…………Ariane Grossi
Additional Vocals…………Maria Clemente, Fatima Elmi, Cristina Freda, Maria Freda, Nicole Jorgenson, Kristin Lavoie, Andrew Malone, Elizabeth Rimar, John Sorvillo, Jennifer Truesdale, Alan Ware, Ian Wehrle, Maura Young
Acoustic/Electric Guitar: Sal Clemente
Guitar: Brian Gagne, Andrew Kuhn, Tony Savarino
Bass Guitar: Bob Melanson, Matthew Silbert
Piano/Organ/Synth: Jules Kim, Andrew Malone
Drums, Percussion: Mike Levesque, Alan Ware
Violin, Viola: Gordon Hill, Angela Shyr
Percussion: Ryan Tremblay
Act 1:
Overture
Heaven On Their Minds
What's The Buzz / Strange Thing Mystifying
Everything's Alright
This Jesus Must Die
Hosanna
Simon Zealotes / Poor Jerusalem
Pilate's Dream
The Temple
Everything's Alright
I Don't Know How To Love Him
Damned For All Time / Blood Money
Act 2:
The Last Supper
Gethsemane (I Only Want To Say)
The Arrest
Peter's Denial
Pilate And Christ
King Herod's Song
Judas' Death
The Trial Before Pilate (Including The 39 Lashes)
Superstar
Crucifixion
John Nineteen: Forty-One
Historical Notes from a Fan
Anyone who has followed Jesus Christ Superstar over the years knows that the album, show, and film have never really gone out of style; they've merely been appreciated in different ways. At the end of the 20th century and into the 21st, this began to manifest itself in audio form in a series of tributes to JCS, including A Resurrection, This Jesus Must Die, Jesus Christ Surferstar, and this updated riff on the concept album, which itself ultimately led to many interesting places over the decade or so that followed.
It was in 1999 that friends and musicians Salvantonio "Sal" Clemente and Alan Ware first envisioned, like many before them, staging a live performance of JCS, inspired by their mutual admiration of the piece, and the Brown Album in particular. Though still popular, they felt the album's sound was firmly grounded in the '70s, and that a contemporized version would be an interesting musical experiment. They weren't altogether concerned with a full staging; as Clemente put it in an interview, "I was never into the show aspect of Superstar. I was in the show and played one of the parts. That experience ruined the album for me for a long time." This was purely about the music.
A year later, the groundwork truly began as Clemente and Ware set about casting and rehearsing. At one point, they came to the JCS fan community with a pitch for a documentary, Looking for Jesus, about their search for a "Jesus" who could match the standard set by Ian Gillan and met with much enthusiasm from fellow fans. As for the "contemporizing," while they stayed true to the original arrangements in some areas, in other cases they pulled from different spheres of influence to create alternative takes on some of the songs.
By around 2004, they deemed themselves ready to take the stage. They were written up in the Boston Globe, and a live performance was on the docket. But a month before they were destined to debut their version of JCS to a waiting public, they hit a snag: they were still working on their documentary, and if they wished to tape the performance (as they'd planned), they'd need "sync rights" from Tim Rice and Andrew Lloyd Webber to include the music in the film. In other words, they could perform it live, but not record it, which means they couldn't show clips on the Internet or in TV commercials, making it virtually impossible to market.
Sal and Al were down but not out. They'd managed to assemble so many musicians and singers for the project that they felt they had the makings of "some crazy, new, giant, rock band"… perhaps, say, the Ultrasonic Rock Orchestra. (Besides, as Clemente put it, "When you're dealing with the music industry, you have to get yourself ready for hits in the groin area.") So while they waited for permission, they reworked the show into A Night at the Rock Opera, using a few selections from their rendition of JCS and adding both a suite of five original songs and incorporating material by Brit rock bands like The Beatles, The Who, David Bowie, Led Zeppelin, and Queen that they "thought should be in a rock opera." They had the advantage of strength in numbers — 10 vocalists and a full rock rhythm section. Clemente bragged, "God love 'em, there's no way the corner bar band can pull off 'Bohemian Rhapsody' – Queen never even played the whole song live, they skipped the intro and played a tape during the 'Galileo' section. With the URO you get the whole experience, with every note sung and played live."
Incidentally, these wild and crazy guys tore another page from the annals of rock in their submission to Rice and Lloyd Webber. It is now the stuff of legend: when the movie School of Rock was filmed, actor Jack Black taped a video request to Led Zeppelin ("the gods of rock") with help from a screaming live audience, pleading for permission to use their "Immigrant Song" in the film, a request often turned down. Unexpectedly, the video appealed to them, and they granted permission for its use. Reasoning that they had at least as much chance of success, Clemente and Ware taped a live performance of one of their original songs, "Will We Rock You?", with help from a sold-out audience and sent it to Lloyd Webber in hopes it would have a similar effect.
"We sent that out in September of 2004," recalled Clemente. "A couple of weeks later, we got an answer from Tim, who said yes. All we needed was the OK from Webber." But it would take about a year for Lloyd Webber to reply and, when he finally did, it was an emphatic "no." Undeterred, the incident inspired their next original song "Andrew Lloyd Webber Said No," which cemented him as the villain of their self-penned mini-rock opera at the center of the evening. (At press time, it is unclear whether Lloyd Webber ever became aware of URO's response. We can tell you they hope he finds out.)
Ultimately, in 2006, they released what they tagged "A 21st Century Tribute to the Brown Album," which they followed with a handful of live performances in the 2010s (no sets, costumes, or props to distract from the powerful vocal performances or the raw emotion) featuring their rotating lineup of musicians and vocalists, as well as dry ice and lighting that rivaled any concert — or even Pink Floyd laser spectacular — this reviewer had ever seen. (They even scurried sideways into quasi-official JCS history when they were initially announced as the house band for Ted Neeley and Yvonne Elliman's first ever solo concert; several URO regulars were part of the ultimate post-COVID lineup.)
It is to that album which this fan now turns, bearing in mind that it's easy to spot mistakes, blips, and bum notes in recordings like these, but to focus entirely on those rather than to judge objectively is to miss the point. While I do have some criticisms, I don't wish to sound ungrateful. In the days of JCS.net, Sal Clemente, a true fan among true fans, brought this album to us with free samples and discount pricing. Both he and URO (sadly departing from the scene as of 2022, after over a decade of tremendous performances of JCS and The Who's Quadrophenia, as well as their traditional set of thunderous, fist-in-the-air renditions of '70s Brit rock and an evening called Band in Boston devoted to the works of such "obscure local groups" as Aerosmith, Boston, and The Cars) deserve tremendous respect, both for the enormity of their efforts and for taking their rendition directly to the show's most loyal demographic.
They invested time, talent, and treasure into their fandom in the ultimate way. The way I see it, I return the favor by being as thorough in my critique as URO has been in their bringing glorious rock music to vivid life, matched only by the way the works of Mozart and Beethoven live on in symphonies.
To do this album justice, we have to focus, like its creators, solely on the original concept recording. Don't look for any new lyrics. Don't expect "Then We Are Decided" or "Could We Start Again Please." The original album in its original sequence, back to front, is our roadmap. And the first surprise for this reviewer is how well that holds up structurally, a testament to the simplicity and conciseness of Rice and Lloyd Webber's initial storytelling. To quote a Jim Steinman lyric from a later Lloyd Webber score, "we really don't miss what we think that we miss."
The orchestrations and arrangements are the highlights, with a fresh rock feel that (mostly) breathes new life into the music we've heard a thousand times before. Some very Middle Eastern/Arabian style flourishes on the guitar work to great effect in the overture and "Heaven On Their Minds," respectively; "What's The Buzz" is beautifully stripped down, with a mellow, casual, "stoner" feel; "John 19:41," reduced to a solo violin (with soft keyboard accompaniment and the plucking of a guitar joining later), is appropriately sad; the sweet hard rock take on "Everything's Alright" is a welcome surprise, and some of the apostles' choruses in "The Last Supper" getting a UB-40 "modern beat style" reggae treatment works better than expected as well.
The biggest letdown seems to be the frequent replacement of brass and reeds with synths, most of which don't even attempt to emulate the equivalent sound. Their absence is keenly felt in key moments of the overture, "Hosanna," "Pilate And Christ," the trial (which entirely lacks drive without the thundering brass), and especially the 7/8-time instrumental break in "Gethsemane," which substitutes a horrible, disappointingly low sequence of synthesized notes that sound as though we've suddenly plunged underwater, and the intro of "Superstar," which one fan on the forum described as "truly terrible […] The guitar solo is fine but the other instruments are so low as to leave what should be a huge fanfare sounding like a bad wedding band." When the original intro to "Simon Zealotes" from the concept album is sampled on URO's take, while a nice tribute, it serves only to remind one of what's missing. (The presence of both vocalists and musicians affiliated with Boston Rock Opera, known for its legendary takes on JCS and for incorporating at least some brass and reeds, indicates they probably could find a few, which makes the omission all the more glaring.)
Moving on to the cast, they prove that if the Brown Album is still a reliable GPS (or sat-nav, if you're international), then Ian Gillan and Murray Head remain impressive tour guides. This is not some Broadway-ized, wimpified version. Among the standouts:
Chris Cote's Jesus is powerful, full-bodied, never screechy, faithful to the original but with a slightly different emphasis in places, delivering the scream of all screams in both "The Temple" and "Gethsemane."
Clemente as Judas has a slightly thin, reedy tone, but doesn't break a sweat when it comes to the big notes, even ad-libbing around them creatively.
In the role of Mary, Naoko Takamoto has a plaintive, soulful sound, calling to mind what Yvonne Elliman might have sounded like had she been born in the Eighties and absorbed their influences instead. A quintessential "rock chick" performance that frankly makes both "Everything's Alright" and "I Don't Know How To Love Him" sound like new songs entirely.
Like the 1992 Australian revival before them, URO took "King Herod's Song," essentially a Charleston, and gave it a rock makeover, which is greatly enhanced by the vocals of Andrew Kuhn (Herod). One might cheekily recall the Tina Turner arrangement of "Proud Mary" and call this version of Herod's number "nice and easy" turning to "nice and rough." The first verse is fairly traditional if delivered in more of a Fifties rock crooner style with bare guitar accompaniment, but it swiftly transitions to a driving, faster, almost punk interpretation that rattles the walls and ceiling fixtures, giving the song the dangerous edge it often lacks in other variations. The female background singers and their harmonizing lend a touch of class to the proceedings, and the terrific tirade of Adam Sandler-level punchlines and insults which close the track had me in stitches.
Jill Zada's Simon tears the roof off with amazing vocals and terrific ad-libs. "Simon" here is a rock anthem, and both she and the background vocalists are showcased to their fullest advantage.
Rodrigo Van Stoli as Annas, while not special per se (to be fair, co-star C. Moon Mullins' Caiaphas is equally adequate but not mind-blowing), is a refreshing return vocally to the days of Brian Keith.
Despite the cast's all-around brilliance, there are some low points. Peter Montgomery as Pilate, for example, is one of the album's weakest links, with a performance that comes across as grating and insincere, clearly trying and failing to emulate Barry Dennen's softer-spoken, sneering Brown Album Pilate. In fairness, the arrangements frequently let him down; the guitar in "Pilate's Dream" is too loud, the beat too forceful, the maracas or shakers too distracting, and both "Pilate And Christ" and the trial have already had their shortcomings discussed. (In the case of the last, Montgomery manages to acquit himself somewhat, ending the piece screaming his lungs out in style. Nowhere near as terrifying as Barry, but at least his high and powerful climax is better than the build-up.)
At the end of the day, though the aphorism that they pave the road to hell can certainly be true at times, what's most important here are good intentions. Live performances of JCS by URO — or at least the one I saw — were accompanied by director's notes from Sal which outlined his inspiration like so:
When I was a kid this is what happened: I put on my dad's headphones, slid the black plastic disk out of the sleeve, put it on the turntable, dropped the needle… and closed my eyes. An abstraction of the Jesus story unfolded, translated only in sound and brought to life solely in my imagination.

"Starry Night" by Van Gogh is perhaps the most well-known of all impressionist paintings. The viewing of it is a completely personal experience. The meaning or emotion it invokes is different for each who views it. It is not the starry night we see with our eyes on a dark evening, it is the starry night we see with our eyes closed.

If we do our jobs you're going to see, hear, and feel, JCS in a different way than you have before, and you're going to leave the theater thinking about Superstar differently.
And that's certainly how I left both the theater and this album.
Sal, Alan, everyone at URO, your good intentions rang true throughout, clear as a bell. To turn your own words back to you: "Thank you for sharing it all with us. You rock." And to fashion some new ones to a familiar melody (think "Jesus Christ…"), our parting humble request: "URO, rest in peace / Favor us, please, with a streamed release!"
0.0 out of 5 stars (based on 0 reviews)
There are no reviews yet. Be the first one to write one.