All rights belong to their respective authors. If you wish to use this material, please contact us.
Archived material originally available on JesusChristSuperstar.net. Interview conducted by Evan R. Grubbs.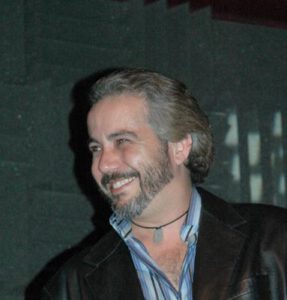 Q. When was the first time you heard Superstar? What were your reactions to it?
A. I was probably nine or ten at the time. When I first heard it, I didn't like it because I didn't understand why these characters were screaming their heads off, y'know, like they were in a lot of pain. With Ian and Murray singing the material the way they did, it's really easy (if you're 14 or 15, and not too bright) to listen to the piece, and misconstrue recording studio acting for over-the-top singing. As I got older and I was able to see the show and the film, I was able to understand the power behind what they were doing. I became a little more educated, and a lot more in awe of the work that they did. They were unreal. I guess I didn't fully appreciate it until I got to work on my first production of JCS. I saw the film and I was incredibly impressed with the work that had been done. The power that was invoked by Teddie and Carl was so amazing, and with that work, set the benchmark that everyone else who has, and frankly ever will, played Jesus and Judas are held to. They're the quintessential actors for the roles. It was when I first saw the film that I started to actually "get it" and during my first production where I played Jesus, I was finally clued into what it took to bring those characters to the stage.
Q. What was the role you wanted at first?
A. I auditioned for Judas in my first production, but I was cast in the role of Jesus because I was one of the only guys who could sing it. It wasn't until I played the role that I learned that Jesus is the title character, but not the principal character. He's not the star of the show. It's Judas' story. But within Judas' story, there's an amazing amount of storytelling that has to happen while Jesus remains a passive character.
Q.What's your favorite role to do?
A. That's a really hard question. Jesus is an amazing role to play because everything comes to you. Excluding a few numbers like "The Temple," and "Gethsemane" of course, Jesus is a reactionary character. But Judas is a veritable Greek chorus, in that he's involved in everything. He is, in no small terms, the hardest role that any musical theater actor can play, in any setting. He's like Hamlet. He's nothing but pain from beginning to end. To me, it's the responsibility of anyone playing Judas to be willing to sacrifice his voice, his demeanor, his body if necessary, and anything else to tell the story. It's Judas' story. But in a lot of ways, Annas is conceivably the most fun because he has the luxury of going in so many directions. He can be played as a strict hard case, he can sit back and let Caiaphas do everything, or he can play the typical comic book villain.
Jesus, Judas, and Annas are three entirely different guys. Because I've had the luxury of being able to play all three characters, so many times, I think I have a very unique perspective on this. Playing each character has tempered my portrayal of the other characters. If I'm playing Judas, I can tell the story better because I've played Jesus; if I'm playing Annas, I can tell the story better because I've played Judas, and so on. But it has to be about storytelling — it can't be just about singing. If it's just about singing, you're not doing the piece justice. If you're just singing, then it becomes a concert, which isn't necessarily a bad thing, but it becomes a showcase where people can sit back and say, "Well, isn't that pretty!" It has become the great and respected show it is now, not only because of the awesomeness of the score, but because of certain people who are known for doing the show, who didn't just sit back and sing — they lived these parts on stage, and gave everything they had for their audience, and the story.
When I was on tour with Teddie and Carl, sometimes I would have to do Jesus three times a week, Judas twice, and then go back to Annas. It was interesting in that with Annas, I chose a specific voice. I wanted him to sound a certain way. So when I was doing Annas, it was a voice that I partially created and partially stole from Kurt Yaghjian and Geddy Lee (Rush). He had a high piercing voice with a direct, dramatic, and stern sound. For Judas, from a vocal standpoint, I did the best that I possibly could to rip off Carl. Yeah right. Like I was gonna sound like Carl. But Carl and I had long talks, and, y'know, God wrote that part for him, so it was obvious that I'd borrow (steal) from the best. As Jesus, the sound that I wanted to do was a cross between a sound that is very pure and pretty when it needed to be but could then turn around and blow your head off when it needed to. When you work with people on a tour, especially when you are understudying them, you can't help but pick up inflections from the person you're covering. The vocal style that I use for Jesus has flavors of Ted, but it is very much my own. I've changed certain stylings within the vocal arrangement and augmented the timing, and I had done most of that before I went to Europe to play Judas for the first time.
Then, cool as it was, I heard some of the things I was doing in "Gethsemane" turn up on the 1992 Australian recording. Now I'm not a fool, and I know that if you take 12 people with similar musical ideas, they can all write the same improvisations and never meet each other. But I would like to think that my stuff holds up, regardless of how similar it may be to someone else's. I'm no fool — I stole from the best. I learned from the best, and I stole from the best. The best was my inspiration — my mentors, my teachers, and my friends. I have been held in the same or near regard and esteem with Teddie and Carl as they held each other. We had the same sensibility about storytelling. I learned a lot and I'd like to think, from what they told me, that I brought something to the table as well. But I don't know, maybe they lied. But it was nice that they said it anyway.
Q. Can you give us a few thoughts on the role of Annas?
A. Annas is the greatest character role ever not written. An enormous amount of storytelling can be told by this guy who has a marginal amount of material. I am a guy who has really strong opinions about the show, the characters, and how they should tell their stories. To me, Annas is as important, if not more important than, Caiaphas. Annas is the guy in charge. Caiaphas is the one who is responsible, but Annas is the guy in charge and is the one with the agenda. Caiaphas is manipulated into doing what Annas wants. The actor who decides he's going to make the most out of the role of Annas, and step up and take no shit from nobody to make sure that Annas has his day, is the one who earns my respect. This aspect of the character as to what Annas can, and in my opinion should, be is demonstrated by the song "Then We Are Decided." It's a shame it's not included in the stage show because from what I know it was written for the film. MCA/Universal owns it. It sets up the whole relationship between Caiaphas and Annas perfectly. Awesome song. Great storytelling.
Q. What did you think of John Farnham's "Gethsemane"?
A. I've always been a fan of "Gethsemane." There is no greater rock and roll soliloquy for an actor. I've messed with it musically since around 1986. I don't think I'm done with it yet. But I became a major John Farnham fan early on, as early as when he took over as lead singer for the Little River Band. When I heard the 1992 Australian JCS and heard similar things that he'd been doing with "Gethsemane" as to what I'd been doing, I was floored. I was psyched. It was a lovely marriage between Ted, Ian, stuff I'd done, and John all at the same time.
My feelings about John are the same things Stevie Wonder said about him: Stevie Wonder called John "the greatest living pop rock tenor in history." I believe that. Who am I to argue with Stevie Wonder? To me, there has been no one prior, or since, that has the voice, the musicianship… it's just there in his body. He does it automatically. His musicianship is unparalleled. Even at 50+ years old, he's still able to maintain and blow anyone, including me or anyone else I can think of, out of the water. If I had $10,000 to blow, I'd get on a plane, fly to Australia, find him and say, "SHOW ME WHAT YOU KNOW! PLEASE, SHOW ME HOW YOU DO THAT, AND THAT, AND THAT!" Because if there's any person I'd like to grow up to be, it would be John (or Stevie Wonder or Phil Collins, etc.).
Speaking of Stevie Wonder, when I was on tour with Teddie and Carl, we were in San Diego, Syreeta Wright was playing Mary (after Irene Cara left the tour), and who happened to be there that day but Syreeta's ex-husband: Stevie Wonder. The show finished, and of course, we all knew he was there, but Syreeta grabbed me after the show and said, "Danny, you have to come to meet Stevie!" And I said, "ABSOLUTELY NOT! There is no way I can meet Stevie Wonder!" And she said, "No, you have to!" So she grabs me, drags me to her dressing room area, and there's Stevie. He's a really big man. Syreeta then goes, with this wicked little smile on her face, "Stevie, this is Danny Zolli — this is little baby Jesus." And he took my hand, rocked his head a bit, and said, "Ahh!  Brotha with the chops!" After that, I got on the phone and called everyone I knew. It was great. One of the best days of my life. I'm still freaked out by it.
Q. What was it like, working on the A.D. Tour?
A. I was the first, only, and ever Annas in the Equity part of the A.D. Tour. I got a phone call from a casting agency after I returned home from playing Judas in Europe. They said that they were putting on a tour of Superstar with Ted Neeley and Carl Anderson. Now, the person on the phone sounded a lot like a friend of mine I had back in Boston, so I, of course, being the brilliant man that I am, said, "Fuck you, Greg, that's not funny!" and I hung up the phone. They called back again and explained, "No, we're a casting agency out of L.A., and we want you to be in the show." So, after an initial meeting, and singing through a couple of things a couple of times, they offered me a job to understudy Jesus and Judas, and play Annas.
I didn't have any interest in playing Annas. I'd done Annas in the 20th-anniversary tour, and what was cool about that was that Annas, again from what I've been told, in all prior major productions had always been an ensemble contract. Actor's Equity came to see us in rehearsal, and I explained to them that it didn't make any sense for me to do certain numbers as an ensemble member because of certain vocal things, and because of the severity of the look that I had for Annas. Based on what they saw and from what I was told, Annas has since become a principal contract.
The A.D. Tour initially happened as a phone call — it took three calls to convince me that it was legit. But for a guy like me from Boston, having at that time five productions of the show under my belt, it was like getting traded up to the Red Sox and playing in the World Series with (a lot of baseball players that Danny said that I don't remember).
We were an Equity tour for 2.5 years, and within a week or two of closing, a non-Equity tour company took over with our set, our costumes, and the like. Ted and Carl somehow worked it out with the union so that they were able to continue working with the show. I have to say that in the first three years that we were out there, it was a river that ran from the top. Even though I was playing Annas, I was compensated in a way that even most Broadway stars today would be thrilled at. Apparently, I was valuable enough at what I was doing, so they took care of me pretty well. I was in nice company. We were all treated pretty well.
Q. It's been said that you were part of the 1989 national tour…
A. I think that there were two tours in 1989 — one was a small tour out of Candlewood Playhouse, CT. It was a very… conceptual production. From what I was told anyway. Adrian Zmed played Jesus and James Rocco played Judas. From what I understand, they were very good within the concept of that show. The concept was sort of a Miami Vice meets Rockstar kind of thing. They were all in pastel jackets and that kind of stuff. It did pretty well, and it was interesting. From what I understand, that production stuck in "Then We Are Decided" and got spanked a little. It's a really big no-no. In the summer of 1989 and early 1990, I did my first national tour where I played Annas with Stephen Lehew as Jesus and Milton Craig Nealy (who was later replaced by Patrick Jude, who incidentally was one of the guys who replaced Carl in the original Broadway run).
Q. What was the inspiration for your version of "Gethsemane" on your album?
A. A guy named Michael Rapp, who was the original musical director for the A.D. Tour, was the one who brought that arrangement to life. He and I have had an ongoing musical relationship for a little over 10 years. I was doing the album near where he lives in Philadelphia and wanted to do something really special. The original idea was to make it sort of a one-song, sonic radio-play. The idea was to have footsteps on gravel, lambs in the background, and voices and things like that. But time constraints didn't allow that to happen. We used some traditional sounds and then added some nice flavors that were inspired by the Australian arrangements. With him, he and I (mostly he) came up with the "Gethsemane" that's on the album. It's pretty close to what I wanted.
Q. Have you recorded/released "Heaven on Their Minds"?
A. I have about a hundred live versions of me doing it, but nothing from the studio. My latest album is all jazz material. I've wanted to wait to decide whether I wanted to do Judas material in the studio or not because it's a little too hard right now. You have to understand that Carl was… and Teddie… my teacher. Carl was my friend. And for me to go in and do what I've been doing for 20 years with that part, without him being around to give me a hard time about it, is hard. I've been asked quite often to record it, but it's hard for me to consider since his death. I miss him. I miss him a lot. And you know, even though I've done Jesus and Judas and Annas all fairly evenly (just a hair under 3,000 performances), Judas is the most painful. It's just hard for me. Jesus has been my bread and butter. I've been lucky in that I get to do them both. But these days, I'm known for doing "Gethsemane." It's nice that something I love to do so much helps pay the bills.
Q. What do you think of Really Useful's strict involvement in any staging of the show?
A. While doing the run of the European tour as Judas, I was told by the producer that we had received approval from Really Useful, MTI, and Andrew Lloyd Webber's office that it was okay for us to record a cast album for our show. Larry Fuller was originally the director of that show, he was later replaced by a well-known English director named Hugh Wooldridge. We were going to record our production as the new official European JCS recording. But shortly after we got this approval, in 1992, the Australian revival came out and Andrew put a stop to everything. From what I have been told, ALW sued the Australian company for copyright infringement and won. (Editor's note: Danny was mistaken on this point; the actual explanation can be found in the FAQ.)
Now, I feel that the 1992 Australian revival, aside from a couple of things, was the smartest thing that ever could have happened to the material. It was updated, hip, and cool again, it brought in a new audience, and it reinvigorated the old audience. But I guess Andrew wasn't happy with what they had done, and so he took them to task. Hell man, he wrote the damn thing, he should be able to do what he wants. ALW wants his shows to be what he wants them to be. Who can blame him, he wrote them! 
But… most of the coolest singing that was ever done regarding JCS was approved on the spot in the studio. What most people consider to be scripted note-by-note stuff was what folks were doing, at the moment, in the studio, on the Brown Album. Teddie based his "Gethsemane" on Ian Gillan and Jeff Fenholt. Carl based his Judas on Murray Head and, to a lesser extent, Ben Vereen. Everyone learns and grows from those moments that are so fast and furious in the studio, on stage, and in the moment. "In the moment"… that's where the magic happens.
Q. What do you think of JCS' "transformation" over the years?
A. It's been a trip seeing JCS go from the "bad boy" show of musical theater to the family show it is now. Once, a while ago on the 20th-anniversary tour, there was a woman who, with her husband at the Fox Theatre in Atlanta, stuck a placard in my face that said, "Jesus is God, not a Superstar!" Now, if you ask people who know me, I'm not someone who responds well to people who get in my face a lot. So I told them, "Look, I'll give you two front-row seats. Come see the show, and if you feel the same way, I'll buy you the most expensive dinner in Atlanta, and you can call me any goddamn name you want!" Now, she said "NO!" but her husband smacked her on the arm and said, "Are you crazy?! Take the tickets!" So they did. After the show, they met me at the stage door. The woman, who was in tears, said, "Thank you so very much. Thank you for answering so many questions for me and asking new questions. I was completely wrong." That was one of the best days I've ever had while being associated with this show.
You know, Superstar isn't about the stained glass in church; it's not about the "Stations of the Cross." It's about brotherhood, men, betrayal, and the preservation of ideals. The deity will take care of itself. It always does. When you play all the other things, all the things I just said, everything else aside from the deity, all of a sudden you have a story that is hypnotic to be a part of and watch. There is a reason why the Passion is called the greatest story ever told. If you do nothing but play the "Stations of the Cross," it takes all the humanity out of the piece and makes it not as fun for an audience to watch. Honestly, that is the biggest mistake that recent incarnations of the show have made in my opinion. They play the deity.
Q. Sounds like you have some serious opinions about JCS.
A. Superstar is probably one of the most complete pieces of theater that are out there. Every character has his signature story and signature song. But within that, each one of those characters still furthers the story. To me, it's the best, most complete in its simplicity, and stellar piece ALW and TR ever did, because they were so young and didn't know any better. I don't think it was until after Evita that it became more about the product as opposed to the material.
Q. What do you think of the authors?
A. TR is still, to me, the greatest lyricist that Broadway or theater has seen in 50 years. ALW has changed the way theater had been brought to the public. I would love to see him bring something to the stage that is as raw as Superstar, even if it were to be a colossal financial failure. I think, and would hope, that someone's best work should be more about the art, more about the story, more about drama, and less about dollars and cents. I would love to see new works by any great composer of recent memory that would maybe be less about appeasing audiences from Ohio (no offense to Ohio) and more about pushing the envelope. Now that's easy for me to say… but even still.
Q. What did you think of the 2000 movie, and Broadway show and tour respectively?
A. When they were casting the Broadway incarnation of the 2000 movie, I was seen several times for all three main roles. The director was concerned because I had very specific ideas and very strong opinions about how the story was to be told. Although I was disappointed I was not cast, in hindsight, it was probably the best thing that could have happened for me and for that production. I would not have been happy, and they would not have been happy. They did, in my opinion, however, cast the appropriate people for the story they were telling at the time. Glenn Carter was a very nice man who was thrust into a very difficult situation. Tony Vincent, by default, did a very serviceable job as Judas. Ray Walker, whom I know well and am quite fond of as an actor and singer, did a very solid job as Annas while working within the confines of what he was given to do. On the whole, I didn't care for that production. Not even close. I believe that it was misconceived from the get-go, but still given every effort by talented people, and on the whole, it was still a solid production.
The recent touring production was different from the Broadway show. Kevin (the director) made some smart choices. He got rid of some of the elements that bothered people from the initial 2000 production. He tried as best he could to reinvigorate the show for an American audience in a way that they would accept. The Broadway production was, in my opinion, a very English-style production of the show. American audiences don't tend to respond to that very well. American audiences want their Jesus and Judas to be willing to cough up a lung for them in the course of the show. It's called "the Passion" for a reason — there has to be passion within the actors and actresses performing the roles to give the story its justice. The biggest misnomer is that it's about Jesus and Judas. It's really about the ensemble. They work the hardest. The main characters tell the story, but the ensemble is the story.
Q. You were briefly a part of the (2002-05) touring production. What was that experience like?
A. After I finished the A.D. Tour, I made a decision that I wouldn't tour with Superstar again after having already done so many productions. Carl, who was out on the tour, had gotten into a car accident and hurt his leg. Because he had invested so much of himself in that show, he wanted someone that he knew was going to take care of business and still go with the flow, to cover him while he recovered. So he/they called me. But I said, "Carl… I don't wanna do this show." The company called me and they said, "We'd like you to come out," and I said, "No thanks." We worked it out, dollars and cents wise, so I went out on the road to do my thing. I was only out there for a short time.
It was the second day after I arrived that Carl got the confirmation that something was really wrong. I think I found out before his wife (the unbelievably awesome Veronica) did. I think he told me before the company, while I was there rehearsing to cover him. Carl, as it turned out, had a rare kind of leukemia called myelosclerosis, but its more common name is "Moses Disease." Now, my cousin Neil, who had passed away a year or so earlier, had virtually the same thing, but instead of it being a bone thing, it was a muscle tissue thing. I knew as soon as I heard the words come from Carl's mouth that it was an incredibly bad thing. I didn't tell Carl that I knew that because there was no point. He would find out soon enough from his doctors.
I was there to basically keep a seat warm for him, and ultimately for Lawrence Clayton. I was already under contract to play Joseph (in Joseph and the… Dreamcoat at a theater in NJ) shortly after I joined the company, so my stay was going to be limited anyway.. .but it was a really interesting, painful, and intense time. The tour company was great. McCoy/Rigby, as a production company, really takes care of their people. They were a joy to work for.
Q. Can you give us some of your thoughts on the actors from the tour? For example, Sebastian Bach.
A. Sebastian, I think, had a tough time, and a lot to deal with, given the scope of what he was asked to do. I think he might have made the mistake of thinking that he because he was playing Jesus, was the star of the show. Realistically the star of the show is the show itself. But aside from that simple fact, it was really about Carl playing Judas. Sebastian, who is a very talented guy, with an awesome hard-core rock voice, I think, maybe became more enamored with the idea of playing and starring in the role, as opposed to just doing the role. That's not an unusual thing to happen to a young actor tackling the part for the first time. I give him a lot of kudos for doing the solid job that he did. He wasn't everyone's cup of tea, but he took a solid whack at it, and you've got to give the guy credit for that.
You have to understand that Carl and I were really good friends. When we were out on tour, especially for as long as we were because we were such good friends we became like family. Shit, even Carl and I almost came to blows a couple of times. But he was my buddy, my brother, y'know, when you're like that, you deal with it. You take it outside in the alley like boys, you yell, you scream, you threaten, throw a trash can or two, you cry, and then it's over. In a situation where you have personalities like Carl's and maybe Sebastian's, or maybe even mine, it can, and sometimes does, make for potentially difficult times. I wasn't there, though, so I don't know what it was like out there for them. I do know that I believe that people have been overly critical of Mr. Bach. He deserves a little more credit for the work that he did. I think he deserves a little more respect for tackling a huge job, whether everyone loved it or not.
Q. Stephen Breithaupt.
A. He's an awesome guy. He did a nice job given the direction. They were basing the tour on the 2000 production and there were specific guidelines about what could be done and what could not be done. Really Useful wanted the score to be sung as much as possible, note by note by note. When you get an order from RU to do that, you do that. Stephen did a really good job under the circumstances he was under. I would have liked to have seen what he would have done with the role if he'd been given more leeway.
Q. Barry Dennen.
A. Barry left me from Texas, from the 30th-anniversary concert we had done, and went straight to the tour. Not only did Carl say when he was hurt, "Call Zolli," but my friends Eric Kunze and Natalie Toro were saying it too. And when Barry finally got there, he said, "What are you, nuts? Call Zolli! He's one of the best I've ever met." Barry Dennen is not only the quintessential performer as Pontius Pilate, and a legend when it comes to JCS, but because of his talent and his experience, he should stand as a model for anyone who looks to be a part of this industry. There is not enough good stuff I can say about this man.
Q. Natalie Toro.
A. Natalie is a passionate woman — passionate about her craft, her voice, passionate about how she can continually give the best of herself in every role she has ever played. The hard thing about Superstar is that it's a piece that will inflame passion. Natalie as Mary brought to the table something that has not ever been seen before… ever. She gave Mary a strength that had never been seen before, an edge, and was still able to pull off the tenderest of moments and embody the love that anyone playing Mary should. That being said, I would love to have seen what she could and would do with the role if given another opportunity, in another production, with a little more freedom. I think that she, save Yvonne Elliman, is one of the greatest actresses who could have done the role. Do I think she's a benchmark for Mary? Absolutely. She, as Mary, is someone who should be held as a barometer to which any serious actress tackling the role should be held. She's a friend and she's a pro. I admire her.
Q. Eric Kunze.
A. Eric is remarkable in what he does. His portrayal of Jesus is very different from what I do, but he's remarkable in what he does. He's a gifted singer and a fine actor, and he's exactly what the modern and most recent interpretation of JCS requires. He is excellent in all things that he's done. But within the confines of the work he's been asked to do, there's no one out there who could bring to the table what he has to the role. He is not only a friend but someone who I respect as an actor and as a singer. I was fortunate and pleased, to have an opportunity to do my thing with him out there on the road, and maybe force him to change his approach, and step up his game. When I took over, the whole ballgame changed. His Jesus became harder, edgier, more powerful, more valid, tangible, and more accessible to the general audience. He is as good as can be. I'd love to direct him.
Q. Lawrence Clayton.
A. He is as real as they come. He's a different Judas, he tells a different story than I do. He's a stellar vocalist and a great friend, a man who, as Judas, can bring a different story to the table than Carl or I brought. He presents a story that is powerful and passionate and empathetic. If I were to cast a show and I wasn't going to play anyone, he'd be the guy I'd cast as Judas. I'd love to direct him as well. Man… he's the shit.
Q. What, for you, was the best part of the tour?
A. The best part of this tour was probably the musicianship in the pit. It was led by an old friend, and amazing colleague, named Craig Barna, and at the time was supported by Keith Levenson (Asst. Musical Director), a great friend, and an awesome drummer named Tony DeAugustine. Craig Barna, with those guys behind him, managed to reinvigorate some of the musical passion that Superstar had 30 years ago. JCS is a piece that needs to evolve, it needs to breathe, and it needs to grow. It's simplistic in its design and its form, but great new things can come to the table and allow the arrangements to grow when you have great people there.
Q. Who have been the biggest influences on your vocal style?
A. Steven Tyler, Stevie Wonder, Phil Collins, Richard Marx, Bad Company, Freddie Mercury… shit, there've been so many, and not just people who are only great vocalists, but good writers and great storytellers. They all tell great stories with their songs.
Q. Did "the scream" come naturally to you, or did you have to work on it?
A. The scream came really young. I grew up in a very musically eclectic house. My father was a Depression kid and my mother is 10 years his junior. Musically, it went from the range of pre-big band music through Elvis. My brother Bobby, who is six years older than me, was a really big Beach Boys/Frankie Valli & the Four Seasons fan. Bobby, being the big brother, always sang lead. So when we were kids living at home and we were singing together, I got the high parts. At a very young age, I learned to manipulate my voice to sing very high, without killing myself. I've since learned that some of it is falsetto and some is not. I learned very young, because of the Beach Boys. But as I got older, I learned how to manipulate lots of different kinds of voices, to be able to growl and grind in a way that wouldn't hurt me. Once you learn how to do this stuff, you just do it over and over again until your voice gets tired. Then you do it some more, till you learn how to manage it. 
The thing about Judas is that there's not a person alive (anymore) that can walk out on a stage and bang out eight shows a week as Judas, doing it vocal justice, without getting vocally fatigued to the point of injury. The last person who could do that was Carl. Whether it's me or Lawrence Clayton (who is just great), or anyone, Judas is the greatest vocal beating you can give yourself. "Gethsemane" is hard, but Judas is a beating. It takes me a good three weeks, maybe even a month to get it into my body. When it's there, I can knock a house down. My Judas is a combination of what Carl did, some of what Murray did, and what I learned from Patrick Jude. The best advice Carl ever gave me about Judas is that you can't be afraid to sound bad, because then you're thinking about singing too much. If you're doing that, you're not thinking about the story. If it's not about the story, you're performing the part for the wrong reasons. 
There are a thousand guys who can sing "Gethsemane," and a thousand guys who do it well. It's the musician and actor who can transport the audience, the scene, and the moment, from a musically relatively uninteresting song to the scene and song that leaves an audience in tears. There are a handful of people out there that have the willingness and gift to be able to do that, and give whatever it takes to make sure that the audience feels that. Those people are the people I respect the most.
Q. Speaking of people you respect, you recently did a concert in El Paso, TX, that you mentioned a few answers ago. What was it like working with people like Yvonne Elliman and Barry Dennen?
Q. When we got to Texas, my immediate reaction was to go to Yvonne and Barry and ask what they wanted me to do. Now, what was amazingly cool about both of them, was that they looked at me and said, "No, big boy, you're the star. We're following you." So, a little begrudgingly, and a lot terrified, I led and they followed. After the concert, Yvonne came and kissed me gently, and with great care in her eyes, told me that I was the most wonderful thing she'd seen in JCS in 30 years. Barry told me that he was proud to share a stage with me. He said before we started rehearsing, he had been concerned that whoever they got to play Jesus wouldn't be able to pull it off and do it justice. After the show, he hugged me like a brother, and I cried.
You have to understand that these people are and were my heroes in this show. Their embracing of me, their respect for me, and my work were just over the top. There aren't enough words to explain. I'm sorry. I said something at Carl's memorial that I think is very, very true. If you ever get a chance to meet your heroes, be careful. Odds are they'll never live up to the romantic idea you have of who they are supposed to be, what you want them to be, or how you will be received. But sometimes, just sometimes, they'll go beyond what you had hoped for. That's what it was like for me, with them — with Ted, with Carl, with Yvonne, with Barry. I was embraced, I was welcomed, and I, at times, was given the helm, and they walked with me.
Being a part of this show, its history, and who knows, maybe I'll be lucky enough to even be part of its future, has honestly been the best thing I've ever done professionally in my whole life. I'm the luckiest son of a bitch you'll ever meet. I really couldn't ask for more.