All rights belong to their respective authors. If you wish to use this material, please contact us.
Interview conducted by Andrew J. Simpson.
(NOTE: Due to tape distortion, portions of this interview were rendered unusable. What was discernible from the tape is currently transcribed here. A follow-up interview has been proposed, and Mr. Polk gave the green light to the idea, but due to real life, the interview has been postponed. Watch this space for more!)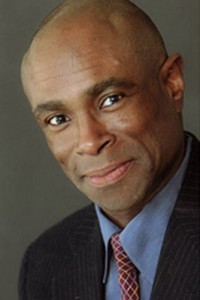 Q. When did you first hear JCS? What did you think?
A. The first time I ever heard Jesus Christ Superstar was when I was a kid and it first came out as a concert version. I loved it. I wanted to grow up and be a part of it. I was in the orchestra pit for a professional production. I was a woodwind player. I was watching the performers onstage do their thing and I thought, "Wow. I want to get up there and do that!"
Q. Have you seen both films?
A. Yes, I have.
Q. You played Annas in the North American tour, and as I understand it, you have been in at least one other production of JCS, in which you played Simon (a stock production featuring Eric Kunze as Jesus). Were there any other notable productions you've been a part of?
A. The North American tour that you saw was probably my third time in the show. I did the show in 1991 with Carl Anderson and Sam Harris as Jesus. I played Simon Zealotes.
Q. How structured was the touring production? Some reports have it that Really Useful was very strict about how the show should be performed.
A. Luckily, we had a lot of great people in that cast. I don't know if you knew about this, but the role of Judas was rewritten for Carl, note-for-note as he sang it in the film, so they were trying to get the influence of the past by writing it note-for-note.
Q. As a corollary to that, at the risk of asking a very loaded question, which production did you enjoy more? Did you feel you had more freedom in one than in the other?
A. I have enjoyed all of them equally. They were all great casts and each cast/production brought different things to the table. I don't recall having any real freedom to improvise in any of the productions I've been in. It's a musical-theater show and I've been blessed to have worked with a lot of directors who go by what's written on the page.
Q. Care to share some of your vocal/acting influences?
A. That's kind of hard for me to answer because I like all sorts of music. (Laughs) I like anything with lyrics, tone, and meaning, so, pretty much almost anything. As for playing roles in JCS, I'd have to say, Carl Anderson, because I've heard him on the album, and when it came to being his understudy… that was unreal. He was a very good friend.
Q. Let's talk about the tour you did with Carl, for which you are perhaps most known by JCS fans. How did you come to audition for the show? Were you specifically auditioning for Annas at the time?
A. It didn't matter, because I liked the show so much. Maybe I could play one of the priests. I wasn't focused on Annas at all. I was hoping for a role… maybe even Caiaphas.
Q. Caiaphas?
A. I have a very basso speaking voice, but I also can sing in the high tenor range. I thought that my playing Caiaphas would be kind of funny. (Laughs) If I get to do that, it'd be priceless.
Q. Speaking of casting, I don't wish to be rude in pointing this out, but the way the tour was cast, the actor playing Caiaphas was significantly taller than you. Do you know anything about the decision behind this casting? Was it concept-motivated?
A. I think it was the luck of the draw. I think they were expecting me to play Annas.
Q. Well, you certainly did a fine job! Let's talk about your views of the character for a second. To what extent do you believe Annas to be the main driving force behind the desire to have Jesus killed?
A. Well, Annas is Caiaphas' father-in-law. Therefore he's the elder of the group. Yet, he has stepped down. But he's the enabler. He's the one saying, "I'm old, I'm wise, and we've got to do something about this."
Q. Now, let's talk a bit about the people you worked with on tour. I'll list some names, and you tell me what they were like. Carl Anderson, who was successful in the original versions so many years ago.
A. He was like the big brother everybody wished they had. He was the nicest human being… Very personable. Just mentoring all the time and giving great advice. He talked to me a lot about playing Judas and gave me a lot of the back story. The show is Judas' piece. When you think about it, Judas has more songs than Jesus does in the show.
Q. Do you remember your reaction to the news that Carl passed (where you were, how you heard, etc.)?
A. We were on tour at the time. What happened was, one of the girls named Darlesia goes to Carl's church and told us that Carl was sick. I was pretty close to him at the time. Whenever we had time off, the two of us would go off and meditate and pray, and stuff like that. He would call me every week. Reverend Michael had called to tell us that Carl had passed away. It was very shocking. I think we knew it was going to happen, but it was just unbelievable that it happened to us that way. Luckily, it was a travel day when we heard the news. All I remember is traveling. It was very quiet, almost like we were in a trance or something, but Carl was yelling at us to go on the next night. There was an announcement the next night to the audience about Carl's passing.
Q. Please share with us your thoughts on some of the other performers you worked with, starting with… Danny Zolli.
A. Well, Danny was only on tour for a short time to cover for Carl. We were very happy to have him, though, and he was great because he'd done the show several times.
Q. Barry Dennen.
A. Barry, I'd worked with in 1991, with Carl and Sam. Barry was playing Pilate then. Every night, just watching him do his thing gave me chills. When he was playing Herod, it was the same. The man has so much history with the show. He had a new take on everything, and getting knowledge from him about the show at all times was great.
Q. This is one I hesitate to ask about, but can you give us your side, angle, etc., of the Sebastian Bach incident(s)?
A. Well, there were some things in the show that he didn't particularly like or agree with. […] He had two understudies, and both of them were black, and he didn't think that they should (would) put a black Jesus onstage. Then he walked out, but in the theatre, the show must go on, and that's what happened. To me, he was a great guy, but if you walk out and no one can find you, that's a breach of contract right there.
Q. As a Judas understudy, did you ever go on with Bach?
A. No, no. Not ever.
Q. My final JCS question of the interview: If you were to do JCS again at some point in the future, what role(s) would you like to
portray and why?
A. There are two answers to that. I'd love to play Judas in front of an audience. But I think it'd be fun to play Caiaphas. I like that part. As you can hear, my voice is a bass voice. but I can sing the whole spectrum of JCS.
Q. To cap it off, I'm gonna ask two questions on a non-JCS note. First, one of our moderators wants to know what it was like working with Gladys Knight.
A. Long story short, or short story long, her backup vocalists are good friends of mine. I was doing Smokey Joe's Cafe all over the world. At one point, we had a tour go to Germany. She read that my name was on the tour. I'd met her before, but never really met her. Working with her was, you know, I was blessed and honored. It was like working with a big sister. She's such a hard worker. She's a wonderful lady all the way around, and that's just great. She walks in and she knows what she's doing, she knows what's going on. Then she'll turn around and play with you. like you were her brother. It was an honor to work with her. We still keep in touch.
Q. And last but not least, what are you working on now?
A. I recently finished directing an original musical called The Next Fairy Tale. I will be directing and choreographing a new production of Smokey Joe's Cafe in November with McCoy/Rigby (the same company that produced the tour of JCS). There has been talk about a tour for this production, but I think they want to see where this one goes first before that.