All rights belong to their respective authors. If you wish to use this material, please contact us.
Archived material originally available on JesusChristSuperstar.net. Interview conducted by Evan R. Grubbs.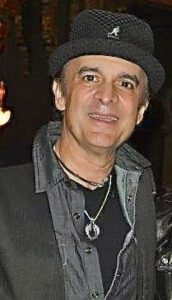 Q. How were you chosen to be part of the 1971 Broadway cast?
A. I was going to school in North Carolina at the North Carolina School of the Arts, and my vocal coach told me about the auditions for Superstar. He knew the casting director, who was a guy called Michael Shurtleff (deceased), and they set up an appointment for me to audition. So I hitchhiked from Winston-Salem, where I was living, to New York, did the audition, and then went back to North Carolina. About two weeks later, I got the callback, hitchhiked back to New York to do the callback, and didn't hear anything for two weeks. I went back to North Carolina after that. Robert Stigwood originally wanted to use Tom O'Horgan (Hair) as the director of Superstar, but Tom initially turned it down because he was doing a show at the time called Lenny about the life of Lenny Bruce. So instead they hired this famous opera director, a guy by the name of Frank Corsaro, which just happened to be the guy I had auditioned for. However, Frank was in an automobile accident and he was out of it for six months. Stigwood went back to O'Horgan, who finally agreed, but everyone who had had a callback had to come back again to re-audition. This time I think I was able to get a ride with some friends up to New York, and I stayed there for about a month. Overall I had three callbacks with O'Horgan.
Q. Did you ever play Judas on Broadway?
A. Yeah, I played Judas about 50 times. Ben Vereen was out of it in the third performance. We opened on October 12th, and it was either the 13th or the 14th, I don't remember if we had one day off, but it was the first matinee performance and Ben didn't want to do it. He's a fine dancer and a decent singer, but he'd never sung rock, and you know that Judas has that killer range and it's always going really high and Ben couldn't do it. After a while, his voice really started to bother him. In the middle of November, he started to have really serious vocal problems and missed a lot of shows. By December he was out. He had to have surgery on his throat and I played Judas for the whole month of December, through Christmas, New Year's, and all that. I even had my mom come up and see me in my first Broadway show. After that, they brought Benny back, who said that he refused to do eight shows a week. That's when they brought in Carl (Anderson). Carl and Ben did split weeks and did four performances apiece per week.
I still had the Judas understudy, but they also gave me the Annas understudy and Pilate understudy because I could hit all those notes and my acting skills were good enough. One week I did all three roles of Judas, Annas, and Pilate. People would be out all the time, we had 50 cast members which was huge for Broadway. Superstar was the first Broadway show that ever had a $1,000,000 budget, which in those days was unheard of. But nowadays every show has that kind of budget.
Before we did the show, I only have one rehearsal on stage. I'd never flown in the hanging scene and I said that I couldn't go on as Judas without flying in the harness first and I made them let me try it. Ben was a lot bigger than I was, so they had to adjust the harness and make everything work for me. Then they flew me up the 40 feet with the noose around my neck. It was kind of scary and I really didn't want to do it without having practice first. But I did love the show and I did it on Broadway for a year.
Q. Did you ever play Judas to Ted Neeley's Jesus?
A. Yeah, I sure did. I played Judas one night with Teddie as Jesus and our Mary understudy, which was Nell Carter.
Q. Had you heard the concept album before you were in the show?
A. Yeah, I'd heard the concept album before I did Superstar. We went to London to do the soundtrack for the film because all the music was pre-recorded before we shot in the desert, and then afterward we went back to London to re-dub some of the takes that we couldn't get the vocals to match with the recording — everyone had to redo some of it.  But while we were there we got to hang out with Tim Rice, Liza Minnelli (who was really young at the time and had just gotten done with Cabaret), Ian Gillan, and Murray Head. They took us out to Pinewood Studios and we got to see Paul McCartney with Wings. It was really amazing.
Q. What were your impressions of Ben Vereen as Judas and Jeff Fenholt as Jesus?
A. Ben Vereen was really great to me. The first night that he couldn't go on, he still came to the theater to watch me. He let me use his dressing room which had all these candles in it. It was a really inspirational setting. I was still a kid at the time; I'd had professional work, but this was really amazing for me.  I'd done earlier work, and I knew New York, but I'd never been on Broadway. Jeff was really distant though, we never got much interaction with him. He was a lot more laid back. I heard he did an album after Superstar, but I haven't heard anything else. He never really succeeded.
Q. How were you chosen for Annas in the 1973 movie?
A. Most of us were chosen from the Broadway show. Norman Jewison came out and picked the people he wanted from the show, like Ted, Carl, Yvonne, Bob Bingham, me, Larry Marshall, and Barry — just from the Broadway show. Norman Jewison chose the people from the Broadway show.
Q. What did you think of "Then We Are Decided," being the only official Annas to ever sing the song?
A. We shot that particular scene on the top of Herodium, which was Herod's lavish retreat. It was spectacular, and we were all so moved by being in the Holy Lands. I fasted for the first week — we all got there two weeks in advance to get accustomed to the climate. I spent the first whole week on just tea and fruit juice for the fast. We were in Israel for four months. I didn't get sick, but a lot of the cast members did. We were also in Jerusalem and Beersheba as well. The scene with the priests on the scaffolding was done in Beersheba. We had to wake up really early to get there at dawn, but I loved it. I was very moved. Lots of people there felt spiritually moved.
The crucifixion scene was really scary. We were in the middle of the desert and while we were setting up, these dark clouds came out of nowhere and this cold wind started blowing really hard. Just as Ted got up on the cross, at the horizon, there was this little sliver of light that started to lift and the sun started to come through. I get chills thinking about it, it was really scary.
We had mainly an English crew, and they were great. We didn't really have any bad incidents at the time. We did have a convoy of the Israeli army. This was right after the Six-Day War and Israel had just defeated Egypt and taken control of the area we were in. There were all kinds of tank tracks in the background and lots of guys carried guns all over Israel. While we were in Israel, the Israeli hostages were taken in the Olympics, so we stopped shooting for a week. It was really an awful event. Arafat was one of the terrorists who did that. After shooting the movie, I never went back to the Broadway show.
Q. What did you think about the movie overall?
A. I liked the movie. It's great, so absolutely unique. Nothing had ever been done quite like it. There were a couple of things like it, but they weren't as radically edgy. There wasn't the religious-political cutting-edge line that JCS crossed.
Q. How did you approach the character of Annas? Quite a bit of your voice parts were soft falsetto while some were full-voiced yells. How do you picture Annas?
A. In history, Annas was older than Caiaphas. I kind of played Annas as an eccentric, and I didn't want to play him as an old man. With the free approach that Jewison wanted with the blending of contemporary and historical styles, I didn't have to play an old man. We were given a fair amount of freedom in determining how our characters would be.
Q. What were your thoughts on Ted and Carl?
A. Ted and I remained in contact and I saw Carl a few years ago. We went out and had dinner in New York. When I did the Broadway show, Carl was the craziest, most fun guy I ever knew. He always took the most chances whereas Jeff (Fenholt) was really reserved. Carl was a wild man. I saw them both on the tour they did together almost 10 years ago.
Q. What did you do after the Broadway show?
A. After the Broadway show, they decided to do a national tour, which was produced by Hal Zeiger and managed by Steve Leber and David Krebs. It was the first national tour of JCS with full sets, costumes, and mechanicals. We left New York in the fall of '74 and we went to all the major cities: Boston, Philly, Washington DC, Baltimore, L.A., Chicago, St. Louis, Cincinnati, Cleveland, all the big cities. But when we got to the Midwest, because Superstar was so controversial, lots of people were upset by it. Of course, this was 30 years ago, and people don't really have a problem with it now. We played in Indianapolis in the late winter/early spring of '75 and the police evacuated the theater during a performance because of a bomb threat. We all stood outside in full costumes while the cops searched the place, then we went back inside and finished the show. There was another threat somewhere, but I can't remember where. After the national tour, there was another big production at the Paper Mill Playhouse in 1976.
Q. Who is the biggest influence on your vocal style?
A. My mom was an opera singer and my dad was a symphony conductor. I knew how to sing as a young kid. I had singing lessons from my mom, and when I was 12, I had the role of Amahl, which was real opera music. I could read music, and I had this really high tenor/boy soprano voice. When I was 12 years old I did my first television production. It was for NBC and it was their first color production in 1964 of a Christmas opera that's performed live every Christmas and was started by David Sarnoff, who founded NBC. They commissioned Gian Carlo Menotti to write Amahl and the Night Visitors. I played the boy soprano role. I came to New York for two weeks of filming next to Mitch Miller's studio. As pop music goes, my grandfather gave me my first transistor radio. I was really influenced by the Beatles, I love the sound of Little Anthony's voice (Little Anthony was my first big R&B influence), I loved Otis Redding but I can't sing like him. Later on, I got into Michael McDonald from the Doobie Brothers and David Crosby. It was a really well-mixed style, and when I got to New York, I got into James Brown and started doing more R&B work. I was really fortunate to do background with Ray Charles, Whitney Houston, Patti Austin, and Jeff Osbourne. I did some records with Yoko Ono (It's Alright) and with Yoko and John Lennon (Milk and Honey — Don't Be Shy).
Q. Why so many spellings of "Yahjian"?  What nationality is that?
A. The name used to have the G in it, but no one could pronounce it. They'd always try to pronounce the hard G, so I dropped the G. The name is Armenian. My mother is German and French, which is where Kurt came from.
Q. Have you seen the 2000 version of Superstar with Glenn Carter and Jerome Pradon?
A. No, I never saw the movie.
Q. What else have you been doing?
A. After I finished recording Hair, I tried to get into studio work with David Sanborn. I did studio work for about 15 years from the end of the '70s to the beginning of the '90s. I did nothing but studio work for around eight or nine years. I did Coke, Ford, Domino's Pizza, Toyota, Cadillac, Chevy, Budweiser, and Sprite. New York is the advertising capital of the world and I've been really lucky. I just did a thing with the CBS Morning Show with Cyndi Lauper. During the early '90s, I was in a band called Little Isidore and the Inquisitors. They gave us all nicknames and I was Frenchy Conception II. Frenchy was from the Bronx band "The Rents." I did all the falsetto leads. We were quite the rave for a while and there were nine of us in the group. But right after 9/11, the group fell apart, and the next month in October, I joined the Planotones full-time. I've been with them for four years. Kenny (founder of the group) is great on the circuits. He's worked with the best doo-wop and rock artists. We did the Looking for an Echo soundtrack which was based on Kenny's hit song. Armand Assante played the lead. After that, we got a big bump, and have been playing nice shows for a while. Kenny is friends with Jay Leno and we open for him in Vegas or whenever he does stand-up. We just did a show last week. We were supposed to have a show last night, but it was canceled from the storm.
Q. Anything else?
A. I'm going to be 53 here pretty soon, so I'm getting up there. I've been married for eight years and my wife has two kids from a previous marriage.