All rights belong to their respective authors. If you wish to use this material, please contact us.
Interview conducted by Gibson DelGiudice. Production shots throughout provided by Kelly Carrol.
(NOTE: Randy Wilson is not quite a "name" like Barry Dennen or Kurt Yaghjian, but he was in several of the first-run companies of JCS back in the Seventies. Following a chance meeting on Facebook in the "Forgotten Musicals" group, I decided to have a chat with Randy about his time in the show.)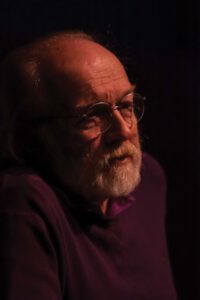 Q. How did you first hear about JCS, and what was your initial reaction?
A. I heard the recording when I was visiting friends in Fort Worth. I remember how moving it was just to listen to the score. The orchestral finale made me weep.
Q. What's your favorite song from the score?
A. Probably "Pilate's Dream." His character is the one that most people connect with in Jesus Christ Superstar.
Q. That's an interesting thought. Why do you think that's the case — that people connect with Pilate?
A. Pilate asks the questions that any intelligent human being would ask if they had the chance.
Q. How did you get involved with the show?
A. I auditioned to replace Peter and Simon Zealotes on the concert tour, just after the original Broadway cast started. I got the role of Peter and toured for six months. Then I auditioned to take the Jesus understudy spot on Broadway, but it went to William Daniel Grey, whom I understudied.
Q. Sounds like you did a lot of auditioning in your time! What was the audition process like for the concert tour? For Broadway? Who did you audition for?
A. I auditioned for the show after the original production opened, for the second concert version that was touring the country under Stigwood's auspices. I signed up to audition at the Mark Hellinger stage door at 8 AM and was told to come back at 2 PM. When I did, I was told they were behind, and that I would probably sing at 4 PM. At 6 PM, I sang for Charlie Gray, the stage manager of the original Broadway cast. Two days later, I was told I had the role, and to come and sing for some other people. When I got there, there were 20-something other actors there who were told the same thing. I then sang for Peter Brown, who had managed The Beatles and was now Stigwood's right-hand man. I sang almost all the songs for men that night. When I got home that night, they called and said I was cast.
Q. What was it like to be in the show in such an early stage, and at the peak of its popularity?
A. It was amazing. Everywhere we performed it was like we were The Beatles. I saw that group and couldn't believe that later I got the same reaction. In the beginning, JCS was very controversial and we had many groups demonstrating against us.
William Daniel Grey as Judas and Randy Wilson as Jesus, Kennedy Center, 1977.
Production shots provided by Kelly Carrol.
Q. Of course, many of us are somewhat aware of the controversy JCS faced in its heyday. Did you have any close encounters, be they positive or negative, yourself? Ted Neeley, for example, has told stories over the years of engaging people in conversation and trying to invite protesters to the show.
A. There were always groups protesting. I experienced one bomb threat in Indianapolis, and a sniper threat in Joplin, Missouri. Once, I went to a hippie church in Buffalo with some friends and recognized some of them [the congregation–ed.] as very demonstrative protesters. I kept quiet.
Q. I'd like to ask some questions about how you approached the roles you played as a performer. Let's start with… Jesus.
A. To prepare for the role of Jesus I read Kazantzakis' The Last Temptation of Christ to get the humanity of the character. I am a Christian and felt deeply honored to be portraying him.
Q. It's funny you bring up Last Temptation, to diverge for a moment from the line of questioning. Ted Neeley has said he and Carl Anderson drew inspiration from Last Temptation in their portrayal of the relationship between Jesus and Judas. As I understand it, Last Temptation was one of the few books at the time that explored Jesus as a human being as opposed to a deity. Given the number of mentions, was that book circulating among the cast? Did you have any other material to draw from?
A. Not that I know. I was an English major and loved reading Kazantzakis's books. So when I took over the role of Jesus I bought another copy of Last Temptation.
Q. One more thing before we move on from this role… you just said that, as a Christian, you felt deeply honored to portray Jesus. Did it affect your faith in any way?
A. I loved playing Jesus, I am a Christian, but… it was just a role.
Q. Okay, back to your impressions of the roles you played. Annas?
A. For Annas I went as mean and catty as I possibly could. The hardest part was having to perform on the bone bridge suspended four stories above the stage.
Q. Pontius Pilate?
A. I studied all the Pilates I saw perform and worked with. I think Pilate is on the verge of madness and his confrontation with Jesus pushes him over the edge.
Q. Who were some of the Pilates that you studied?
A. I was amazed at Barry Dennen's portrayal of Pilate in the original Broadway cast. His power didn't come across in the film, unfortunately. I played Jesus opposite Alan Martin, Scott Johnston, and Greg Karliss. All were marvelous performances.
Q. Could you elaborate on your portrayal of Pilate a bit? I've never heard anyone describe him as "on the verge of madness." Where do you get that from? What drove him to the breaking point, in your performance?
A. I think that Israel was the last post any Roman wanted, and Pilate was an intelligent man who was out of his depth with all the chaos in that country.
Q. And once again, back to the roles you played. (Laughs) What was your impression of Peter?
A. Peter is so human and, again, like the audience and modern man. It is an easy role to get into.
Q. Of the roles you played in the show, which was your favorite?
A. I'm sure you can already tell that I am partial to Pontius Pilate.
Q. This question is specifically with to the original Tom O'Horgan-directed production in which you were a replacement. The original Broadway cast album has been noted for its overly speedy tempi by JCS fans. Was the music played as fast live as it was on the album?
A. No. Many times in the studio, in those days, producers would speed things up for a better sound. Also, it might have been sped up to get all the material on one record.
Q. Of the productions you were involved in, or perhaps productions in general, did you have a favorite?
A. I really love the original — the design and concept. I think it could have been staged a bit tighter and better choreography would have enhanced the show.
Q. As long as I bring up the original, what was your impression of director Tom O'Horgan as a person, outside of the production?
A. Tom O'Horgan was a wonderful man, and everyone who worked with him felt like he was their best friend.
Q. Did you interact with anyone else who has since become integral to the show's history during your time with the show (i.e., the authors, Ted Neeley, etc.)? Were you familiar with anybody at all who achieved some degree of notoriety post-show?
A. To answer your first question, I was great friends with Ted Neeley because he and I are both from Texas. I was also supposed to understudy him on a tour of Tommy but took another gig. And Andrew Lloyd Webber and I are good friends. To answer your second question, I was great friends with Nell Carter (a Mary Magdalene understudy), William Parry (who is a Sondheim favorite and was on tour recently in Memphis), Judy Kaye was Mary with me on the road in the concert tour, Marta Heflin was Mary on Broadway. Vicki Sue Robinson was in the Broadway chorus and played "Turn the Beat Around" on her guitar for me backstage. Candi Earley (Donna on All My Children) was in the chorus too.
Q. Friends with Lord Andrew, eh? Do you have an opinion on Webber's recent attempts to "modernize" the show (the 2000 revival, the arena tour, etc.)?
A: No matter what he does to the show, it will always be modern. When newcomers to the show see it, they are flabbergasted at how timely it still is.
Q. Why do you feel JCS is still performed this many years later, and do you think it is still relevant?
A: It's popular because everyone has an opinion about Jesus Christ, and the musical makes the story that much more accessible.
Q. What are you doing now?
A. I left New York in the 1980s and went to grad school in directing. I was then hired to be the artistic director of The Theatre Company of Bryan/College Station, where I have worked for more than 20 years. It is the best job in the world.
Q. Would you ever wish to do the show again in some form?
A. I am the artistic director of The Theatre Company in Texas and I have directed twice — each time was very special for me. It's a great show to experiment with, although I adhered to Tom's ideas.
Q. Do you have any advice for people wanting to be in JCS or theater?
A. Yes, study voice classically. Get a theater degree. Nowadays theater has become so specialized and popular that one's chances are few and far between. Be the best at whatever you want to achieve. You must be driven to be in the theater. It has to be the only thing you could ever choose to be in.
Q. Well, this was fun. Thanks for the interview!
A. Thank you! Enjoyed doing this. Brought back a lot of memories.