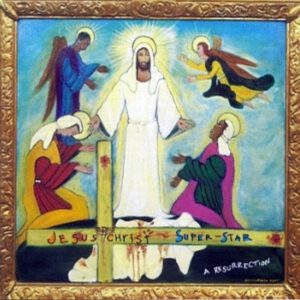 5.0 out of 5 stars (based on 1 review)
Classification: A Resurrection
Year of release: 1994
Language: English
Type: Studio cast, Stage cast
Jesus of Nazareth…………Amy Ray
Judas Iscariot…………Michael Lorant
Mary Magdalene…………Emily Saliers
Pontius Pilate…………Gerard McHugh
King Herod…………Dave Clair
Simon Zealotes…………Kelly Hogan
Caiaphas…………Benjamin
Annas…………Mike Mantione
Peter…………Matt Brown
Priests…………John Bigay, Paul Schwartz
Maid by the Fire / Choir…………Anne Richmond Boston
Soldiers…………Rob Gal, Jeff Jensen
Old Man…………Bill Decker
Voice of Judas…………Social Insanity (Vocals [Voice of Judas, Choir]: Tomi Martin, Trina Mead, BMAC, Dee)
Apostles…………Matt Brown, Allen Broyles, Matthew Kahler, Kevin Lawson, Michael Lorant, Shawn Mullins, David Patterson, David Sinrich
"Hey, Cool It, Man" Guy…………Richard Lorant
Apostles' Women…………Cooper Seay
Vocals at Fade ["Everything's Alright"]…………Dave Clair, Michael Lorant, Cooper Seay
Crowd ["Simon Zealotes"]…………Annette Carpenter, Don Conoscenti, Jacqueline Howard, Shawn Mullins, Joyce Williams
Moneylenders, Merchants, Farm Animals and Lepers…………Caroline Aiken, Haynes Brooke, Wendy Bucklew, Sheila Doyle, Meg Fox, Michael Thurn Koepenick, Kevin Lawson, Lisa Lorant, Richard Lorant, Keli Mercadente, Mark Reynolds, Cooper Seay, Nicole Torre, Ashley Wilson
Reporters…………Caroline Aiken, Anne Richmond Boston, Wendy Bucklew, Annette Carpenter, Don Conoscenti, Jacqueline Howard, Matthew Kahler, Shawn Mullins, Dede Vogt, Joyce Williams
Vocals (Crowd) ["Pilate and Christ"]…………Louis Gosain, Eric Musselwhite, Jeremiah Thompson
Angry Mob…………Michael Lorant, Rodney Martin McHugh (Ringleader), Juliette Morgan
The Crowd…………Maureen Abbate, Bob Ballou, Aileen Behan, Sharon Braunstein, Allen Broyles, Annette D. Carpenter, Chris Chandler, David Torre Clair, Nicole Torre Clair, Walter Czachowski, Steve Dixon, Paul Donsky, CJ Dorgeloh, Sheila Doyle, Adam Feuerstein, Meg Fox, Meredith Golde, Randy Grozny, Olive Hagemeier, Willow Hagemeier, Matt Hanes, Vince Hoffman, Mike Hunter, Julie Jenkins, Jim Johnson, Jill Kalish, Michael Thurn Koepenick, Kathryn Kolb, Tim Lathrop, Roberta Long, Gerard McHugh, Rodney Martin McHugh, Keli Mercadente, Mudcat, Gretchen Obermeyer, David Patterson, Jeff Perkins, Steve Pilon, John Robinson, Julie Anne Sammons, Paul Scafidi, Paul X. Schwartz, Megan Sexton, Becky Shaw, Drew Strauss, Gary L. Strickland, Lynne Strickland, Becky Tennock, Jane Walsh, Ann Wood
The orchestra and cast consisted, to quote the album's label Daemon Records, of "a whole host of characters from the Atlanta music scene." Aside from the artists featured vocally, the musicians included — with some augmentation — such bands as Dew, Lay Quiet Awhile, The Murray Hedd Experience, Cicada Sings, The Feed and Seed Marching Abominable, Uncle Green, Opal Foxx Quartet, Five Eight, engine, Full Stop, Big Fish Ensemble, and The Revelation String Quartet. 
Listing individuals from each would make this page prohibitively long. Luckily, the Internet Archive's Wayback Machine preserved the website of Hidden Water, which provided digital media promotions for independent artists, labels, and distributors in general and this JCS recording in particular. There, you'll find a track-by-track listing of musical personnel.
Audio Production Information
Produced by Michael Lorant with the unsuspecting assistance of Rob Gal
Engineered by Rob Gal at The Snack & Shack, Atlanta, GA, except "Superstar" (engineered by Wizard at ABRS, Atlanta, GA) and "Crucifixion" (engineered by Neil Fried at Chelsea South Studios, Atlanta, GA)
Digital Editing by Russ Fowler
Mastered by Bernie Quinn
The Feed and Seed Marching Abominable was recorded on location at the Little Five Points Community Center by the Criminal Records mobile moped unit.
Art Direction by Steve Pilon
Illustrations by Karen Chance
Cover Art ("Jesus Rising Above the Cross") by Lorenzo Scott, courtesy of the artist and The Modern Primitive Gallery, 1402-4 N. Highland Avenue, Atlanta, GA 30306. (404) 892-0556
Benefit Coordination by CJ Dorgeloh
Proceeds from the sale of this CD will be used to help end gun violence. Some of the musicians on this album do not support handgun control but have nevertheless donated their time and talents.
Act 1:
Overture
Heaven On Their Minds
What's The Buzz / Strange Thing, Mystifying
Everything's Alright
This Jesus Must Die
Hosanna
Simon Zealotes / Poor Jerusalem
Pilate's Dream
The Temple
Everything's Alright (Reprise)
I Don't Know How To Love Him
Damned For All Time / Blood Money
Act 2:
The Last Supper
Gethsemane (I Only Want To Say)
The Arrest
Peter's Denial
Pilate And Christ
King Herod's Song (Try It And See)
Judas' Death
Trial Before Pilate (Including The Thirty-Nine Lashes)
Superstar
The Crucifixion
John 19:41
See the Complete Concert!
To celebrate the CD's release, the cast of A Resurrection performed the rock opera in a ragtag way at the Variety Playhouse in Atlanta. That same year, they took JCS on the road, to SXSW in Austin, Texas, Summer Nights at the Pier in Seattle, Washington, and Camp Hope in San Jose, California, among others. The live performances took things to a new level; recalls Amy Ray, "I didn't feel the full dimension of Jesus until I performed it live. I did the best I could in the studio, but I struggled with the fact that I didn't feel sympathetic toward Jesus in the context of [JCS], where Jesus is almost manic-depressive."
The SXSW performance, in particular, a benefit for Texans Against Gun Violence which had only two days of rehearsals (neither of which ran smoothly) but went off without a hitch on the night, was simulcast by Austin radio station KLBJ-FM and available on video for a time from Daemon Records, but when Monsterbit Media, the video's Austin-based distributor, online sponsor of music events, and host of many of Austin's coolest band sites, went bust, the master disappeared along with it. Consequently, Daemon has since, to date, turned a blind eye to digital transfers of the footage from fans who bought the video, such as the one you can find in the playlist linked above.
Said playlist includes an MTV Week in Rock news segment about the album, videos of two Variety Playhouse shows, the SXSW performance (a direct rip of the commercial release which includes the "trailer" embedded above and an ad for the album and related merch), and a JCS clip featured on Big Bang, a 1998 Daemon multimedia compilation. All appear courtesy of the YouTube channel for lifeblood.net, a collection of Indigo Girls information, to whom many thanks are in order. Enjoy!
Historical Notes from a Fan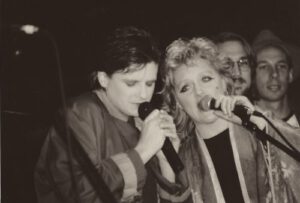 Anyone who has followed Jesus Christ Superstar over the years knows that the album, show, and film have never really gone out of style; they've merely been appreciated in different ways. At the end of the 20th century and into the 21st, this began to manifest itself in audio form in a series of tributes to JCS. Among the earliest was this double album, A Resurrection, recorded by an all-star gathering of alt-rock notables largely culled from the Daemon Records roster. In its day, this was considered an offbeat choice by many of the featured artists' fans and listeners. To quote Tod Nelson, an early reviewer for Amazon, "What a bizarre concept. Let's get together a whole slew of folkies who, for some inexplicable reason, loved the soundtrack for [JCS] and rerecord all the songs. Why? To satisfy some childhood obsession, it seems. This has to be the least relevant album of all time."
This tribute was originally conceived by Michael Lorant, of Big Fish Ensemble fame, who joked during the album's release junket, "I'm still not quite sure how a nice Jewish boy from Boston ever became so involved with a rock opera about Jesus Christ." His liner notes would prove more telling and accurate: "…I danced around in my one-piece pajama suit at the age of six to 'What's the Buzz'. I hosted many impromptu performances of the rock opera in my living room which co-starred my brother and sister and sometimes featured guest appearances by the next-door neighbors. We bucked up to see who got to play Judas." But it was prevailing opinions like Nelson's above that had rendered JCS uncool, a guilty pleasure not to be discussed in hip circles. Nevertheless, Lorant further recalled, "JCS was something from my past, something nostalgic that I would pick up and listen to every so often."
Perhaps this is how the Brown Album wound up in his music selection for the long road trip between dates on a tour BFE co-headlined with The Indigo Girls in the spring of 1991. During a listen in the car one day, Michael (and fellow musicians Gerard and Rodney McHugh) was struck with "the completely outrageous idea of recording an Atlanta version and began casting the album right then and there. It was a joke and seemed completely out of reach considering our resources." But what started as a joke, mere idle conversation, eventually metamorphosed into reality and snowballed into a full-blown and a rather elaborate recording project when Amy Ray (of The Indigo Girls) expressed interest in recording the piece for her label in late autumn 1993 (recalls Lorant, "…she kind of made me put my money where my mouth was, I guess"). She, too, was a closet JCS fan: "The politics and history of Jesus' story became even more profound when seen through the eyes of Judas."
Sure enough, as Lorant began interviewing potential collaborators for the project, it became clear neither of them was alone. To quote his liner notes: "At first, when I approached my Atlanta comrades about participating in this project, my tones were low and without vigor. But as I talked to different people (guitarists who had been plagiarizing licks off JCS for years, drummers whose first introduction to the 5/4 meter came from 'Everything's Alright') I began to put away my self-loathing and questioning. The original JCS did contain moments of genius. It was the unlikely rock feast that offered singers and musicians of my generation a variety of elegant dishes from which to choose. It did rock. I'm not crazy."
When first announced in spring 1994, Lorant drew a line in the sand in an interview with the Atlanta Journal-Constitution when it came to the sound of the proposed recording: "I haven't seen the Broadway version of Tommy, but it seems like they're taking the rock out of these operas, and that's sad. We're hopefully putting the grunge back into this." However, this didn't stop the occasional innovation. For example, Michael initially toyed with a single-disc recording of highlights to keep costs low, planning to cut tracks such as "Hosanna" and "Crucifixion." "I thought that I would be able to cut a few songs, and make it fit […] [b]ut, it turns out, I didn't want to cut anything. To me, it's a complete thing in my mind." At the last minute, when it was decided "Hosanna" was not superfluous to requirements, Lorant had a sudden flash of inspiration: "I thought of having Big Fish Ensemble do a horn thing and make it seem like a marching band… kind of a chaotic, 'cause it is kind of like a march, like a rally sort of thing. So, that was my hope in my mind to create that, and then I remembered that at Little Five Points in Atlanta, where I come from, there's this little community marching band that is made up of people from all walks of life, and I thought 'God, wouldn't it be great if they would agree to do it,' and so I called them up, and that's how that happened. […] It was kind of difficult to get the music together because we weren't able to find any written parts for a marching band, so one of the members of the marching band arranged it on his computer for like twelve hours straight. He got it together in time." Social Insanity's funk/hip-hop take on "Superstar" — which has polarized opinion among many JCS fans — was another innovation of his: "I always kind of wanted to funk that song up 'cause I thought it was kind of lame on the original album, where they go (in a high-pitched voice) 'Jesus Christ.' I just think that's kind of a low point. I thought of getting a funk band involved, and I had worked with some of the guys in that band, Social Insanity, at my day job, so I got them involved, and I let them do basically whatever they wanted to do, and luckily, I loved it." As Amy Ray later put it, "Michael Lorant did a brilliant job of directing the arrangements, organization, and production of this album."
The project also found further grounding when it was decided that the proceeds would fund gun violence education projects (Lorant had been shot during a robbery attempt in Little Five Points a few years before). Christian conservatives in the U.S. at the time were none too pleased about this slant to the project, one crassly joking that the message of the musical was "probably more crucifix control than gun control" while noting in the same breath that they were "not too pleased with the original musical in the first place." Oddly enough, the most potentially controversial element, the casting of Ray as Jesus, didn't faze them. To quote Tim Graham, then the assistant editor of Virginia-based conservative newsletter Media Watch, "Certainly the idea of a woman playing Jesus seems at least bizarre…. A giggle is my first response."
Still, Lorant (who had also cast underground favorite Kelly Hogan in the traditionally male role of Simon Zealotes, and considered sexual politics a non-issue when it came to the album) was more than prepared to answer detractors, as can be seen in these quotes from various interviews at the time: "Why is Amy playing Jesus any different than Sandy Duncan playing Peter Pan? Do people get up in arms about her playing Peter Pan? It's a role; it's a dramatic role. […] To me, the idea of God or Jesus or what have you, has never really been firmly entrenched as a gender thing. I always thought of God as a non-specific sort of power that happened to take the form of whatever so that humans can understand God. […] I didn't pick Amy to play Jesus to make a political statement. […] she can reach up to those highs and she can get pretty low, and she has that kind of angst to her voice that the role needs. And she outdid herself in my mind." Unexpected but welcome support came from Tim Rice, who made a statement in the Los Angeles Times that he found the notion of a woman playing the title role "interesting, as long as it isn't meant mockingly." For her part, Ray made it clear that this was no vanity project for her: "Michael's brilliant, and any project that he wanted to do, I would try to be supportive of because he's amazing. My idea was that I was going to put it out regardless of whether I sang on it."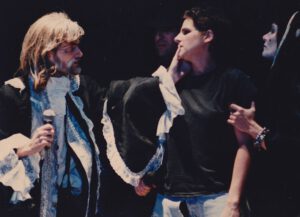 Once released, the album garnered surprisingly positive reviews from the mainstream press, snicker as they might at the original in the process. The Atlanta Journal-Constitution called it "anything but another contrived concept album," while the Washington Square News raved, "It is difficult to sum up just how masterful every aspect of this album is. From the opening 'Overture' it's clear that these musicians are not just trying to recreate Webber's original vision. Each song has been profoundly reinvented, greatly intensifying all the remarkable aspects of the original while also adding many new ones. Listening to the album for the first time, I found myself unable to ever second guess the music, always surprised and never disappointed." Rolling Stone magazine, acclaiming its "mighty cast of Atlanta indie faves," announced that "[t]his two-CD alterna-take beats the hell out of the prototype […] this re-creation forgoes irony for loopy sincerity — terrific singers, guitarists, and bands redeem these songs simply using volume and brio."
With all studio cast recordings, it's generally the opinion of this particular fan that since the performers lack the experience of getting on a stage and performing the show in front of an audience, the performances are pleasant enough, but not always up to par with a real cast album. This is one of the very few exceptions. True, most of the orchestral elements (horns, flutes, clarinets, etc.) are removed and not always for the better, but the rock and roll core of the piece remains (if buried in an almost grunge-like layering of reverberating guitars, driving percussion, and funky bass lines, a strange mix of catalytic rock, blissful pop, deranged orchestral music, and jacked-up ska), and the central themes and story are intact. Michael Lorant's Judas is impassioned and anguished, at its best on tracks like "Heaven On Their Minds" and "Judas' Death" where we get a glimpse into the character's tortured soul. Emily Saliers' voice, warm and raspy, with a real earth mother sensibility that reflects the "softer" sound she brings to The Indigo Girls, lends a heartfelt sincerity to Mary's numbers, particularly "I Don't Know How To Love Him." Amy Ray, who has always been the "power" sound of the duo, makes a great impression as Jesus, especially on "Poor Jerusalem" (a simple voice-and-piano take that still sends shivers down this reviewer's spine), though at times some of her vocal stylings are a bit odd and out of sync with the rest of the piece, veering into an almost country and western sound. Dave Clair's performance of Herod, hitherto inexplicably rendered in most productions as a gay stereotype, is a bracing breath of fresh air here, presenting an out-of-control maniac almost comatose from booze, in a 6/8 Fifties rock arrangement that is stronger dramatically and fits better into the score than the traditional dim music hall take. And, if one has a special desire to hear "Simon Zealotes" as a slow, groovy alt-gospel jam, Kelly Hogan's version is the definitive rendition.
Unless you're more of a grunge/alt-rock/funk fan, this reviewer wouldn't recommend A Resurrection as your introduction to JCS, but it is an interesting spin on a show that has otherwise sounded the same for most of its history.
5.0 out of 5 stars (based on 1 review)
Excellent version
This is an incredible version of JCS.
Amy Ray as Jesus and Emily Saliers as Judas. This is my go-to version.