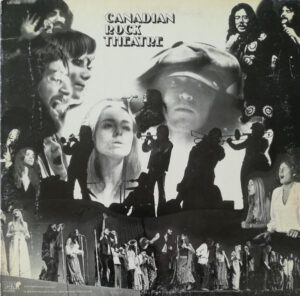 0.0 out of 5 stars (based on 0 reviews)
Classification: Canadian Rock Theatre
Year of release: 1972
Language: English
Type: Studio cast
Vocals…………Doug Billard, Avril Chown, Dorian Clark, Valentina Davis, Nancy Dolman, Victor Garber, Laurie Hood, Patti Jannetta, Tabby Johnson, Danny McBride, Peter McGraw, Roy Seip, Karen Silver, John Stainton
Electric Guitars: Steve Brundage, Danny McBride
Acoustic Guitars: Victor Garber, P.M. Howard
Bass: Ted Bettany
Piano: Peter Mann
Organ: Glenn Morrow
Trumpets: Jean-Pierre Galipeau, Tony Mastrull, Benoit Perreault
Trombones: Jim Beck, Roger Homefield
Drums: Pentti J. Glan
Percussion: Perry Botkin, Jr., Pentti J. Glan, Peter Mann, Peter McGraw


Side 1:
Anthem (We The People)*
Simon Zealotes
Pilate's Dream
O Bless The Lord, My Soul*
Changing Day To Day*
Side 2:
Sweet Jesus*
Save The People*
Every Living Thing*
By My Side*
Sinner Man (Don't Let Him Catch You)*
Anthem (We The People)*
* denotes a non-JCS track.
Audio Production Information
Executive Producer: Michael Ames Viner
Produced by Perry Botkin, Jr. with Peter Mann
Engineers: Ed Greene and Steve Hodge
Vocal Arrangements by Peter Mann and C.R.T.
Band Arrangements by Steve Brundage and C.R.T.
Art Direction: Saul Saget
Cover Photography by Tony Steele, Robin Robin, George Bird and The Las Vegas News Bureau
Cover Collage by Ron Raffaelli
Special thanks to Tony Mastrull and Laurie Hood
Recorded at MGM Recording Studios, Hollywood, California
Historical Notes from a Fan
As this fan has alluded to frequently on pages of this discography devoted to "knock-off" recordings (for which we apologize; he likes a good template when he comes up with one), everybody wanted to get in on the act when it came to Jesus Christ Superstar and its success. This did not merely extend to the realm of the inevitable attempt to cash in from the recording world; illegal stage performances of JCS (sometimes in concert, sometimes in full production) sprang up all over the USA, usually on college campuses. Companies with such official-sounding names as The Jesus Christ Superstar Company were cropping up and touring across the United States. Life magazine even featured a pirate show on the cover in May 1971.
Thanks to Robert Stigwood now being involved, money was spent on court action aimed at halting these unauthorized productions, the better to be able to present the official stage version later that year without competition and with a far better level of quality control. These efforts initially met with varying degrees of success; some productions were halted, while others were allowed to continue.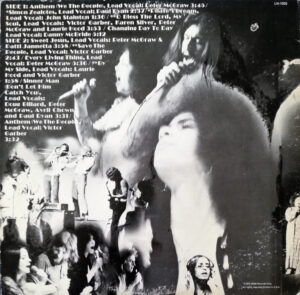 These passionate, if outlaw, efforts were not strictly limited to America. Canada got in on the act, too, as seen by this (likely) example from a group calling themselves Canadian Rock Theatre. Very few slouches in this group of artists: Victor Garber, of course, stepped into the Toronto production of Godspell, which led to his starring in the film and a long, illustrious stage and screen career; Avril Chown, P.M. Howard, and Tabby Johnson were veterans of the Toronto production of Hair (Chown would go on to join Garber in Godspell as well, Howard understudied and played "George" in the Broadway company of Beatlemania and works steadily as a musician, while Johnson sang, acted, and at one point served as host of radio shows for two major Toronto stations); Danny "Slide" McBride (brother of Lighthouse singer Bob) played in groups and solo before touring with artists like Joe Cocker, Chris de Burgh, and David Hasselhoff; and, last but certainly not least, the late Nancy Dolman, who had quite the acting career and also appeared in Godspell with Chown and Garber, is fondly remembered as a wife and mother by Martin Short and their three children.
Based on what we at JCS Zone have been able to piece together from the playbill bios of those who moved on to Godspell, C.R.T.'s production of JCS — the legality of which was probably questionable, given the timeline — may have begun in Toronto, but for certain went on to play major venues in two of the entertainment capitals of the U.S., Los Angeles and Las Vegas. It was while in Los Angeles that this album was recorded, presumably for sale in the lobby after the show. Mindful of other groups accused of profiting from brand recognition, they may have either taken a similar tack by incorporating other material of a religious nature or developed their show to have a broader sweep while still being thematic, thus the ultimately recorded collection of two songs from JCS, three from Godspell, and a helping of similar material by Ashford & Simpson, renowned Canadian musician Bill King, and the cast themselves.
As there are only a couple of selections from our beloved rock opera featured here, this makes for a mighty easy review (and perhaps suggests we should be more choosy about what enters our discography; "two or more" seems like a fair general rule until we arrive at moments like this). Paul Ryan, brother of Clint (of Hair and Teenage Dance Band fame, and briefly a duo as The Ryan Brothers), leads the pack on "Simon Zealotes," which is masterfully dominated by Glenn Morrow's organ work and boasts luscious vocal arrangements (Peter Mann's and the cast's work in this department is uniformly splendid on the album as a whole), while John Stainton gives an understated, well-sung performance of "Pilate's Dream." (If you're in the rare Venn diagram where fans of both JCS and Godspell form a perfect circle, like the author of this review, you also get the chance to hear Victor Garber give material from Godspell a shot before he was ever part of the show; of particular note, it seems that a certain key change in "Save the People," which seldom appears live but was definitely in the film and still performed later by veterans of the Toronto cast, had its origin here.)
The type of person who will buy anything JCS-related will have a fun time with this album, and they're welcome to listen to most of the selections on YouTube above and see what else strikes their fancy. But more serious fans would be forgiven for only giving the two JCS tracks a listen.
0.0 out of 5 stars (based on 0 reviews)
There are no reviews yet. Be the first one to write one.