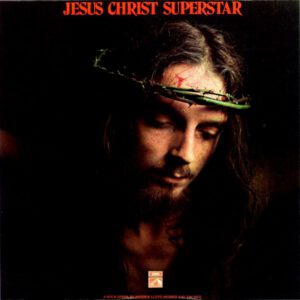 0.0 out of 5 stars (based on 0 reviews)
Classification: First Australian Cast
Year of release: 1972
Language: English
Type: Studio cast
Jesus of Nazareth…………Terry Kaff
Judas Iscariot…………Erl Dalby
Mary Magdalene…………Shauna Jensen
King Herod…………Mick Leyton
Annas…………Terry Walker
Apostles…………Paul Flanagan, Peter Flanagan, Marty Rhone
All Electric Guitars, Acoustic 12 String, 6 String & Banjo: Dave Donovan
6 String & 4 String Electric Bass: Valda Hammick
Piano, Organ, Electric Piano, Harpsichord & Celeste: Mike Perjanik
Drums: Doug Gallacher
Percussion: John Sangster
The New Festival Orchestra & Chorus
Side 1:
Overture
Heaven On Their Minds
What's The Buzz / Strange Thing, Mystifying
Everything's Alright
This Jesus Must Die
Hosanna
Simon Zealotes
Pilate's Dream
The Temple
I Don't Know How To Love Him
Side 2:
Damned For All Time / Blood Money
The Last Supper
Gethsemane (I Only Want To Say)
The Arrest
King Herod's Song
Trial Before Pilate
Superstar
Crucifixion
John 19:41
Audio Production Information
Produced by Mike Perjanik
Executive Producer: Leslie S. Hodge
Engineer: Martin Benge
Moog Synthesizer by kind permission of Michael Carlos
Cover Originated in Australia by EMI
Cover Design by Marc Piel
Cover Photograph by Jeff Rand
Make-up by Steve Shaw
Recorded in the 16 Track facilities of EMI Studios, Sydney.
Historical Notes from a Fan
When any show is a hit, a lot of people will be quick to capitalize on the show's success. In this case, Jesus Christ Superstar was one of the first albums of its kind, and everyone wanted their slice of the pie where the Passion According to Tim and Andrew was concerned. At this time, many "budget" labels famous for releasing low-cost sound-alike albums ("knock-off" recordings capitalizing on shows, songs, or albums that became hits) jumped into the fray. The performers were usually never an actual ensemble that had performed JCS (indeed, in its early days, the number of actual casts performing the show was very few), but instead merely a group of vocalists who recorded songs from the show. Usually, these recordings were very cheaply put together and produced, and priced to own. (In the future, albums like these, now labeled "studio cast recordings," could no longer be accurately described as simple cash grabs, but at the time, the use of the phrase "knock-off" is appropriate.) Though it may be a matter of opinion, this particular fan feels that since the performers on these studio recordings lack the experience of getting on a stage and performing the show in front of an audience, the performances are pleasant enough, but not always up to par with a real cast album.
This particular release is fairly unique, in that — clocks in at eighteen songs from a show that only had twenty-three (or twenty-four, if a recording included the new addition to the stage version, "Could We Start Again Please") to begin with — it's one of the rare "knock-off" recordings that took a swing at getting the lion's share of the score in the can. Made in Australia by a combo assembled by producer and organist Mike Perjanik, and deemed good enough by EMI to give it a British release on their cheapie Starline label, it is often dubbed the "First Australian Cast" by fans because it pre-dates the official Australian production. (In fact, its influence could be felt in that later official attempt; comparing Trevor White's performance on the original Australian recording to Terry Kaff's on this one reveals that somebody was taking notes.)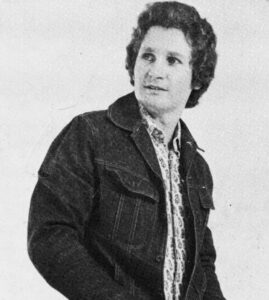 Vinyl Vulture, in its terrific (now out-of-print) feature on early JCS recordings, claimed that "none of the vocalists get any credit whatsoever on this album." Initially, our research, as shown above, suggested they might not have been looking hard enough. (Indeed, it escaped their notice that Erl Dalby, Judas on this album, seems to have been something of an Australian star — or at least a fairly well-known quantity in music circles — at the time thanks to his band Pyramid, as the History of Australian Music From 1960 until 2010 suggests. He went on to become a noted martial arts master under the moniker of Erl Montague before his untimely death several years ago.)
However, in a recent email conversation with our website, Terry Kaff explained (all emphases and capitalization his, abbreviation ours), "In fact, the cast, which was made up of singers who were ALL on-stage performers as well as studio singers were not permitted to have the names mentioned, as Judas […] was under contract to another Recording Company and could not be named […] I was advised immediately before the Album release that ALL the singers' names were therefore not to be used."
At any rate, V² are right in their assessment that "the band are the stars, not the singers." The vocals are effective (Kaff, Dalby, and Shauna Jensen are particular highlights, widely regarded as excellent by JCS fans), but not over-egged, and so it's the musicians who shine, delivering a harder rock experience than the original album with much multi-tracked guitar and organ, and wailing fuzz-toned solos chucked in the mix at random.
Standout tracks include killer takes on "Heaven On Their Minds," "What's The Buzz," and "Superstar," and versions of "The Temple" and "Gethsemane" with a genuine rock edge. As per V²'s article, this album is also noteworthy for "something quite famous" by The Chemical Brothers having been sampled from it. Spot it, and you'll be mentioned here!
0.0 out of 5 stars (based on 0 reviews)
There are no reviews yet. Be the first one to write one.