0 out of 5 stars (based on 0 reviews)
Classification: Kingsway Youth Opera Company
Year of release: 1971
Language: English
Type: Studio cast
NOTE: Individual ensemble and supporting roles are unknown at this time. Listings were obtained with the help of CastAlbums.org, to whom many thanks, who also helped sort out the various re-releases and re-packages under other names.
Jesus of Nazareth…………Brian Keith
Judas Iscariot…………John Goodison
Mary Magdalene…………Jenny Mason
Simon Zealotes…………Martin Jay
Other Miscellaneous Singers…………Ken Barrie, Bruce Baxter, Brian Bennett, Valerie Charrington, Lynn Cornell, Margery Daw, John Evans, Kay Garner, Lissa Grey, Sylvia King, Joan Knighton, Laura Lee, Alan Linton, Jane Marlow, Mike Redway, Norman Smith, Russell Stone, Danny Street, Lisa Strike, Mary Thomas
The Kingsway Symphony Orchestra
Guitar and Bass Guitar: Eric Ford, Brian Odgers, R. Stableford
Keyboards: Roger Coulam, Alan Hawkshaw
Drums: Terry Cox
Trumpets: Ray Davies, Tony Fisher, Bobby Haughey
Woodwinds: Keith Bird, Joseph Castaldini, V. Elliott, Jack Ellory, Harry Mier, Clifford Seville, S. Smith, Ray Swinfield, Chris Taylor, M. Winter
Horns: Jim Buck Jr., John Burden, Neil Sanders
Trombones: Johnny Edwards, Ken Goldie, Nat Peck
Cello: William DeMont, Vivian Joseph, Lionel Ross, John Shinebourne
Double Bass: G. Clarke, Keith Marjoram
Harp: Marie Goosens
Violas: David Bellman, John Graham, Morris Loban, John Meek, Louis Rosen, Graeme Scott
Violins: Desmond Bradley, Percy Coates, Derek Collier, Kevin Duffy, Gerald Emms, Jack Fields, Kelly Isaacs, Reg Leopold, Nick Mernick, Charles Nolan, G. Palmer, Boris Pecker, William Reid, Donald Weekes
Percussion: Eric Allen, Stan Barrett, John Blanchard, Frank Ricotti
Side 1:
Superstar / Heaven On Their Minds
What's The Buzz / Strange Thing, Mystifying
Everything's Alright
Hosanna
Simon Zealotes / Poor Jerusalem
Side 2:
Pilate's Dream
I Don't Know How To Love Him
Superstar
The Last Supper
Gethsemane
The Crucifixion
Audio Production Information
Produced by Dick Rowe and Peter Sames
Engineered by Iain Churches, David Grinsted, Martin Smith
Production Assistant: Peter Collins
Directed by Zack Laurence and Peter Sames
Chorus Master: Maggie Eaves
Historical Notes from a Fan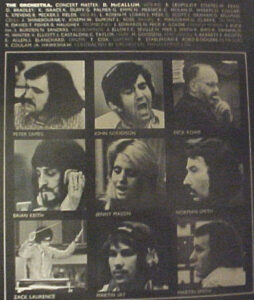 When any show is a hit, a lot of people will be quick to capitalize on the show's success. In this case, Jesus Christ Superstar was one of the first albums of its kind, and everyone wanted their slice of the pie where the Passion According to Tim and Andrew was concerned. At this time, many "budget" labels famous for releasing low-cost sound-alike albums ("knock-off" recordings capitalizing on shows, songs, or albums that became hits) jumped into the fray. The performers were usually never an actual ensemble that had performed JCS (indeed, in its early days, the number of actual casts performing the show was very few), but instead merely a group of vocalists who recorded songs from the show. Usually, these recordings were very cheaply put together and produced, and priced to own. (In the future, albums like these, now labeled "studio cast recordings," could no longer be accurately described as simple cash grabs, but at the time, the use of the phrase "knock-off" is appropriate.)
In this case, Peter Sames and Zack Laurence were pretty quick off the mark. Also noteworthy for his presence on the production side of this album is Dick Rowe, probably best known as the A&R man at Decca Records who infamously turned down The Beatles in 1961, even after their manager Brian Epstein paid Decca to provide a one hour audition. Per George Harrison, he told their manager, "Guitar groups are on their way out, Mr. Epstein." Mr. Rowe was not about to be caught on the wrong side of another trend.
Though it may be a matter of opinion, this particular fan feels that since the performers on these studio recordings lack the experience of getting on a stage and performing the show in front of an audience, the performances are pleasant enough, but not always up to par with a real cast album. In this case, however, the "Kingsway Youth Opera Company" edition benefited from the presence of veterans of the original concept recording. In addition to session singers Brian Bennett and Kay Garner returning in the chorus, Brian Keith, who originated the role of Annas on the Brown Album, appears on these recordings as Jesus, giving the role an utterly dominant take with his gut-bucket, gravelly vocals, straining to out-Joe Cocker the competition. To hear him tell it, he was asked to work on this album mere weeks after the original JCS album first dropped in the UK; he wanted to play the role of Judas, but as the result of a coin toss with fellow cast member John Goodison, Keith got the title role instead.
This particular recording is also noteworthy for the presence of future veterans of JCS studio knock-offs (i.e., Martin Jay, who plays the role of Simon here and went on to reprise his performance and play the roles of Judas and Jesus — sometimes simultaneously — on numerous other JCS recordings, genuine as well as knock-off), and noteworthy session musicians (i.e., Alan Hawkshaw and Roger Coulam in the keyboard department), the latter category also including some veterans of the concept album. Taking that into consideration, it's no surprise that the arrangements are fairly faithful, with a hint of country rock (then-flavor of the month) in the guitar parts; particularly noteworthy is the pacy, funky take on "Simon Zealotes."
The usual grooves are interesting enough, with some odd touches now and again, but if you're new to JCS, this won't sell you on it. No matter how much this reviewer has listened to it, it has never impressed him, barring some particular performances. If you're coming expecting rock opera, disabuse yourself of that notion — it's just a group of singers throwing down a pass at the score, essentially playing themselves. Truncated owing to its highlights form, many of the best parts of the score (i.e., no priests, no Herod) are missing. The accompaniment is alright, the singing is not much better — it's faithful, but not especially so. Still, it's useful to listen to in terms of general development and to start determining for oneself what is good and what is bad about a JCS recording for them. Besides, the score is too good to ruin.
0 out of 5 stars (based on 0 reviews)
There are no reviews yet. Be the first one to write one.