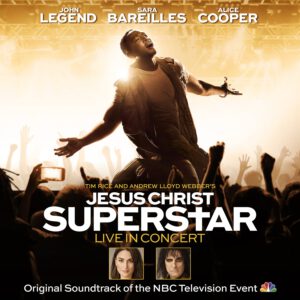 0.0 out of 5 stars (based on 0 reviews)
Classification: Live In Concert
Year of release: 2018
Language: English
Type: Stage/Television cast
NOTE: This is the cast as listed in the official credits of the TV special, and, in the case of the dancers, may not necessarily reflect the voices heard on the album.
Jesus of Nazareth…………John Legend
Judas Iscariot…………Brandon Victor Dixon
Mary Magdalene…………Sara Bareilles
Pontius Pilate…………Ben Daniels
King Herod…………Alice Cooper
Simon Zealotes…………Erik Grönwall
Caiaphas…………Norm Lewis
Annas…………Jin Ha
Peter…………Jason Tam
Ensemble…………Melody Betts, Felicia Boswell, Abby Corrigan, Micaela Diamond, Rory Donovan, Christine Dwyer, Mike Evariste, F. Michael Haynie, Charissa Hogeland, Bre Jackson, Mykal Kilgore, Billy Lewis Jr., Justin Gregory Lopez, Angel Lozada, Vince Oddo, Kyle Taylor Parker, Joel Perez, Jonah Platt, Conor Ryan, Christina Sajous, Justin Matthew Sargent, Heath Saunders, Joey Taranto, Syndee Winters, Lauren Zakrin
Dancers…………Chloe Davis, Timothy Edwards, Shelby Finnie, Bahiyah Hibah, Juel D. Lane, Terk Lewis, Mayte Natalio, Sarah Parker, Willie Smith III, Maleek Washington
Guitars: Dillon Kondor, Brandon Niederauer, Tim Quick
Bass: Edwin Livingston
Keyboard I: Matt Rohde
Keyboard II: Brian Taylor
Drums: Jamey Tate
Trumpet: Ravi Best, Shawn Edmonds
French Horn: Sara Cyrus, Ian Donald, Rachel Drehmann
Trombone: Jason Jackson
Woodwinds: Alden Banta, Aaron Heick, Tom Murray
Concertmaster: Juliette Jones
Violin I: Bruce Dukov, Jannina Norpoth, Stephanie Matthews (Principal), Alex Weill
Violin II: Gina Dyches, Ally Jenkins, Jessie Montgomery (Principal), Yumi Oshima, Ina Paris
Viola: Jarvis Benson (Principal), Christiana Liberis, Todd Low
Cello: Andrew Borkowski (Principal), Patrice Jackson-Tilghman, Adele Stein
Percussion: Rolando Morales-Matos
Act 1:
Overture
Heaven On Their Minds
What's The Buzz / Strange Thing, Mystifying
Everything's Alright
This Jesus Must Die
Hosanna
Simon Zealotes / Poor Jerusalem
Pilate's Dream
The Temple
Everything's Alright (Reprise)
I Don't Know How To Love Him
Damned For All Time / Blood Money
Act 2:
The Last Supper
Gethsemane (I Only Want To Say)
Transition
The Arrest
Peter's Denial
Pilate And Christ
King Herod's Song
Transition After Herod
Could We Start Again Please?
Judas's Death
Trial Before Pilate (Including The 39 Lashes)
Superstar
The Crucifixion
John 19:41
Curtain Call
Audio Production Information
Executive Producers: Tim Rice and Andrew Lloyd Webber
Album Produced by Harvey Mason, Jr.
Recorded by Andrew Hey
Additional Engineering by Derik Lee
Mixed by Andrew Hey and Harvey Mason, Jr. at Jungle City, New York City (Additional Mixing at Hundredup Studio, Los Angeles)
Mastered by Daniel Alba and Oscar Zambrano at Zampol Productions, New York City
Music Director: Nigel Wright
Music Production Manager: Janet Weber
Music Coordinator: Michael Aarons
Music Coordination for Harvey Mason Media: Danielle Engen
Music Assistant: Justin Ward Weber
Associate Music Coordinator: Haley Bennett
Keyboard Programmer: Stuart Andrews
Associate Keyboard Programmer: Dave Weiser
Historical Notes from a Fan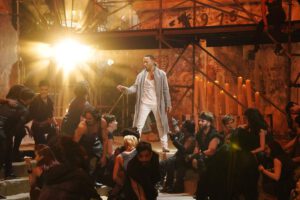 Live television… there's nothing quite like it. No retakes, limited ability to halt production in the event of a snafu — it infuses an air of excitement in the audience. Seemingly anything can happen at any time. Once upon a time, live musicals were a big part of television programming, particularly in the United States. To quote theater historian John Kenrick, "Early television often turned to Broadway when it sought high-powered musical talent. 'Spectaculars' were all the rage, with as many stars and under-rehearsed production numbers as the networks could muster." Such classics as Mary Martin's star turn in Peter Pan dotted the Fifties and Sixties, but the emphasis shifted to specially filmed (and edited) performances — as opposed to truly live presentations — over the ensuing decades. A safety net and the optimal quality were evidently deemed more important than the vitality, thrills, and visceral sensation of a live broadcast.
That changed in December 2013, when producers Craig Zadan and Neil Meron, through their company Storyline Entertainment, together with NBC chairman Robert Greenblatt, brought the live musical back to television (and specifically NBC, once the home of Martin's Peter Pan and other live spectaculars) with The Sound of Music Live!, starring country singer Carrie Underwood as Maria von Trapp. This live television event met with mixed reviews, but ratings didn't lie: with a total of 18.62 million live viewers (not counting those who tuned in on DVR later, or viewers of encore presentations), The Sound of Music Live! gave NBC its highest Thursday night viewership for an entertainment program since the series finale of Frasier in 2004. The network had its mind made up: it wanted more, and it signed Zadan and Meron to produce more live musicals with NBC in the future.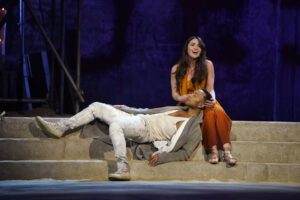 The formula seemed simple, the way Greenblatt put it: pick a recognizable title (preferably a Broadway classic, family-friendly, with a lot of familiar songs), pack it with appropriate stars and the right supporting talent culled from both television (especially if they already had NBC ties) and the theater district, broadcast it as a special holiday event, and (hopefully) profit. For NBC, this meant Peter Pan Live! (with Allison Williams and Christopher Walken), The Wiz Live! (with Common, Amber Riley, Uzo Aduba, Ne-Yo, David Alan Grier, Mary J. Blige, and Queen Latifah), and Hairspray Live! (with Harvey Fierstein, Kristin Chenoweth, Ariana Grande, Jennifer Hudson, Martin Short, Andrea Martin, Sean Hayes, and Rosie O'Donnell). Other networks joined the fun, with Fox contributing Grease: Live (successful) and A Christmas Story Live! (considerably less so) to the lineup.
In spring 2016, Fox, known in America largely for being a morally — and politically, in its reporting — conservative network, decided to cash in on the live musical format by presenting a TV special called The Passion; based on a similar Dutch television franchise, which was in turn adapted from the BBC special Manchester Passion, it was a contemporary retelling of the passion of Christ set to popular music. Featuring such music stars as Jencarlos Canela, Prince Royce, Trisha Yearwood, Chris Daughtry, and Seal, and hosting and narration from Tyler Perry, the presentation, a mix of live and pre-recorded segments broadcast from New Orleans, met with decidedly mixed reviews. Critics noted that the secular soundtrack had weak context to the story, the overall presentation of the special rather resembled Super Bowl halftime shows or New Year's Rockin' Eve as opposed to the reverence and seriousness the subject called for, and, despite its implied connection to recent live musicals, it wasn't truly live and its format was dissimilar to a traditional stage musical.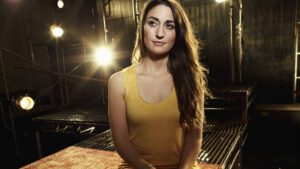 This reviewer, who (it should be noted) is an active producer himself when not contributing to this website, wondered aloud at the time why NBC, a subsidiary of Universal (which owns the film rights to Jesus Christ Superstar), had not gone head to head with Fox by presenting JCS, either a rebroadcast of any of the existing films/video or a live special, which surely would have wiped the floor with Fox's derivative dreck in ratings. A year later, this reviewer learned to be careful what they wished for.
When a proposed live holiday presentation of Bye Bye Birdie starring Jennifer Lopez on NBC was delayed due to her packed schedule, everyone in the theater community wondered if NBC would just give up on live musicals altogether. Ratings had remained more or less steady (even though they were dropping successively with each new special), and each show continued to meet with mixed reviews at best. So it was a matter of great surprise in spring 2017 when it was announced at the NBC upfronts (a gathering at the start of important advertising sales periods held by network executives, and attended by major advertisers and the media, to see who would buy in on their forthcoming product) that NBC would present JCS as their next live musical event, set to air the following Easter Sunday (April 1, 2018). It was reported that in addition to the regular team of Zadan and Meron, Marc Platt, a renowned producer and Universal exec who had announced a film remake of JCS was on his slate ten years prior, and Tim Rice and Andrew Lloyd Webber themselves would be joining the executive producing unit.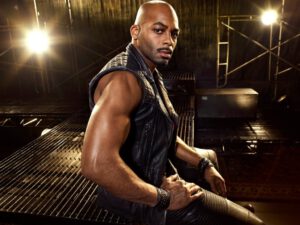 Greenblatt announced at the time, "Casting has just begun, but we want to fill out this classic show with as many recording artists as possible to give proper voice to what is the original rock opera score." JCS fans, who are a cynical bunch by nature after feeling "burned" (metaphorically speaking) by Webber's recent revivals of the show, reacted with skepticism to this news. This reviewer went on record at the JCS Zone forum, stating, "Anyone who believes them when they say they're looking for rockers has taken a hard fall off of theirs. They're talking about looking for real rockers and collaborating with [Webber] in the same breath, and that has never led to casting real rockers in the post-1996 world of JCS." Others were even more blunt: "Why not just take a shit on stage. Same result, but shorter." Still, many fans made a concerted effort to be cautiously optimistic about the outcome.
After this initial announcement, however, everything fell silent. In the past, NBC had traditionally announced more of the creative team by that point in production, and the Internet would be buzzing with casting rumors. By fall of 2017, the only new news was a blurb from a video interview with Zadan and Meron for a Broadway news site in which they said JCS would be "different" (how informative).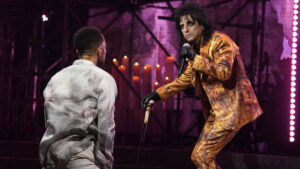 But in early December, the silence broke with the first casting announcement: Alice Cooper, who had last essayed the role for the 1996 studio recording that marked the first West End revival of JCS, would be playing King Herod. A safe choice, and a smart move to soothe the nerves of anyone who was a more-than-casual fan of the show, assuming the producers cared about how such fans received the broadcast. At the same time, David Leveaux was announced as director, a confusing choice given that his record with revivals was hit-or-miss (Nine with Antonio Banderas was decent, while his Fiddler on the Roof with Alfred Molina was ghastly and packed with "change for the sake of change") and that the show was now being touted as a concert whereas Leveaux was primarily known for serious narrative. By the end of the month, R&B/pop/soul entertainer John Legend was announced in the role of Jesus (and also as an executive producer, along with his managers Mike Jackson and Ty Stiklorius); JCS fans dug his voice when it came to his own material, but worried that he lacked the rock tenor sound necessary for the role, worries that were not particularly abated by a teaser clip in which he attempted a high note in "Gethsemane" a full step lower than the original score with a voice that sounded thin in the upper range. However, they also acknowledged that casting a performer of color as Christ was a bold choice in the American political climate of the time. It was further announced at the time of Legend's casting that, unlike previous NBC specials which either lacked a live audience or limited the appearance of one, JCS would be performed entirely before a live audience at the Marcy Armory in Williamsburg, Brooklyn.
A month later, Sara Bareilles, creator and star of the Broadway hit Waitress and a mainstream success as a singer/songwriter in her own right, was announced for the role of Mary Magdalene. JCS fans by and large approved of this casting, including this reviewer, who had predicted in his ideal lineup of talent for the broadcast that, with her attractive looks and sultry voice, she would be a good choice for the role. This announcement was followed shortly thereafter by the airing of the first teaser trailer, during NBC's broadcast of that year's Golden Globe Awards.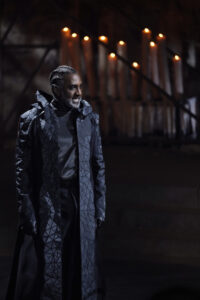 At this point, the rumor mill, previously suspiciously silent, began to whip up in full swing, most of it surrounding the crucial role of Judas. Michael Riedel reported in his theater gossip column for the New York Post that Andrew Lloyd Webber was interested in Luis Fonsi, the voice behind radio hit "Despacito," for Judas after being impressed by his range and charisma at Clive Davis' annual Grammy Awards party. Others noted a gap in legendary arena rock band Queen's touring schedule and wondered if their current lead singer, pop star/one-time American Idol contestant/former musical theater stalwart Adam Lambert, who had previously lobbied for the part in a potential film remake, might be using that gap to appear in the special in his coveted role. Small wonder that speculation was taking the reins; with Easter only two months away, none of the rest of the cast had been announced, and nobody was reported to be rehearsing (previous efforts by NBC had taken as little as three months and as long as a year and a half to rehearse).
If the rumors that NBC had been holding out for a star in the role of Judas were true, evidently they had no such luck. By mid-to-late February, the full cast had been announced, including a host of Broadway names such as Brandon Victor Dixon (Hamilton), Jin Ha, and Norm Lewis among the leads, Swedish hard rock/heavy metal singer-songwriter Erik Grönwall, television personalities like Ben Daniels, Joel Perez, Jason Tam, and Lauren Zakrin, and more. Alex Rudzinski, who had previously served as the director on the TV side for the live presentations of Grease and Hairspray, was signing on as TV director (and executive producer) for JCS; choreography would be by Camille A. Brown, with costume design by Paul Tazewell. A behind-the-scenes presentation toward the end of February at the Paley Center for Media in NYC, simulcast on Facebook, gave an exclusive first look at the production design (which JCS fans by and large rather liked in terms of scale, if not being particularly innovative) and gave some hint of how the leads were approaching their roles. Alice Cooper, true to form, really seemed to grasp the character of Herod; John Legend's unnecessarily flippant (some called it "douchey" and remarked that it "spoke volumes about ego") response to an audience member's query as to whether or not any of the original stars had been consulted for their input on the special was more disconcerting. However, promo performances of songs from the show by the leads featuring Toronto open participation group Choir! Choir! Choir! did stoke the flame of hope that maybe the show would be good, if not particularly groundbreaking.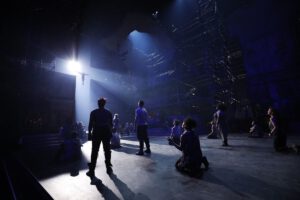 Finally, the night of the show arrived. The technical aspects were certainly impressive: as many as twelve cameras were utilized to film the special, and the on-camera audience numbered over 1,500, with some of the extras lining the two sides of the stage, creating a "mosh pit" effect. (For insurance, a full dress rehearsal was taped the night before in front of an invited audience in the event of any difficulties during the live broadcast, but it ultimately was not needed.) At the end of the month in which it premiered, the more-than-casual JCS fans are still sharply divided as to whether it was merely mediocre (not the greatest production, but some decent highlights in terms of design and casting) or singularly awful. As for the general public, the show met with overwhelmingly positive response from critics, with particular raves in the New York Times, Hollywood Reporter, and Los Angeles Times (Variety was more mixed, but leaned positive), and — at just under 10 million viewers — was the most-watched program of the night of both network and cable programming when the ratings came in, scoring particularly highly with adults 18-49 in the Live + Same Day demographic.
After being publicly and privately excoriated on social media for daring to express a mixed opinion — at best — of the broadcast, this reviewer will take the high road, avoiding any discussion whatsoever of the special or the performances in it, and simply state that he is at least pleased about a specific subset of positive response to it: the NBC presentation kindled a mainstream interest in JCS, and, out of the mainstream, a lot of musical theater people who generally dislike Andrew Lloyd Webber's work seem to be really into JCS, and specifically this version, now. According to a friend of the reviewer, people who have never seen or heard it before messaged her saying that they loved it and asking how it compared to the Brown Album or the movie. When she said they were better, the response was pretty unilaterally "Oh, holy shit, then they must be incredible." If people watched that broadcast and are inspired to learn more about JCS, and they discover performers like Ian Gillan, Jeff Fenholt, Ted Neeley, John Farnham, Drew Sarich, Danny Zolli, Paul Nolan, György Szomor, and others who really tear it up, then this reviewer is a happy camper, and hopes that fellow fanatics will do their level best to be so as well.
0.0 out of 5 stars (based on 0 reviews)
There are no reviews yet. Be the first one to write one.