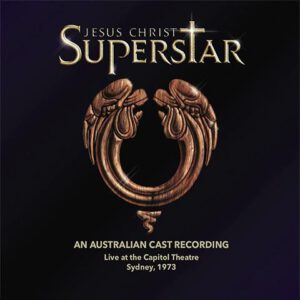 5.0 out of 5 stars (based on 2 reviews)
Classification: Live Australian Cast
Year of release: 2018 (recorded 1973)
Language: English
Type: Live recording, Stage cast
Jesus of Nazareth…………Trevor White
Judas Iscariot…………Jon English
Mary Magdalene…………Marcia Hines
Pontius Pilate…………Tony Rose
King Herod…………Reg Livermore
Simon Zealotes…………Stevie Wright
Caiaphas…………Peter North
Annas…………John Paul Young
Peter…………Wayne Matthews
Priests…………Bill Binks, Peter Noble, Brian Withers
Guitar: Mike Wade
Bass: Ken Firth
Piano, Acoustic Guitar: Jamie McKinley
Organ, Moog Synthesizer: Michael Carlos
Drums: Greg Henson
…and a 45-piece orchestra
Act 1:
Overture
Heaven On Their Minds
What's The Buzz / Strange Thing, Mystifying
Everything's Alright
This Jesus Must Die
Hosanna
Simon Zealotes / Poor Jerusalem
Pilate's Dream
The Temple
Everything's Alright (Reprise)
I Don't Know How To Love Him
Damned For All Time / Blood Money
Act 2:
The Last Supper
Gethsemane (I Only Want To Say)
The Arrest
Peter's Denial
Pilate And Christ
King Herod's Song
Could We Start Again Please?
Judas' Death
Trial Before Pilate (Including The Thirty-Nine Lashes)
Superstar
The Crucifixion
John 19:41
Audio Production Information
Stage Credits
Musical Director and Conductor: Patrick Flynn
Associate Conductor: Michael Carlos
Sound Designer: John Morrison
Front of House Engineers: Paul Haines, Bob Semmens
Recording Credits
Recording Equipment and Media Supplied by Peter Chambers
Mixed and Mastered for CD by Peter Chambers
Executive Producers: Coralea Cameron and Gil Matthews
Digital Remastering by Peter Chambers
Thanks to Gil Matthews at The Mastering Lab, Melbourne, Australia
Liner Notes by Ian McFarlane
Artwork Restoration, Design and Layout by Angelo Kamaria
Inside Cover Photos Courtesy Bauer Media Pty Limited / Woman's Day
"Praying Angels" limited edition images (™) are the exclusive property of, owned by and used here with kind permission from Pacific Eye & Ear
Aztec Records would like to thank: Coralea Cameron (for her tireless efforts to get this recording released), and Peter Chambers (without whom this incredible recording would never have existed and been kept safe for posterity). Coralea Cameron would like to thank: Lauren Miller Cilento and HMMG, Sir Andrew Lloyd Webber and The Really Useful Group Ltd (London), and Sir Tim Rice. She would also like to acknowledge all the incredible performers and musicians featured within.
Dedicated in memoriam to Jon English (died 9 March 2016), Michelle Fawdon (died 23 May 2011), Stevie Wright (died 27 December 2015), Rory O'Donoghue (died 13 December 2017), Peter North (died 5 November 2005) and to Wayne Matthews. R.I.P.
Historical Notes from a Fan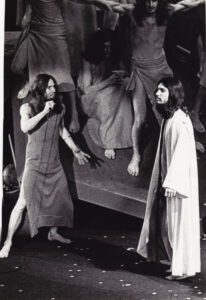 Cast recordings are a strange breed. Ideally, a cast recording is meant to be — for better or worse — the definitive rendering of a musical. A film version may be made, other cast members in later productions may come along who leave their impact (better singers, better actors, what-have-you), but the original cast recording is traditionally the benchmark, the standard-setter, the album that captures the show the way it is meant to be heard. When making a cast recording, one wants the most perfect sound possible, as this is pretty much the only posterity the show may receive. Live cast recordings have been done in the past, usually for special occasions, and they are more prevalent as a default method of cast recording anywhere other than North America, but they leave too many variables wide open that could ruin the take, concerns like audience noise which no one wants to be preserved on a cast album, stage noise as performers move about (how does one mic it for recording so that you lose the noise of the cast moving around, but still capture every line they sing or say?), and so forth. And that's saying nothing of the night a performer doesn't quite hit that high note or screws up a line or a lyric. (Plus, either live or in the studio, the costs are astronomical — union minimums for the cast and musicians, arrangers' fees, copyist's fees, fees to use production photos and artwork, among many other items.)
Like any studio performance, the recording is of course an idealized rendering, manipulated to cultivate something more glossily perfect than any live performance could be. Actors and singers, not so involved with playing to spectators, adjust their performances to play for the ear alone, whilst somehow still translating the feeling of a live performance from stage to records (ain't that a breeze!); dialogue is often changed; song intros and endings are altered and tempos increased, resulting in a gain of enthusiasm and excitement; sometimes producers even enlarged the orchestra for a richer, fuller sound back in the glory days. On the other hand, live recordings capture a little bit of magic that's not there in the studio. The vivid theatricality is communicated without trickery. And what is sacrificed in terms of "clean sound" (although most live recordings this reviewer has heard tend to sound rather rich and full in and of themselves) is made up for with a lively performance, character rather than obsessively scrubbed staff lines, and excitement and "you are there" quality where you feel like you're in the room listening to these people perform for you.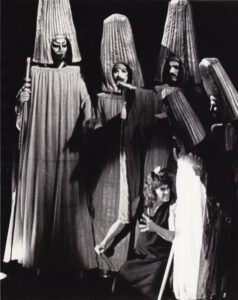 Such is the experience that one has with this, a previously unreleased live recording of the original Australian stage production. Dating from December 1973, it was the handiwork of Peter Chambers, who had been with the show since the beginning in various bit parts, later taken over the role of his namesake, and occasionally understudied the plum roles of Jesus and Judas. Chambers' recording equipment captured the show for posterity, and it was also Chambers who came back all these years later to convert it to CD, removing the clicks, bumps, and grinds of the handheld mics of that time — the very definition of a labor of love. (For more about the specifics, you can check out Ian McFarlane's well-written, in-depth liner notes, which, for this reviewer, were one of the best parts of the CD package itself.)
Suffice to say, the incomparable charisma and sterling voices, the stirring performances captured in all their glory on this recording have little, if any, competition from most early productions of the show preserved for records. Unlike other productions at the time, or later revivals, it doesn't just blindly stick to the score with little room for variation; it experiments a bit. The vocalists try different things — when listening to Trevor White's full performance, one hears where later performers like John Farnham drew inspiration, and Jon English is the all-around superstar of this recording, sounding at times like we're getting a glimpse of how Roger Daltrey would have been if he did it in his peak period instead of in a BBC Radio 2 concert in 1996. And the orchestra plays around to lasting effect: witness the faster beginning to "This Jesus Must Die," the soulful Clapton/"Knockin' on Heaven's Door"-reminiscent organ on "I Don't Know How To Love Him," one of the most ear-shredding takes of the guitar solo that opens "Damned For All Time" in existence, the individual treatment of each chorus from the apostles during "The Last Supper," the string-heavy but surprisingly effective "Peter's Denial," an arrangement of "Could We Start Again Please?" that treats the 'new song' like a highlight of the evening and not the unfortunate afterthought it reportedly appeared to be in the original Broadway run, what may be the definitive performance of "Judas' Death," and a "Crucifixion" that stands by itself in all ways. Kudos in particular to the insanely good drummer, pianist (very Elton John/Billy Joel, with hints of Jim Steinman), and guitarist, who all kicked things into overdrive, got into the groove, and followed their lines, not unlike some of the best rock records of that era.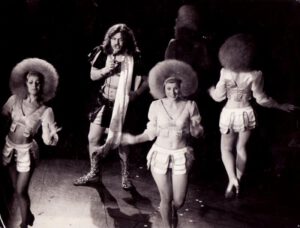 Someone who has heard multiple versions of the show may quibble over minor issues like tempo (the "What's the buzz" section of "The Arrest" lacks urgency to this listener, sounding rather like "Home at Last" by Steely Dan) and over-acting (whoever delivered "But I saw you too…" in "Peter's Denial" walked off chewing half the scenery, and the trial sequence is milked for every possible dramatic and musical note, the first time this reviewer ever felt JCS legitimately deserved the "opera" half of its label), but opinion is subjective. This is especially true when it comes to Reg Livermore's performance as King Herod. Onstage, he made Australian theater history, turning a minor comic relief song-and-dance number into a seven-minute showstopper, but on recording, where one can only hear what he's doing, it may play less well to those who weren't fans of the original production with fond memories of same. Eerily reminiscent by turns of Tom Hulce in Amadeus, Paul Lynde, and Richard O'Brien, fans who are new to this recording may be torn between whether or not they find his ad-libs humorous or overbearing and self-indulgent. Still, one can see the seeds of his legendary turn as Frank N. Furter in the original Australian cast of Rocky Horror and the characters that populated his later solo pieces.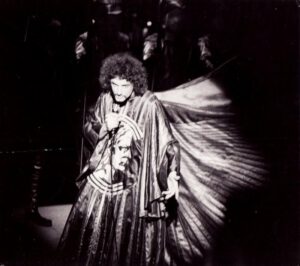 Perhaps most surprising of all, more than that this recording had been preserved and is finally coming into the public eye, is that this release comes with an endorsement from no less a personage than the notoriously hard-to-impress Andrew Lloyd Webber, in his recently published autobiography Unmasked: "I never saw [the Australian production] but a recently discovered private recording owned by its late star Jon English makes me wish I had. It's extraordinary, in some ways rawer and rockier than our original." For once, an even bigger surprise, this reviewer agrees with Webber: it ranks among the best incarnations, a great representation of the potential the show had in its earliest days.
5.0 out of 5 stars (based on 2 reviews)
A near definitive version of this show
While this is a somewhat heretical opinion, I think this particular recording beats out even the original Brown Album. This can all be attributed to the energy that comes from a live performance, with stellar musical direction and great performances to boot. To me, Trevor White and Jon English are my favorite performers Jesus and Judas, with the ad-libs and amount of emotion exerted for pivotal songs like Heaven on Their Minds and Gethsemane being utterly soul-crushing. These performances are of course backed by the wonderful orchestrations- props to the band, especially the pianist. All in all, I heartily recommend this recording.
Perhaps the best live recording to date
For years I've been a big fan of the original Australian cast album. I heard many stories from our Aussie friends about how incredible the production had been and how fantastic the cast was live on stage. But those were only stories of course, no one thought they would ever know how it sounded for real and then out of nowhere there it was, in all its glory! Apparently the production company recorded one of the final performances of the Australian tour and then locked it away to be never heard from again. Well it took 45 years but here it finally is and let me tell you, THIS IS ONE INCREDIBLE RECORDING! Forget everything you think you know about how Superstar would've sounded live on stage in the 70's! This album features some of the most original and best live performances I've ever heard! The entire cast is fantastic and some songs are performed with such talent that it almost feels like I'm hearing them for the first time again. I can not recommend this recording enough!