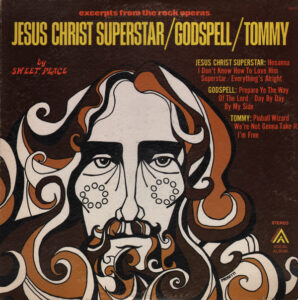 5.0 out of 5 stars (based on 1 review)
Classification: Sweet Peace
Year of release: 1971
Language: English
Type: Studio cast
Jesus Christ Superstar:
Hosanna
I Don't Know How To Love Him
Superstar
Everything's Alright
Godspell:
Prepare Ye The Way Of The Lord
Day By Day
By My Side
Tommy:
Pinball Wizard
We're Not Gonna Take It
I'm Free
Historical Notes from a Fan
When any show is a hit, a lot of people will be quick to capitalize on the show's success. In this case, Jesus Christ Superstar was one of the first albums of its kind, and everyone wanted their slice of the pie where the Passion According to Tim and Andrew was concerned. At this time, many "budget" labels famous for releasing low-cost sound-alike albums ("knock-off" recordings capitalizing on shows, songs, or albums that became hits) jumped into the fray. The performers were usually never an actual ensemble that had performed JCS (indeed, in its early days, the number of actual casts performing the show was very few), but instead merely a group of vocalists who recorded songs from the show. Usually, these recordings were very cheaply put together and produced, and priced to own. (In the future, albums like these, now labeled "studio cast recordings," could no longer be accurately described as simple cash grabs, but at the time, the use of the phrase "knock-off" is appropriate.) Though it may be a matter of opinion, this particular fan feels that since the performers on these studio recordings lack the experience of getting on a stage and performing the show in front of an audience, the performances are pleasant enough, but not always up to par with a real cast album.
This effort appears to have been the result of an attempt by Ambassador Records (a "budget" subsidiary of the Synthetic Plastics Company of Newark, New Jersey, which formed in the late 1920s as a plastic manufacturer of buttons for the garments industry and game parts for the toy industry and diversified following World War II) to join in on the trend of budget rock opera "knock-offs." Not content to stop at JCS, this particular release also offers highlights from the scores of The Who's Tommy and Godspell, which one might recognize as that other Seventies rock musical take on the life of Christ.
Not much is known about this particular release. What little we know of the group who performed it, Sweet Peace, is derived from the album's back cover, which includes liner notes that read as follows:
Sweet Peace, the rock group performing on this album, have been performing for 2 years and have toured most of the country. They come from a town called Storm Lake, Iowa and grew up close to nature and close to God. They are right on today's music, as is witnessed by their terrific arrangements and sound.
To twist a lyric from the show, this album "seems to be a strange thing, mystifying…"
5.0 out of 5 stars (based on 1 review)
A Comment from the Son of the Album's Cover Artist
My mother is Diane Prosetti, an artist from Brooklyn, NY who moved to Newark in the 60's. In 1970, Diane was hired by Ambassador Records to create artwork for this release of "Jesus Christ Superstar." She told me that Ambassador instructed her that, outside of black and white, she could only use a certain color, namely brown, and not the numerous colors she's known for using in her work. Looking back on it, she admits that the art is a "product of the time" but the piece was very well-received at the time by her peers and particularly by Ambassador. She states that she did a few pieces for Ambassador for other albums, but is not sure if they were ever used or released.