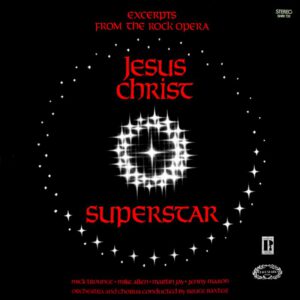 0.0 out of 5 stars (based on 0 reviews)
Classification: Pickwick
Alternate Classification: Hallmark, Concert Hall, Beny Daam Orchestra & Singers
Year of release: 1971, 1972
Language: English
Type: Studio cast
Jesus of Nazareth…………Martin Jay
Judas Iscariot…………Mick Trounce
Mary Magdalene…………Jenny Mason
Pontius Pilate / Caiaphas…………Mike Allen
Credited as The Knight's Row Rock Ensemble on some releases and The Beny Daam Orchestra & Singers on another
Audio Production Information
Conducted by Bruce Baxter
Liner Notes by Robert Angus
1971 Hallmark/Pickwick release(s)
Side 1:
Heaven On Their Minds
Hosanna
Pilate's Dream
The Temple
Everything's Alright
Side 2:
I Don't Know How To Love Him
Damned For All Time
The Last Supper
Gethsemane
Superstar
1972 Hallmark/Pickwick release(s)
Side 1:
Heaven On Their Minds
Everything's Alright
Hosanna
Pilate's Dream
Side 2:
I Don't Know How To Love Him
The Last Supper
Gethsemane (I Only Want To Say)
Jesus Christ, Superstar
Side 1:
Heaven On Their Minds
Everything's Alright
Hosanna
The Temple
Damned For All Time
Side 2:
Pilate's Dream
I Don't Know How To Love Him
The Last Supper
Gethsemane
Jesus Christ, Superstar
1974 Beny Daam release(s)
Side 1:
Heaven On Their Minds
Hosanna
Damned For All Time
The Temple
Everything's Alright
Side 2:
I Don't Know How To Love Him
Pilate's Dream
The Last Supper
Gethsemane
Superstar
Historical Notes from a Fan
When any show is a hit, a lot of people will be quick to capitalize on the show's success. In this case, Jesus Christ Superstar was one of the first albums of its kind, and everyone wanted their slice of the pie where the Passion According to Tim and Andrew was concerned. At this time, many "budget" labels famous for releasing low-cost sound-alike albums ("knock-off" recordings capitalizing on shows, songs, or albums that became hits) jumped into the fray. The performers were usually never an actual ensemble that had performed JCS (indeed, in its early days, the number of actual casts performing the show was very few), but instead merely a group of vocalists who recorded songs from the show. Usually, these recordings were very cheaply put together and produced, and priced to own. (In the future, albums like these, now labeled "studio cast recordings," could no longer be accurately described as simple cash grabs, but at the time, the use of the phrase "knock-off" is appropriate.) Though it may be a matter of opinion, this particular fan feels that since the performers on these studio recordings lack the experience of getting on a stage and performing the show in front of an audience, the performances are pleasant enough, but not always up to par with a real cast album.
Never one to wait very long for the smoke to clear from the cash-in starting pistol, Hallmark (which worked pretty much hand-in-hand with Pickwick) delivered an effort that proves quite interesting and listenable. A small combo and brass (most noteworthy for its well-timed stabs on "Heaven On Their Minds," but it adds a soulful touch to all of the tracks) ably lay down the backing, as Martin Jay (a veteran of the Kingsway Youth Opera Company recording) gives it a full Gillan when it comes to Jesus' screams. Quality tracks include an excellently choppy "Damned For All Time," a great pass at "Superstar," and a surprising slightly psych-ey and percussion-driven take on "The Temple" that keeps the drama built up by the fuzz guitar riff going throughout the track.
0.0 out of 5 stars (based on 0 reviews)
There are no reviews yet. Be the first one to write one.