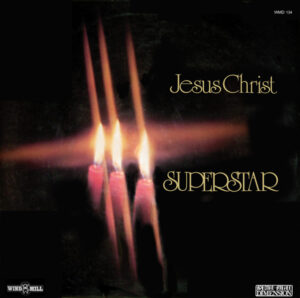 0.0 out of 5 stars (based on 0 reviews)
Classification: The Disciples
Alternate Classification: Dave Stewart Ensemble, The London Theater Orchestra and Company
Year of release: 1972
Language: English
Type: Studio cast
Credited variously to The Disciples and The Dave Stewart Ensemble depending on the release.
Side 1:
Overture
Heaven On Their Minds
What's The Buzz
Everything's Alright
Pilate's Dream
I Don't Know How To Love Him
Side 2:
Damned For All Time
Blood Money
The Last Supper
The Last Supper (Part 2)*
The Arrest
King Herod's Song**
Superstar
The Crucifixion
Conclusion***
A single asterisk (*) indicates that this track is exclusive to releases credited to "The Disciples."
Two asterisks (**) indicate a note of trivia: this track was erroneously credited as "King Herod's Soul" on certain international releases under the "Dave Stewart" brand.
Three asterisks (***) indicates that this track is exclusive to releases credited to the "Dave Stewart" brand.
Historical Notes from a Fan
When any show is a hit, a lot of people will be quick to capitalize on the show's success. In this case, Jesus Christ Superstar was one of the first albums of its kind, and everyone wanted their slice of the pie where the Passion According to Tim and Andrew was concerned. At this time, many "budget" labels famous for releasing low-cost sound-alike albums ("knock-off" recordings capitalizing on shows, songs, or albums that became hits) jumped into the fray. The performers were usually never an actual ensemble that had performed JCS (indeed, in its early days, the number of actual casts performing the show was very few), but instead merely a group of vocalists who recorded songs from the show. Usually, these recordings were very cheaply put together and produced, and priced to own. (In the future, albums like these, now labeled "studio cast recordings," could no longer be accurately described as simple cash grabs, but at the time, the use of the phrase "knock-off" is appropriate.) Though it may be a matter of opinion, this particular fan feels that since the performers on these studio recordings lack the experience of getting on a stage and performing the show in front of an audience, the performances are pleasant enough, but not always up to par with a real cast album.
This album was initially released by budget label Windmill with no credits, and then re-released shortly thereafter by another budget label, Contour, under the name of "The Disciples." (Both labels were pretty dodgy, so who knows who came first, but Contour at least credited their release to "The Disciples." A later airing with some additional tracks was credited to "The Dave Stewart Ensemble.")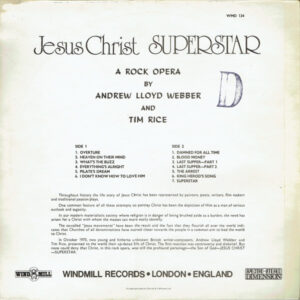 Just about half of this record is top-quality stuff, mostly because the small combo approach is used for the most part, and the vocalists sound more like pop singers than thespians, which is always to be preferred. The track selection is rather curious, but all of the usual goodies are well worth it, with noteworthy tracks including a top-quality "Damned For All Time" with some nice saxophone, and a surprisingly excellent few minutes of "The Arrest," where they cram in the best riffs in a track often missed by others.
The fan community, in its nascent days, often confused this rendition with the Kingsway Youth Opera Company and Alan Caddy recordings; while the rendition named for Caddy is one of the most mass-produced JCS "knock-off" albums, it is an entirely different entity from the Kingsway and Disciples recordings, which feature different tracks and orchestrations, though the Disciples recording has been duplicated similarly, albeit not quite so frequently as the Caddy rendition. It has since emerged that this was the result of confusion thanks to another "knock-off" release in the Nineties credited to the "Mayfair Ensemble," which compiled tracks from several studio highlights recordings of JCS, with remastered sound, leading fans to erroneously believe that tracks on that album emanated from a single source rather than a single label licensing multiple tracks for its use.
(Indeed, an arguable result of this particular compilation is that it's still a matter of some confusion as to whether or not the Disciples and Dave Stewart releases in their own right derived from a single source, thus our splitting the difference between Disciples and Dave Stewart links on Discogs and CastAlbums, respectively, above. We take our cue here from the Vinyl Vulture reviewer, who was convinced they were the same.) 
Further fandom tomfoolery arose when the version of "King Herod's Song" from this recording (later copied onto the low-budget, sound-alike cover version compilation The Music of Andrew Lloyd Webber, which itself was probably a reissue of an older similar set) cropped up on P2P file-sharing software such as Napster, KaZaA, Shareaza, etc. credited to "Axl Rose & Meat Loaf," "Guns n' Roses feat. Meatloaf," or other combinations thereof. Someone thought that the guy singing "King Herod's Song" sounded like either Axl or Meat, and presumably decided to split the difference by crediting it to both.
Leaving aside the fact that this track dates from 1972, when Axl would've been ten years old and the most attention Meat was receiving was from his work as a little-known Off-Broadway actor, the astute listener — especially if they are a knowledgeable Meat Loaf fan and occasional Guns 'n' Roses listener, as the author is — will notice that the singer doesn't bear any resemblance to either vocalist. (One could maybe argue there are some occasional similarities to Axl in the higher register, but it's a stretch.)
Nonetheless, facts never stopped mislabeling on such file-sharing venues, and the MP3 has been widely shared ever since with that credit. Even as well-meaning JCS fans like JCS Zone (and Meat Loaf fans like the late Evil Nickname [RIP William]) have tried to spread the truth to the Internet, it still pops up again every few years or so, even on YouTube. Here's hoping that someone learns from this extended write-up on the subject.
0.0 out of 5 stars (based on 0 reviews)
There are no reviews yet. Be the first one to write one.